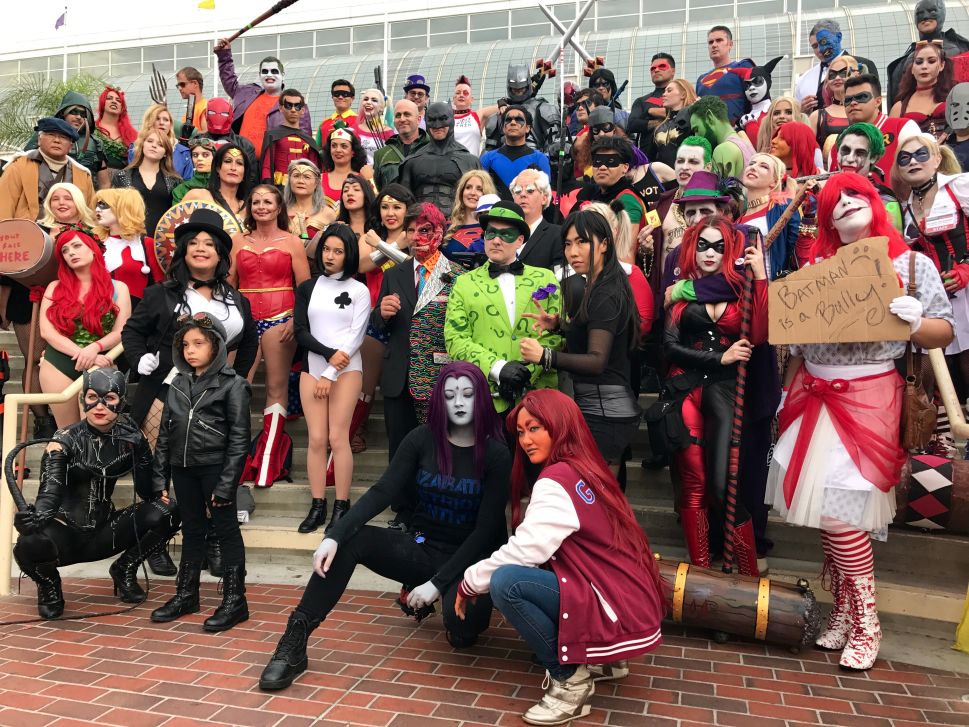 Near Mint, is our weekly comics column where we discuss all the KAPOW! that's fit to print. This week: Johnnie travels to the home of Snoop Dogg for a social justice-themed Long Beach Comic Con.
There are two ends of the spectrum when it comes to comic book conventions. There are the shiny, bright cons full of trailer premieres and movie stars, à la San Diego Comic Con. And then there are the ones where you feel like you're in a huge basement. I prefer the latter, the kind of low-key affairs where you can be the only person at the "History of Ultraman Dubbing" panel. Long Beach Comic Con, which took place this past Saturday and Sunday at the Long Beach Convention Center, is somewhere happily in the middle. The convention floor was dimly lit but quite large. Attendees played games of Super Smash Bros. and Mario Kart on consoles attached to faint projectors while others rifled through rows and rows of back issue bins. Artist Dave Gibbons (Watchmen) and Pia Guerra (Y: The Last Man) were amongst the VIPs in attendance. At his booth in the artist's alley, Young Justice co-creator Todd Nauck knocked out commissioned sketches while his extremely affable wife Dawn made small talk with convention goers. The Democratic Socialists of America were in attendance (more on that later), and a long line snaked around parts of the room as people waited to pose with a grumpy old man named William Shatner.
But the real stars of Long Beach Comic Con were the cosplayers. Cosplayer Steve Gonzales hit the convention floor as the entire Justice League, in a robotic ensemble that included Wonder Woman's lasso, Aquaman's trident, and a small screen in the middle of his chest that flashed the names and images of the league's core members. Anthony Bernal's hyper-realistic Planet of the Apes costume took a year and a half  to put together and included contributions from Ape Mania—a simian atelier that specializes in Planet of the Apes cosplay. During the "Plus Size Cosplay: Love the Skin You're In!" panel, a mostly female crew of curvaceous superheroes preached body positivity and gave some good advice for wannabe cosplayers: research your corset, break it in hourly each day, and make sure your corset is steel boned. Also, if you're packing down below, wear a dance belt—it's sort of like a jock strap that covers up your member.
British comics scribe Sebastian Jones could be seen exuberantly hawking his Stranger Comics imprint on the convention floor. His work includes Niobe: She is Life, co-written by Jones and Hunger Games actor Amandla Stenberg. Niobe is a coming of age story threaded with murder and mystery whose protagonist is a Black human-elf hybrid strongly resembling Stenberg. In the sequel, Niobe: She is Death, Niobe becomes a bounty hunter taking down sex traffickers and slave traders. "Niobe was the first nationally distributed comic book with a black female author, artist, and hero in the history of comics," says Jones, though more recently Stenberg has identified as non-binary.  "Before us, DC had hired two black female writers in their history and Marvel had hired zero" Jones explained. "When we came out, Marvel and DC started hiring Black women."  
Overt discussions around race and politics have become slightly more explicit in comics these days, as they have in larger American culture. Exhibitor Jose Pulido sold art featuring familiar characters like Pikachu and Harley Quinn depicted as Mexican Day of the Dead Sugar Skulls. Artist Caroline Foley's booth included Care Bears with a raised fists and LGBT feminist symbols or Islamic stars and crescents emblazoned on their bellies. While the superheroes we see on screen and in the pages are largely still white, the heroic cosplayers in attendance were far more diverse: an older Asian couple could be seen cheerfully meandering around the front entrance dressed as Wonder Woman and Steve Trevor. The appearance of the Democratic Socialists of America (DSA), whose Long Beach chapter could be seen demonstrating outside the Con, added to the occasionally political tone of the event. With cheers of "Immigrants are welcome here," the DSA's goal at the con was to encourage Long Beach to adopt sanctuary city status. "The mayor's a big fan of superheroes, and comic book justice is a big part of his online persona, but locally he's not doing anything to protect undocumented people" said DSA co-chair Andrew Guy. "We want no local city resources going towards deportation, and an embargo on sharing private information, immigration status or religious status, with deportation officials."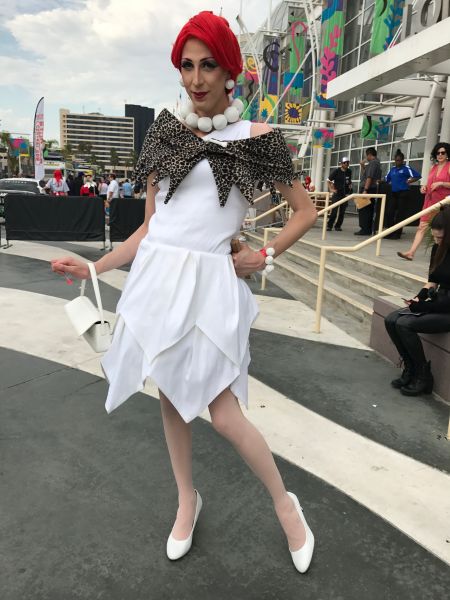 Like any good convention, there were some bizarre curiosities to take in. Mike Matola's booth featured a series of drawings in which specific film scripts were written out by hand in minuscule text that generated a larger image of that film's starring characters. The entire script for Teenage Mutant Ninja Turtles formed the shape of turtles Don, Leo, Mike, and Raph, for example. Aaron Schwartz of Central Curios sold handcrafted wizard's wands made by a combination of lathe work, hand carving, and wood burning.  Each wand is unique and never remade. There were bejeweled wands, and one was carved to resemble a walrus. Aaron's personal wand is made of holly and is ten and three-quarter inches long, and Aaron says Harry Potter's wand is also made of holly but the off-white wood often warps on camera. The wand in the films is a darker color.  At a panel on Saturday morning, My Little Pony comics artist Tony Fleecs regaled the crowd with a story he pitched involving the ponies tripping out after swimming in a pond infected by slime from a "party frog." Hasbro, of course, did not approve of the horses doing hallucinogens. The story did not make it to print.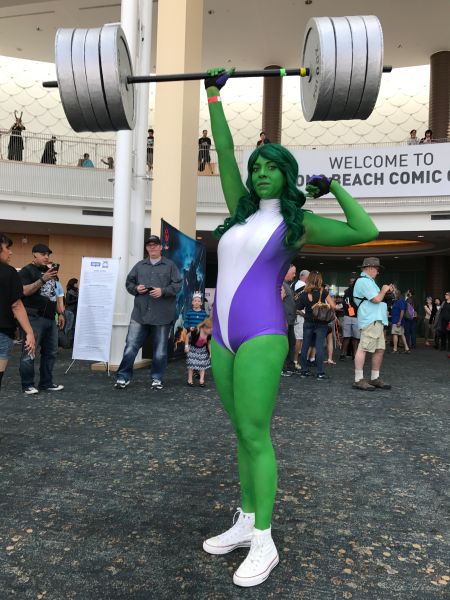 Saturday ended with a series of group photos featuring Marvel and DC cosplayers lined up on the steps in the front of the convention center. While these photo ops are common at cons, it was truly incredible to see all these colorful people united, if only for a moment, in fandom. It's times like this where billion dollar licensed characters can live and breathe- stripped of their commercial value by the purity of cosplayers who celebrate these heroes just for fun and not for profit. The spirit of fun was alive and well throughout Long Beach Comic Con and here's hoping it can stay alive for many years to come.