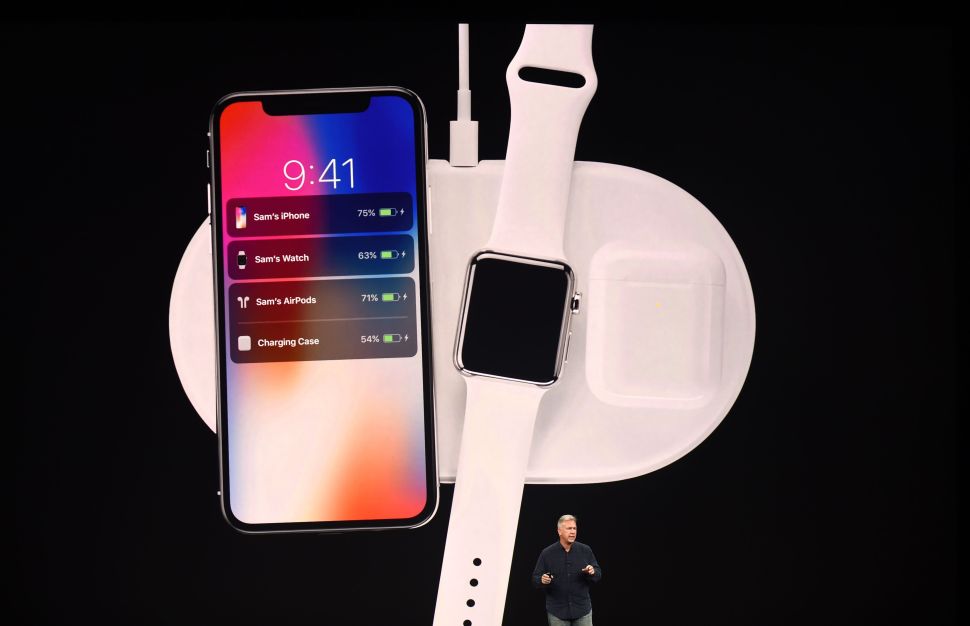 Two years ago, I walked into Starbucks and saw my first wireless charging pad—it was a plain black circle the size of a CD with another small tan circle inside. It looked like a built-in table mat. I then noticed that every table had one of these mats. I put my Samsung (SSNLF) Galaxy S6 on the mat and was amazed that the charging light on the S6 lit up. My fascination soon turned into frustration when it took 10 minutes for the S6 to gain two percent in charging power.
My cousin, who had an iPhone 6, wasn't able to charge his phone since Apple's smartphones, no matter how advanced Apple (AAPL) claimed them to be, didn't have wireless charging capabilities at the time. So, the friendly barista gave him a small white ring to attach to the Lightning port, which had to be placed on the charging mat. His device charged even slower than mine. "Why don't you just charge your phone with a plug?" a colleague asked when I, despite the speed issues, recounted my experience enthusiastically. She had a point, but charging a phone wirelessly really makes you feel as if you are in an episode of Star Trek.
Since then, not only has Samsung released wireless charging pads for their latest smartphones, but newer devices like the Galaxy S8, GalaxyS8+, and Galaxy Note 8 charge much faster wirelessly than earlier models. The speed still isn't optimal, but it's definitely tolerable. And finally, Apple has embraced wireless charging with the new iPhone 8, 8 Plus, and the upcoming iPhone X. According to Mac Rumors, Apple's new devices support the Qi-compatible charging standards—the same as Samsung's devices. Yes, that means if you have Samsung's wireless charging pad, you'll be able to charge your new iPhone. It also means that the charging speeds will be less than ideal. However, BGR reports that a future iOS 11 update will enable faster wireless charging on the iPhone.
And, Apple seems to have convinced many that they've broken new ground.
Of course, Samsung fanatics are making fun of Apple fanatics, noting that Samsung has had the same technology for more than two years. People can debate all the want about who deserves credit for ushering in wireless charging. But one this is for certain, Apple has made wireless charging mainstream just by embracing it. Almost everything Apple has embraced has turned into gold, even if other companies have tried the same things before.
Still, technically, Apple has nothing on Dell, which just released the first wirelessly charging laptop, the Dell Latitude 7285. Dell's Surface Pro-like device has an optional keyboard attachment that charges the laptop when put on a wireless charging pad. It's not the most elegant wireless charging solution, but it does allow you to forget your bulky charging plug. Then again, the wireless pad needs to be plugged into the wall in order to work. And you need to place the laptop on the pad. So, just like with Apple and Samsung's devices, consumers really aren't getting a complete wireless charging solution.
But the future will hold remote wireless charging solutions that really allow us to untether, so that charging will be like connecting to Wi-Fi or Bluetooth. Soon, gadgets won't need to be placed on charging pads; the pads, which will be several inches away, will actually charge devices though some type of magnetic force technology. According to NPR, a tech company in California, Energous, is already working on it.
"What we are talking about is sending power two to three feet from the transmitter," Energous CEO Steve Rizzone told NPR, adding that he expects transmitters to appear in the market by the end of the 2017 or the beginning of 2018.
The goal of wireless charging has always been to make life easier for consumers, who don't want to carry around three or four different plugs and cords throughout the day, constantly on the hunt for outlets. But the major obstacle in actually realizing the freedom of charging wirelessly from remote devices such as Energous's is that is that Apple, Samsung and Dell will have to agree on a single and affordable protocol for Wi-Fi charging. If each run with their own model, widespread accessibility to public wireless charging will never be a reality. We're so close to untethering from charging cords—but will tech companies be able to put consumer needs first, for once? Only time will tell.
Daryl Deino is a writer, actor and civil rights activist who has appeared on shows such as The Untouchables, Parks and Recreation and Two Broke Girls. Besides writing for Observer, he has also written extensively about technology, entertainment and social issues for sites such as the Huffington Post, Yahoo News, Inquisitr and IreTron. Follow him on Twitter: @ddeino.