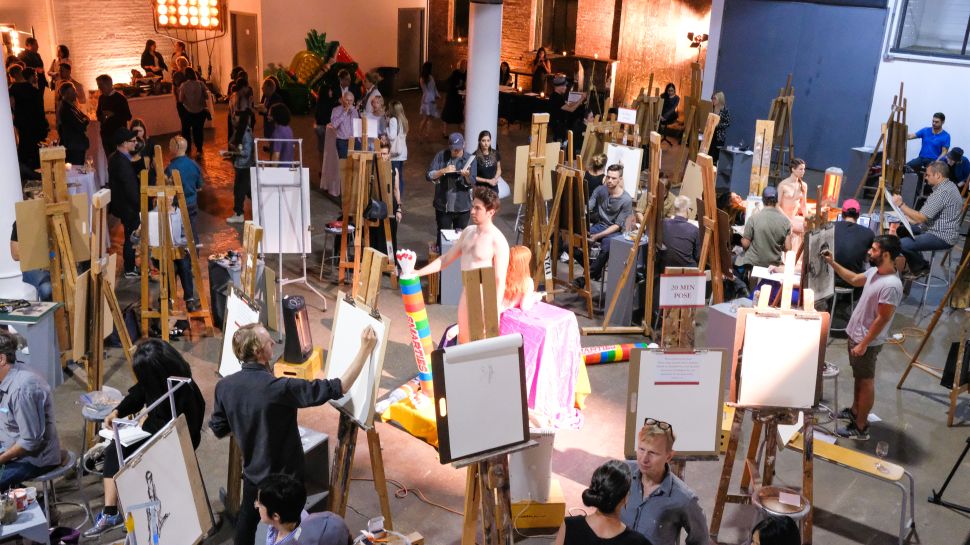 It's not hard to get the creative juices flowing at an event that offers both booze and nudes, so it comes as no surprise that Will Cotton's annual drawing party, now in its 11th year, has become an event to look forward to for many New York artists. Hosted by the New York Academy of Art (NYAA), this year's edition, held on September 12 at the Meatpacking District's Highline Stages, saw 112 attendees and participating artists including Natalie Frank, Inka Essenhigh, Ryan McGinness, and Lisa Rosen.
The event offers artists the chance to get back to basics by sketching nude figure models together—just like in any art school Life Drawing 101 class. Except, instead of a teacher, this curriculum is driven by friendly conversation, cocktails, and a swanky bass beat provided by a live DJ. While it's not required, artists are asked to donate at least one of their works from the evening for NYAA's yearly Take Home a Nude" auction, benefitting the school, which will be held on October 11 this year. But beyond being for a worthy cause, the event is an opportunity  for established and emerging artists alike to connect and experiment.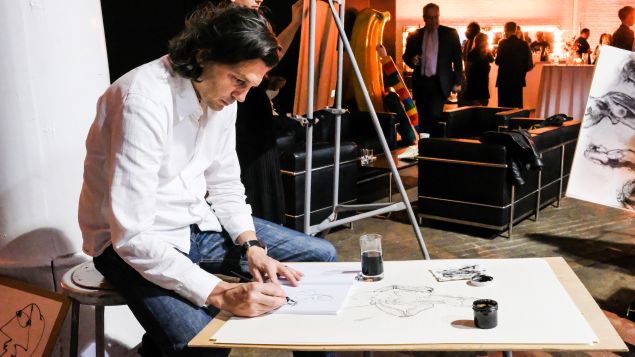 I like getting people together because drawing is usually a solitary activity," Cotton told Observer. "Artists end up spending a lot of time alone in their studios, so I think it's important to socialize in addition to practicing your craft."
Cotton, an alum of NYAA, started hosting figure drawing parties in his studio back in 2002, when he was looking to re-hone his own skills. "Around that time I had some ideas for works that involved painting figures and I thought, 'Oh my God, I'm way too rusty, I'm not going to be good at this,'" he says. He decided to practice drawing from a live model again, a foundational skill most artists learn early on in their training.
According to Cotton, going back to square one was a bit intimidating, so he wanted to find a way to hold himself accountable. "To make sure I actually sat down and started drawing, I invited other people over and made it like a party." Soon, his drawing sessions were a weekly event among his friends.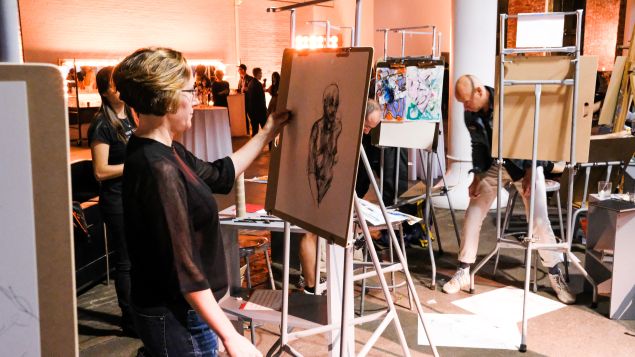 Art critic and artist David Cohen, who has participated in NYAA's version of the event almost every year since, remembers going over to Cotton's apartment to hang out and draw. "I love figure drawing, and Will always gets the best models and has interesting music," he said. At this year's party, he expected he'd make at least a dozen drawings over the course of the night, with the hope of making one worth donating.
"I'm known as a critic, not an artist, so I don't think a collector would want to buy a big David Cohen piece, but a little David Cohen, that could be quite cute," he said as he sketched the languid back of the model in front of him on a 8-by-10 sheet of weighty paper he brought himself. "Plus, there's a lot more room to be forgiven working at a smaller scale."
"I did a lot of figure drawing when I went to the Academy, but I haven't done a lot since. It's a little weird to get back into it," said Jaclyn Brown, who graduated from NYAA in 2009. This was her first year participating in the drawing party, and she brought her own paint markers to sketch with in order to give them a test run for a larger project she's working on. "I thought it would be a good chance to experiment with new materials and new ideas, and it's pretty fun so far!"
Natalie Frank agreed that sketching can be more fun in a group setting, since sitting alone in one's studio can be "like drawing in prison" she joked. "But Will's party is like drawing at the Four Seasons—there's an open bar!" Although there's much merriment and camaraderie, Frank admits that the event still pushes her out of her comfort zone, even though she's participated several times. "I'm always shy about donating a drawing—I never think they're all that great by the end of the night."
Frank's timidness about her work, though unwarranted, is understandable. Cotton's drawing party has developed into an increasingly high profile event over the last decade. Each year features one or more surprise guest models and, in previous years, guest stars have included the likes of model-actors Padma Lakshmi and Brooke Shields, and "it" designers and creative like Cynthia Rowley, Waris Ahluwalia, and Arden Wohl. This year's models were (fully-clothed) golden children of the art world: Glenn O'Brien's son, Oscar; Jeanne Greenberg Rohatyn's daughter, Coco; Anne Pasternak and Mike Starn's daughter, Paris; and Barbara Gladstone's grandson, Eli.
I didn't expect it to become some super cool thing," he laughed when asked about how his small studio gatherings have blossomed into a star-studded party. "It grew out of something personal, and it still is in a lot of ways. I think that's why people like it so much."