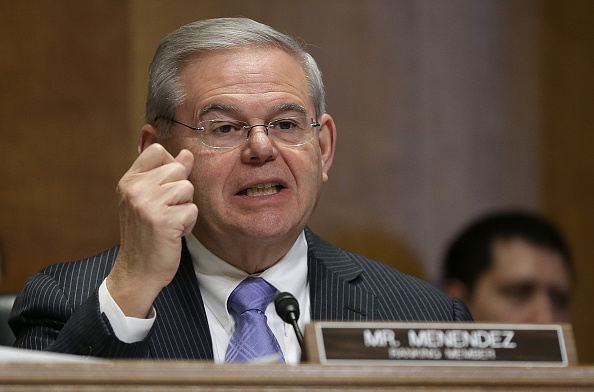 Sen. Majority Leader Mitch McConnell (R-KY) announced on Wednesday that the latest GOP effort to repeal and replace the Affordable Care Act —the Graham-Cassidy Bill— will likely be put up for a vote next week, something that means Sen. Bob Menendez may soon have to choose between attending his ongoing federal corruption trial or making his way to Washington D.C. to cast a vote.
Democrats like Menendez are largely opposed to the health care bill, claiming that it would cut health care for the most vulnerable populations in the United States. But, since there are currently 52 Republicans and 48 Democrats in the Senate, every vote could be significant and an absence from Menendez could make or break the legislation.
"He is certainly going to weigh very heavily if his vote will be determinative and if it is he will make that decision whether or not he goes," Menendez Press Secretary Steven Sandberg told Observer.
Menendez stands accused of accepting gifts and bribes in exchange for political favors, something he has routinely denied. The trial is expected to stretch through Thanksgiving and is scheduled for Mondays through Thursdays, with a few adjournments due to holidays. On a typical day, the trial ends at 2:30 p.m. According to Sandberg, the early adjournment and lack of court on Friday mean that the senator could be spared from making a choice.
"We will have to see if the situation even arises, right now it is all hypothetical," Sandberg said. "Would I put it past him even if it is a short turnaround to be there late in the evening and then try to make it back to court the following morning if that should be the case? No, I wouldn't put it past him. That is something he is prepared to do."
Last month, Menendez's attorneys filed a motion arguing that the trial should be put on pause in order for Menendez to attend what they called "critical" votes. Attorneys said Menendez faced a conflict of his constitutional right to attend his trial and his position as an elected official to represent his constituents in the Senate. Judge William H. Walls denied that motion. The health care vote is the first time since the trial started on Sept. 6 that a "critical" vote has arisen.
Sandberg said that once a schedule for the vote is set, Menendez will announce his decision.
"When we know for sure, we aren't going to keep that answer quiet," Sandberg said. "People will know where he is. The jury might not, but everyone else will."
Ben Dworkin, director of the Rider University Rebovich Institute for Politics, said the vote situation is largely "uncharted territory" due to the rarity of a sitting senator facing a trial, something that has not happened in 36 years.
"There is not really a lot of precedent about what is sure to be a close vote happening during a trial," Dworkin said. "And what is the impact? If he goes to Washington will the jury and the judge somehow believe he is more guilty? Will it make a difference in their perception of him? This is really an unclear situation."
Dworkin said that, if there is a conflict, Menendez's choice will likely come down to the "last 24 hours" before a vote, once the total tally is more clear.
"If they can afford to not have Menendez there I am sure everyone will say 'Have fun in the courthouse,'" Dworkin said. "But if they do need him, there will be huge pressure placed on him to be down in Washington for that day."
The deadline for Republicans to pass a new health care bill with a simple majority is Sept. 30. The new bill was authored by Senators Bill Cassidy (R-LA) and Lindsey Graham (R-SC).