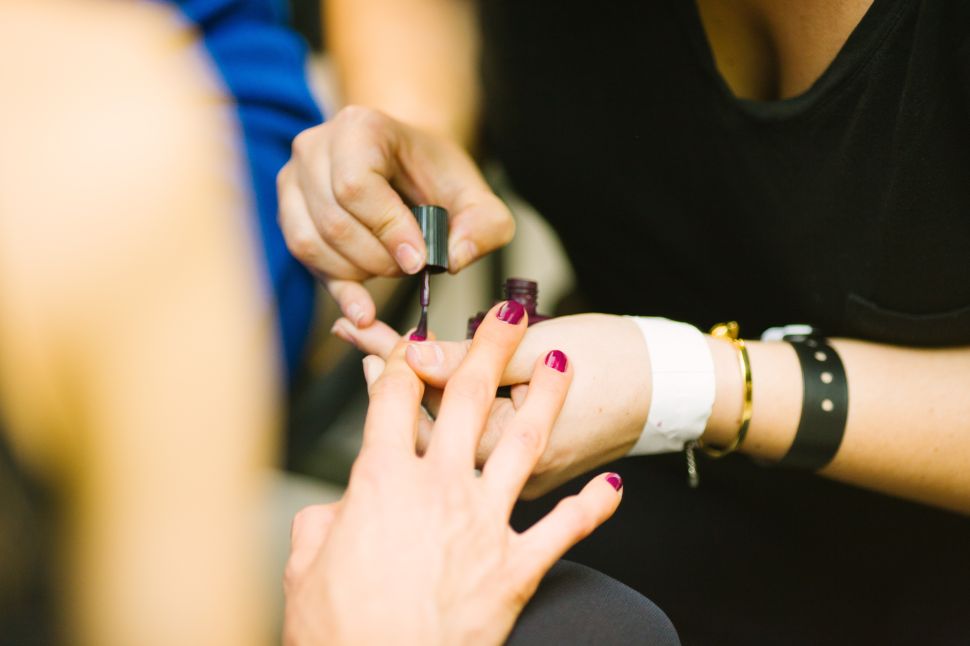 I have T.S.A. PreCheck, but that means nothing if the fifty people in front of me at the airport security line also have T.S.A. PreCheck. Thus I arrived at San Francisco International Airport three hours before an international flight out of a domestic terminal, waited behind a scant dozen people in the security line, and found myself with two hours to while away before boarding. On my fourth speed-walking circuit through the terminal, I noticed that the XpresSpa had several empty chairs, so I went in and had a very nice, unobtrusively efficient manicure-pedicure experience.
The only reason I couldn't relax completely was because I was suddenly dying to know everything about XpresSpa: How long have they been around? (Since 2004.) Had they managed to penetrate every major U.S. flight hub? (They're noticeably absent from the Pacific Northwest and the Cincinnati airport, which is a well-supported international airport, but otherwise, yes.) Is the company privately held or can I look it up and see sales trends? (They were acquired last year by Form Holdings Company—stock ticker symbol FH—and projected $40 million in sales from 51 locations.) What must the training be like so the staff can deliver an experience perceived as pampering without customers feeling rushed or anxious about missing a flight? (This is a story still waiting for reportage.) What are the best-selling services? (The neck massages, followed by manicures and pedicures.) What was the deal with the nail polish? (The chain has a deal with Essie, a brand that's very carefully positioned itself as the polish of choice for the upwardly mobile and those who wish they were.)
Then I started thinking about the airport spa business as a whole. If we live in a world where airport mainstay Auntie Anne's Pretzels is always looking over its shoulder for Wetzel's Pretzels, then there has to be a rival spa chain. And sure enough, Be Relax is there, although its U.S. penetration comprises only seven airports, with just JFX and LAX in common with XpresSpa. Still, glamming it up before you head to the gate to seethe at the smug platinum-level fliers who board before you do is a thing now. The Wall Street Journal reported on the rise of airport beauty services, noting there's money to be made from fliers with downtime before their next flight. "The travel and retail industries are hoping to grab a piece of the $439 billion 'Wellness Tourism' market, a travel category that includes beauty and which in 2013 grew at a faster rate than tourism overall, according to a study by the Global Wellness Institute, a Miami industry group," the Journal reported.
What's led to the rise of getting pretty in airports? Credit the confluence of a few disparate factors: Luxury beauty spending has steadily ticked up over the past few years. The rise of wellness as a cultural conceit, encompassing everything from emotional self-care to diets to personal grooming products, has also primed some luxury consumers to embrace a new purchase if it promises to improve their well-being. And then there's the biggie: People are primed to spend in the first hour after they get through security, because they're in the headspace of "Treat. Yo. Self."
So what? I know I bang on the "experience is the new retail!" and "experience is the new luxury!" drums in this space a lot. Most of the time, the stories in question focus on a retailers' conscious effort to create an experience that people will want to have—see Nordstrom's new clothing-free stores or Apple retail head Angela Ahrendts telling a crowd that the tech company's retail outlets are now to be referred to as "town squares," where people can play music, meet friends and learn how to refine their photography.
Hanging around the airport because of the unpredictability of the security line or the delays in flights is pretty much the exact opposite of seeking out a luxury retail experience. But it's interesting how beauty services crept into airports with the effective pitch: "We can make this experience less awful … for a price," and then flourished.
Who cares?  People who are responsible for running the kinds of publicly accessible places that fill up fast with stressed-out people.
Shopping to offset the reality that you're trapped in a weird-smelling place, completely lacking any control over your own time and bereft of any certainty over where you'll be in the next 24 hours has turned out to be a huge boon for retailers. So what other areas might try using retail outlets as a way of diverting an otherwise bored and frustrated population? I welcome your suggestions via Twitter at @lschmeiser—or your contention as to whether some places should remain free of newsstands, pretzel vendors and the odd speedy-manicure stand.
Want more? There's a whole archive of So What, Who Cares? newsletters at tinyletter.com/lschmeiser. In addition to the news analysis, there are also fun pop culture recommendations.