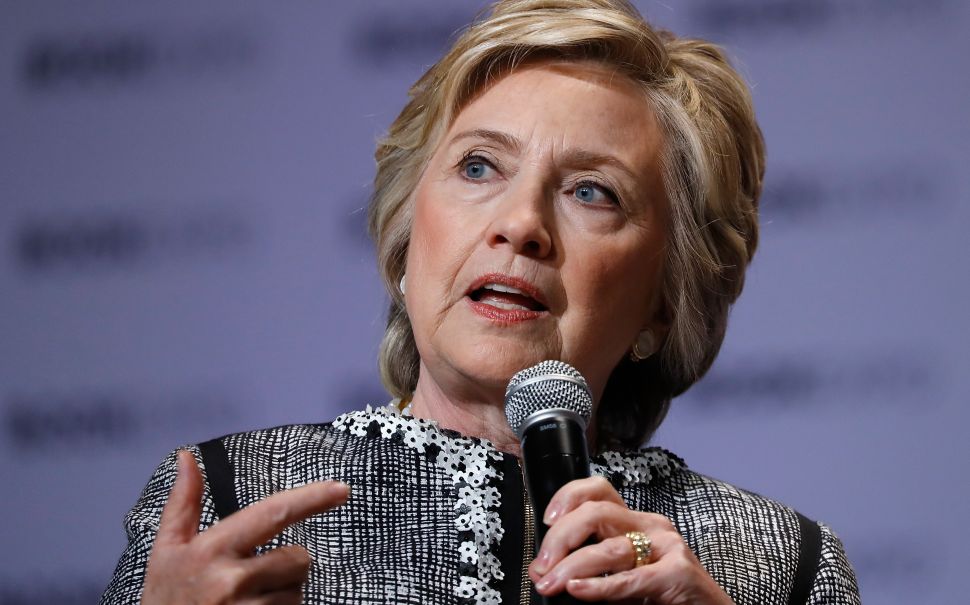 It's the postpartum primary: endless, depressing, emotional, uncontrollable.
The sour 2016 Democratic primary will continue in breadth and bitterness until late 2019, when the contours of the 2020 primary should come into focus. It shouldn't, but it will—because the dust hasn't settled.
Hillary Clinton emerged victorious over Bernie Sanders politically in April 2016. The wide margin of her New York primary win made it clear to experts that, absent a upset, he couldn't—and wouldn't—catch her. By delegate count, she clinched the nomination in early June. Vote-by-vote, the former secretary beat the current senator by just under four million. Sanders couldn't make inroads with women and voters of color; had he been a Democrat, perhaps he would have known who the Democratic base is. Anyway.
What happened next is why we are still reliving the primary like some nerd-world Groundhog Day. One won, one lost—and then the winner lost. Then supporters of each, mistrustful from the get-go, blamed the other candidate and their supporters. Those are the Cliff Notes.
In case you've been under a rock—or just paying attention to Jong-Un, Irma, Harvey, or Donald's newest dance partners, Chuck and Nancy—Hillary Clinton wrote a book. It's out tomorrow. In one section, she details her take on Sanders' role in her loss. I haven't seen the book. I don't plan on reading it. This doesn't mean I do not think Hillary Clinton is an amazing woman (I do, albeit one who makes some puzzling political calculations that can be summed up by not going to Wisconsin during the election… yet traveling to the Badger State on her upcoming book tour). I'm looking at her on the cover of Time with a mixture of such love and such angry disappointment that it makes my head spin. I don't need to read What Happened. I'm living What Happened, and it's hell. Just ask my pants about the "Trump Twenty."
I'm sure there's far more to the book than the handful of pages where Clinton spills the tea on Sanders, but—obviously!—those are the only ones that anybody will read.
My take: Clinton's right in her backwards glance on Bernie Sanders and the role he played in her loss. Yes, his support was beyond lackadaisical and didn't really happen until October, since Sanders took an extended personal day from August to September, despite the fact that his values were on the line. You can also make the argument that, by the time he hit the trail, his endorsement rang hollow—that he followed a campaign that was never going to win. Not to mention, Sanders' high profile surrogates were some of far left's most trusted message carriers: Nina Turner and Susan Sarandon, Rose Ann DeMoro and Cornel West. They continued, punch-drunk on ego and noticeably unchecked by their mentor, to mercilessly kneecap the nominee. After all, they'd never support Clinton—she was more dangerous than Trump (…how's that going?!).
This gave hundreds of thousands of voters (in key states) the permission to stay home, to vote for charlatan Russian bot Jill Stein. Or for Trump. The irresponsibility blows my mind to this day.
But Bernie Sanders isn't entirely to blame. See: Handling of speeches, paid; and Servers, private. In the age of Occupy Wall Street, optics are everything. Of course, the media treated Clinton like a criminal—and treated a criminal like an unserious sideshow who'd never win. Hidden in plain sight? Cataclysmic cyber-warfare that mattered exactly where it needed to. Together, a perfect storm.
This will be the political conversation over the next few weeks—in fact, it's already well underway. But what if we want to learn from our mistakes?
Clinton won the primary on paper. Sanders won it with emotion and, as Democrats look ahead, that may well matter more. Politics today is propelled by feelings over facts. In the end, Clinton's brilliantly-conceived, prepared government mastery lost to Donald Trump's ethno-targeted, geo-targeted blunt force trauma that, like the Sanders campaign, was propelled by the hotter burn of emotion (and grievances). Emotion lives longer. And Emotion in Politics is free from the reality of governing.
Bernie Sanders will never be brought down to earth because Bernie Sanders never has to deliver results. He won't run again, for exactly this reason. In that way, he won by losing.
The 2016 primary should end in late 2019. Between now and then, the speculative number of maybes will grow exponentially. But by then the three-dozen or so Democrats by rumor or by indication who are currently circling the race should be winnowed down to a respectable if wide debate stage. It's worth noting that in terms of acumen, energy and appeal the Governors, Mayors, Senators, Congressmembers, business leaders and Winfreys positioned to jump in are a truly stellar group yet, not everybody's a frontrunner. Many won't enter; many will fall by the wayside.
But no matter who emerges at the top of the list, one fact is true: they'll be tied to the unshakable legacy of 2016 and they'll be sorted as such.
Think of it like "Sex and the City."
From 1998-2004, you were "such a Carrie!" if you pined for unrequited love or rocked a strappy sandal; or "a total Miranda," if you were judgy. Ditto a prissy Charlotte or a slutty Samantha. The day after the 2018 midterms are through, 2020 candidates will rise at any moment by whether they're a Bernie Bro or an absolute Hillary.
I leave it to you to determine if a Bernie or a Hillary will emerge to successfully take on Trump (if he is still in office).
I had a choice, it would be emphatically neither.
It would be a Barack.