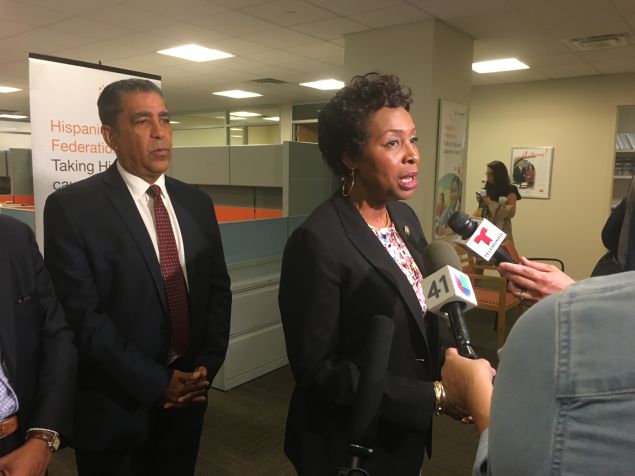 U.S. Rep. Yvette Clarke (D-Brooklyn) says that she and Senate Minority Leader Charles Schumer are putting pressure on President Donald Trump to come up with a solution for recipients of the Temporary Protected Status program, which benefits people from countries experiencing humanitarian crises.
TPS, which is run by the U.S. Department of Homeland Security, provides sanctuary and work authorization to foreign nationals fleeing disaster or violence at home. Amid the push to protect the Deferred Action for Childhood Arrivals program for undocumented youth brought to the United States in their early childhood, congressional Democrats have been looking to formulate a strategy to get Trump to extend TPS.
On Monday, acting Homeland Security Secretary Elaine Duke announced that Sudanese recipients will have to leave the U.S. by November 2, 2018 on the grounds that "conditions in Sudan no longer support its designation." She said that extending Sudan's TPS status for another year will allow "for an orderly transition." But she extended South Sudan's designation until May 2, 2019 due to the fact that the "ongoing armed conflict and extraordinary temporary conditions" that brought about the 2016 TPS pre-designation have continued.
Both countries' TPS statuses were set to expire on November 2.
Clarke, the first congresswoman of Caribbean descent, told the Observer at "Moment of Truth: Where America Stands on Immigration," a forum in Manhattan earlier this week, that she had a conversation with Schumer and that he understands TPS "intimately" because many of his constituents are currently protected under TPS.
"If there's a moment during the negotiations, if there's a moment where there are elements of what we have to get done before the end of the session that will rely on Democratic votes, that the decision to insert the conversation around TPS [will come] once again because it's not the first time he's discussed it with the administration that he will continue to hammer the point home that we need to extend Temporary Protected Status," Clarke said.
In February, Clarke, co-chairwoman of the House Carribbean Caucus, introduced a bill that would expand TPS to include all Haitian nationals who were in the United States before November 4, 2016. In May, she criticized then-Homeland Security Secretary Gen. John Kelly—now White House chief of staff—for not visiting resettlement sites during his brief trip to Haiti. She requested that he go on a longer tour of the country with her and other elected officials.
The following month, Kelly decided to extend the program for Haitians for six months—until January 22, 2018—and called on Haitians to prepare to leave the country. At the time, he said that he would execute the law as it stands and that it wax up to Congress to "sit down and talk about it and come up with some legislation to fix it," arguing that it is "squarely on them."
Clarke subsequently accused Kelly of "trying to pull a fast one" on Haitian refugees by suggesting the responsibility lies with Congress.
"He [Kelly] still maintains his posture, but we have a new administrator over at Homeland Security, and there are gonna be many more opportunities for this conversation to take place," she said. "And I believe that Chuck Schumer understands the imperative that there is and will use every opportunity at his disposal to continue pushing for the expanded 18-month TPS that we're all accustomed to."
A spokeswoman for Schumer did not immediately respond to a request for comment.
Trump is currently working on an agreement with Schumer and House Minority Leader Nancy Pelosi to make DACA permanent in exchange for tougher border security. Former President Barack Obama established  DACA in 2012.
Schumer and Pelosi said they hoped to finalize the agreement with Trump "as soon as possible" and asserted that both sides agreed that a border wall would not be included in the deal.
"I think that, first of all, it's much better than [what] we have now, which is no protection whatsoever, but they're still working out the details of that, there's still a lot of give and take," Clarke said. "But my hope is that one, we will do a DREAM Act, that the DREAM Act will include… not just the ability to register as a DACA but a pathway to legalization and ultimately citizenship."
Gov. Andrew Cuomo has warned Democrats to "exercise extreme caution" in forming the deal, saying that Trump may push for a "cyber wall." And earlier this week, Pelosi was shouted down by young immigrant advocate protesters at an event in San Francisco. She subsequently said that Democrats would continue to push for comprehensive immigration reform.
Clarke reiterated that congressional Democrats want a standalone bill.
"Listen, part of what they wanna be able to do is to get us deal with this extreme protectionism at the border and on enforcement and one of the things that we said we will not do is we will not compromise on enforcement," she added. "Already, we are enforcing for a flow of immigrants that have not materialized and we need to make sure that we take that case to the people so that they can see where their investments are going and what it is that they're actually doing, which we believe is immoral."