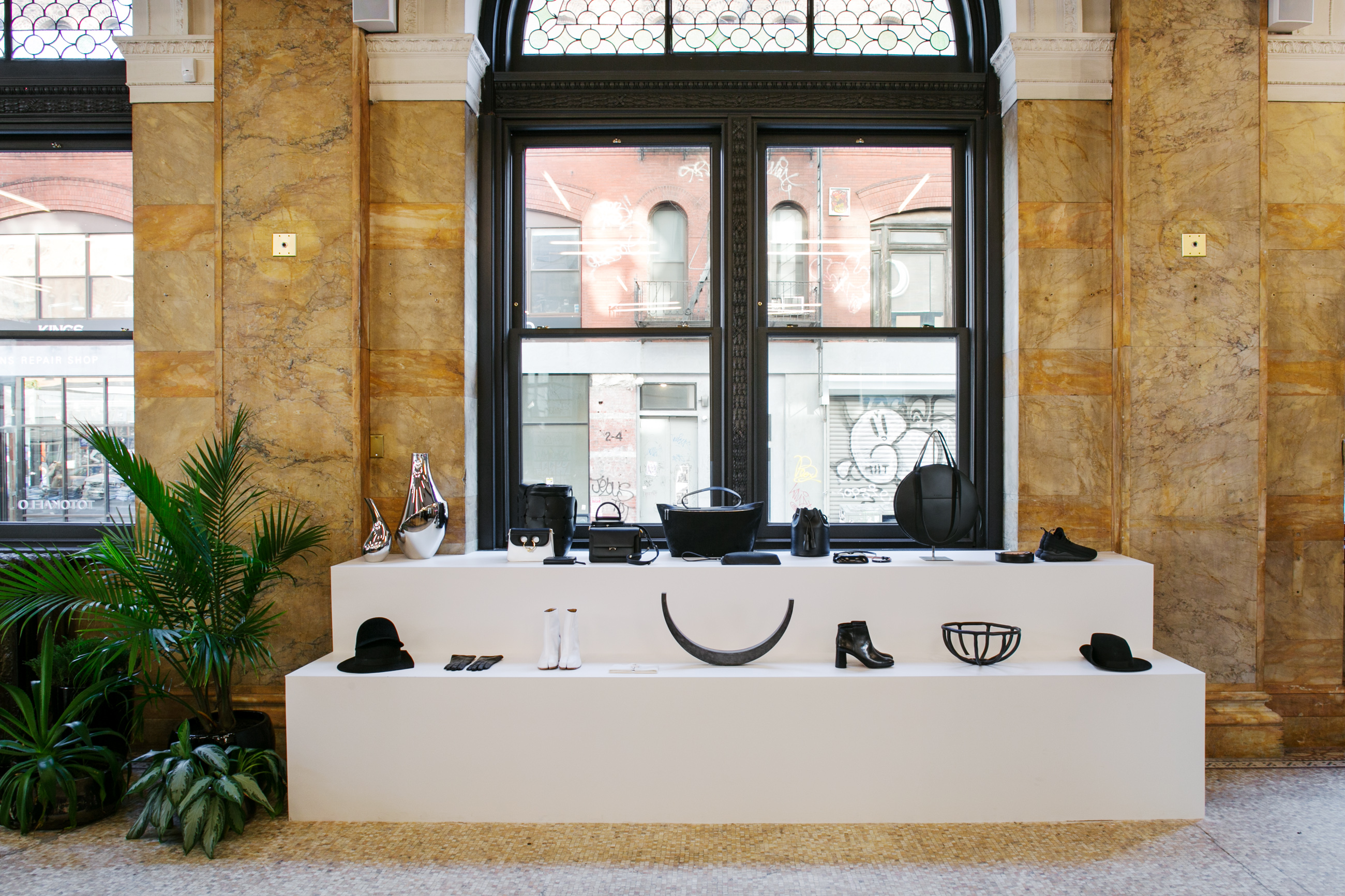 If the arrival of fall (the season, not the weather) has you itching for a new wardrobe of cozy knit sweaters and a few pairs of sleek but essential leather designer boots, well, you're in luck. New York is positively brimming with new store openings this fall, offering plenty of options for all types of shoppers.
Do you believe the Supreme hype? Then head to Williamsburg for the skate brand's latest location—and don't forget to bring your skateboard along. Are you in the market for a new hi-tech suitcase? Zip over to Away's shop, to stock up for a smart travel experience. Is this the year you'll invest in a new coat? Consider the cool but timeless options at The Arrivals' Soho pop-up shop.
These 10 new shops, a few of which will be opening over the next few months, might leave you wondering: Who said retail was dead?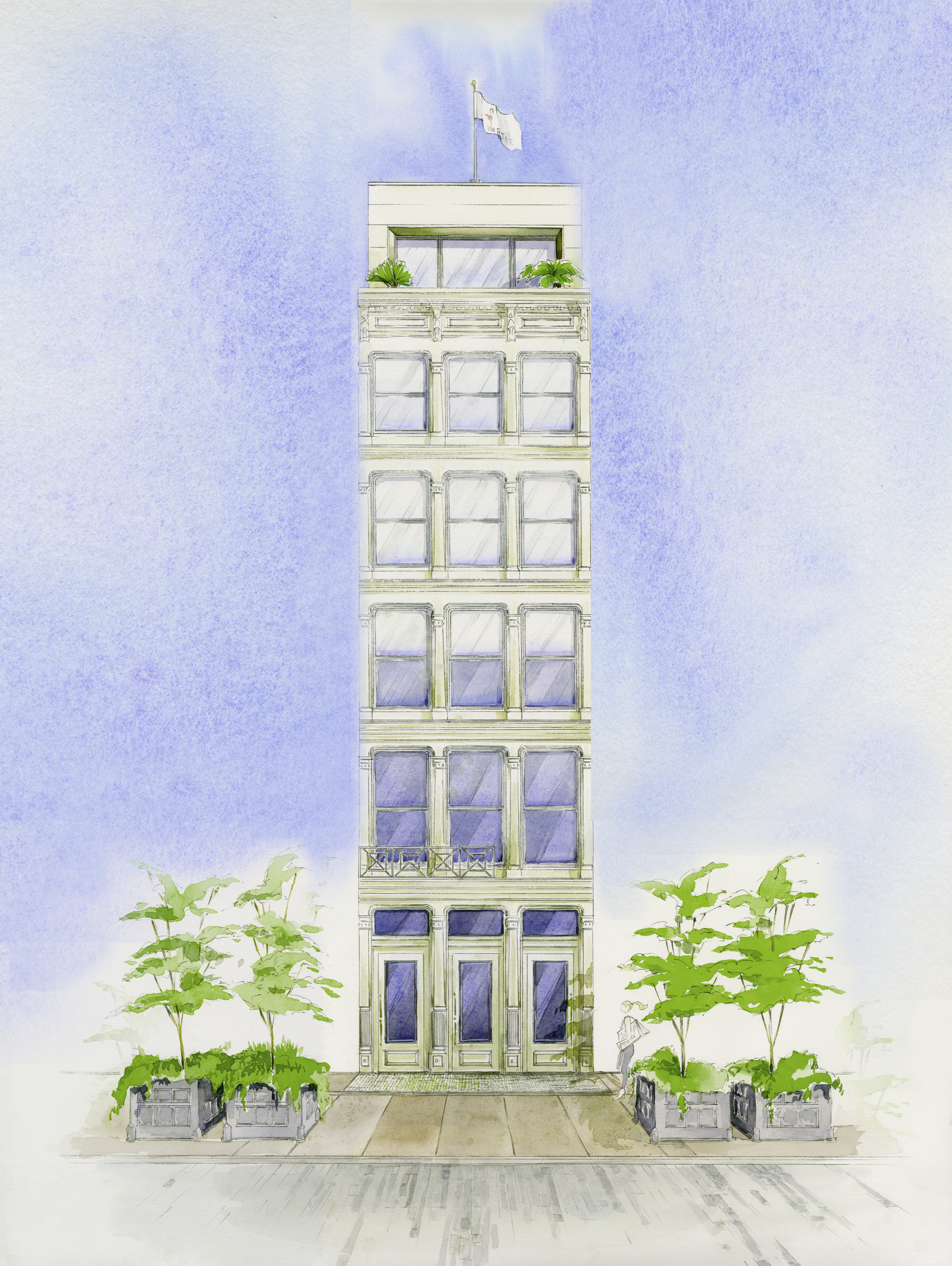 The next best thing to visiting Miami in December is getting to shop the storied racks of The Webster in your very own city. That will become a reality this winter, when the boutique founded by Laure Heriard Dubreuil takes over an entire building in Soho. Yes, this 12,000-square-foot shop will contain six entire floors of designer delights from Dior, Loewe, The Row, Sies Marjan, Thom Browne, Chanel, Gucci, Raf Simons and Balenciaga. But that's not all; hairstylist David Mallett will run a full-service salon on one of the floors and the penthouse will be a haven for VIP clients and various in-store events.
In addition to splendiferous ready-to-wear garb and envy-inducing accessories for men and women, this version of The Webster will stock exclusive and made-to-measure home furnishings, plus the debut of baby and children's clothing. Alongside artwork, such as a bronze flamingo from Rogan Gregory and a large scale painting from Miriam Ellner, the shop will be decorated with a marble terrazzo, vintage wallpaper with floral and geometric motifs and metal and glass vitrines that are a nod to the iconic New York City subway. Basically, this is where all of your shopping dreams will come true.
29 Greene Street
Expected to open December 2017.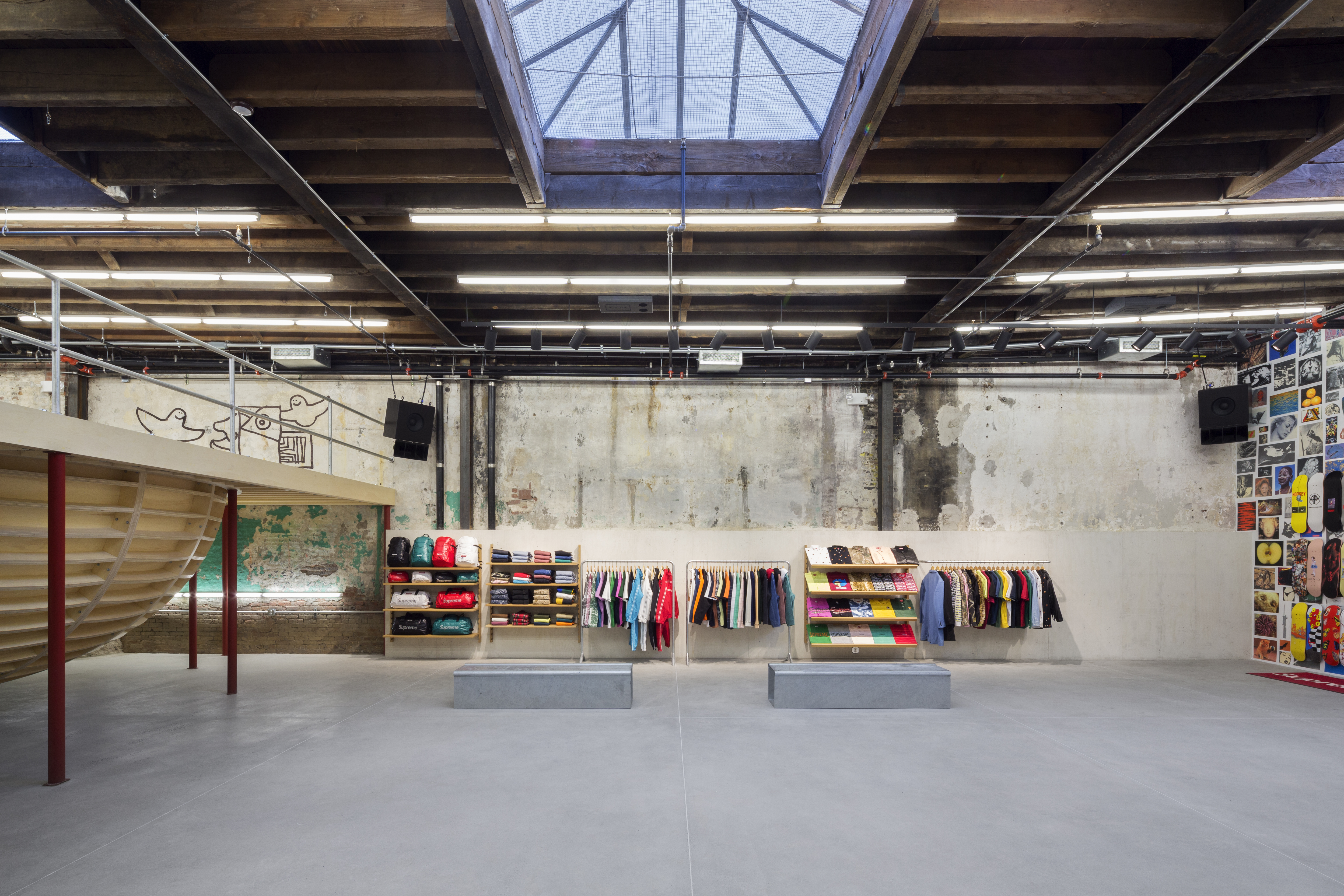 There were some whispers that Supreme was opening up shop in Williamsburg, but those murmurs turned into a full roar when the store officially opened their doors in early October. Worshipers at the church of Supreme are well-known for enduring lengthy lines in order to score exclusive merch, so don't be surprised to encounter a gathering of dedicated shoppers when you come for a visit. Luckily, the cavernous shop has enough room for those obsessed shoppers, plus a large skate bowl—and the logo t-shirts, hoodies, beanies, bags and other goods they came for.
152 Grand Street
Opened on October 5.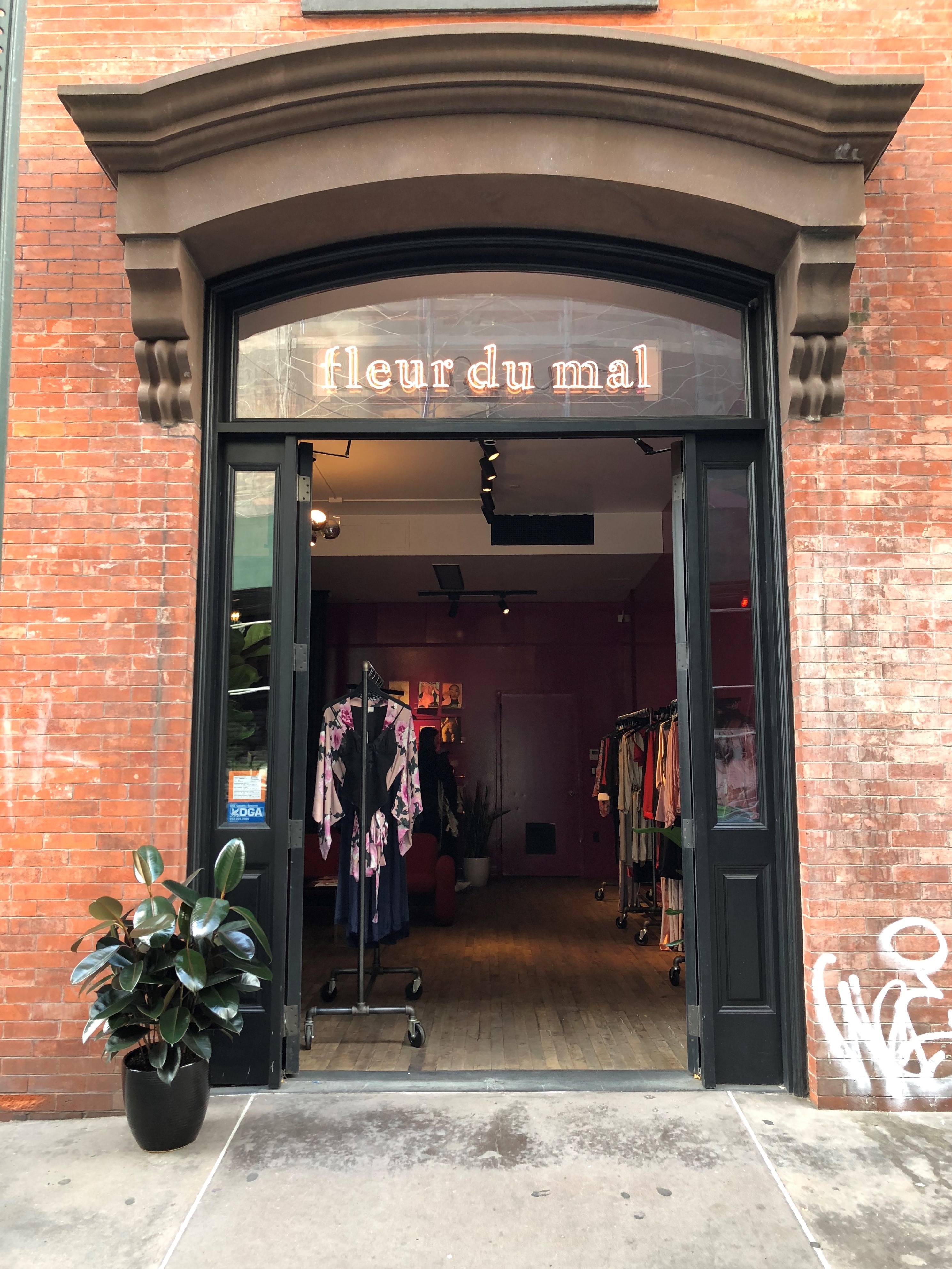 As the cooler temps descend on the city, there's just one way to keep your outfits on the sultry side: with a whole new wardrobe of lingerie. Luckily, Fleur du Mal is popping up in Soho for the holidays, stocked with all the lacy thongs, velvet bodysuits and intricate bras one could desire. There will also be plenty of ready-to-wear, including killer silk suits and velvet trench coats.
The pop-up will only run through December, but designer Jennifer Zuccarini has made sure to stock the shelves with a few exclusive designs. Perhaps you'll spot one of the brand's many celeb supporters, which includes the Kardashian Klan, Gigi Hadid and Lorde, perusing the lingerie offerings, too.
175 Mott Street
Opened on October 6.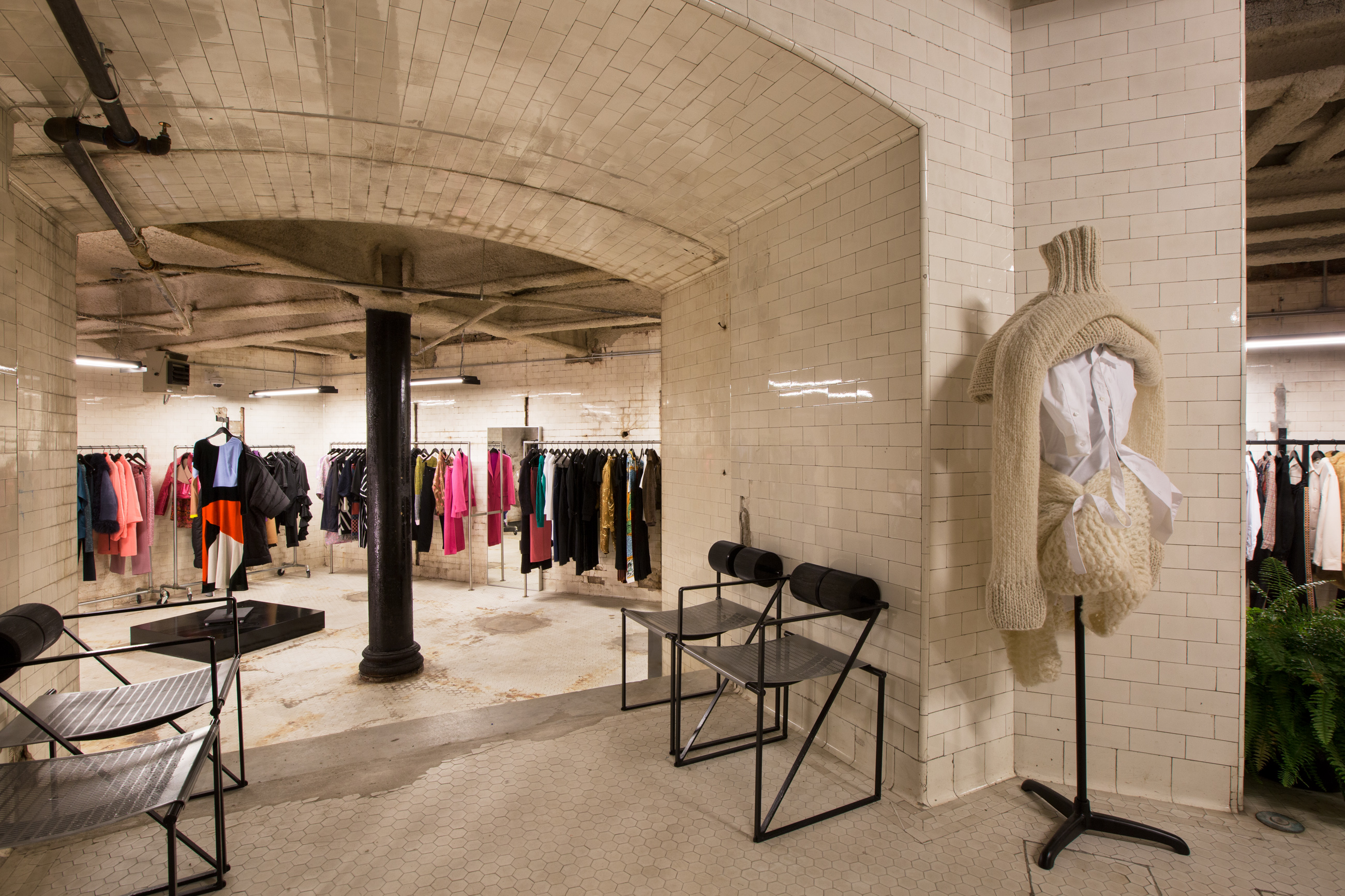 You don't have to be a fashion buff to appreciate Seattle retailer Totokaelo's arrival in New York. Located in the Germania Bank building on the corner of Bowery and Spring Street (it was most recently the home and studio of photographer Jay Maisel), many details from the historic building, which dates back to 1898, have remained untouched. That includes the original wood flooring on the first floor and the bank's vault in the basement, which now houses an impressive shoe collection. This shop, which will be open for just 11 months, per The New York Times, is being referred to as a residency—not a pop-up.
The old school New York vibe of Totokaelo correlates well with the carefully curated selection of avant-garde designer wares, including Calvin Klein, Jacquemus, Vetements, Marni, Maison Margiela, Acne Studios and more. Stylist Katie Burnett is responsible for some of the installations in the space, including her creation of a reflective ceiling in the room that once served as Maisel's light and dark room.
"The result is what we hope is an exploratory experience that promotes discovery; consumers find and interact with non-traditional product displays contextualized within the building's various vaults, suites, alcoves and hidden chambers," explains the shop in a press release. At least this retail destination is bound to make holiday shopping an adventurous experience.

190 Bowery
Opened on October 6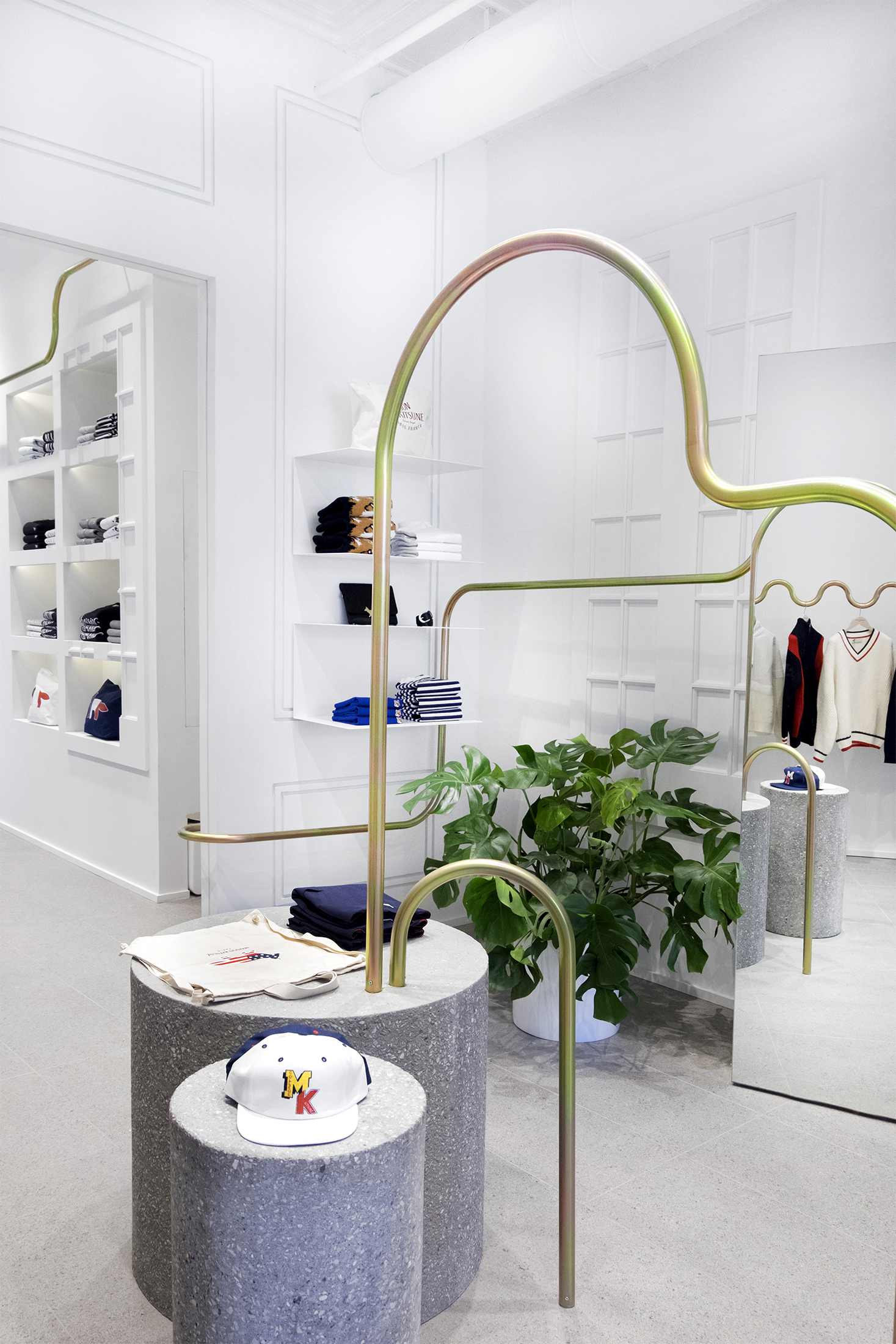 Good clothes and good tunes seems to be the mantra of this French brand and music label, a vibe that their American customers embrace with open arms.
A series of twisting and winding metallic tubes traverse their new Lafayette Street boutique, upon which clothing is hung and through which vitrines are embraced. The creation of designer Mathieu Lehanneur, and Maison Kitsuné co-founders and creative directors, Gildas Loaëc and Masaya Kuroki, this décor easily conveys the playful aesthetic the brand is known for. And speaking of which, be sure to check out the logo hats and colorblock sweaters that are anything but serious, as well as t-shirts that announce your "New Yorkais" mentality.
This location will also host a series of musically inclined after-hour events, including Kitsuné Club Night, Kitsuné Showcase and Kitsuné Afterwork. So make sure you can properly bust a move when you're trying on Maison Kitsuné's threads in the fitting room.
248 Lafayette Street
Opened on September 17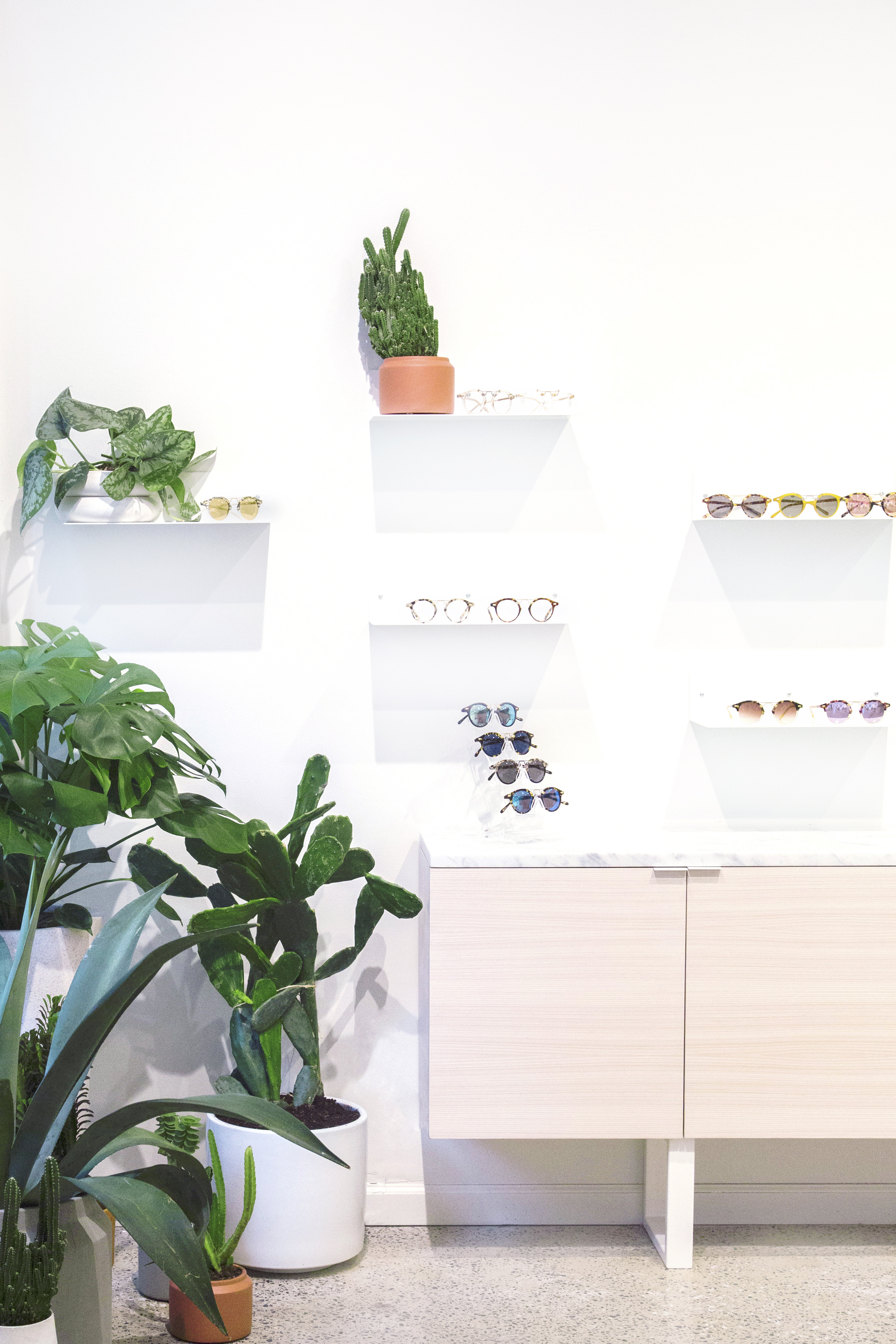 The entryway of this Soho boutique might be just the right shade of New York black, but it also reads, "Laissez les bons temps rouler. Let the good times roll…" It's an apt touch for a brand that got its start in New Orleans and has since seen its signature sunglasses on the faces of A-list celebs and models of the moment.
"New Yorkers have sought out Krewe since our inception, recognizing New Orleans as a sister global city—both are cultural hubs for architecture, music, food, and art. Even though we are building a brand from New Orleans, New York has, and will continue to have, a fundamental impact on our creative process," said Stirling Barrett, the brand's founder and creative director.
This semi-permanent residency began on September 8 and will last for at least six months, if not longer. You'll notice that there is a ton of greenery in the store, alongside countless shelves of frames made from handcrafted acetate, and that's no coincidence. Krewe uses plant-based acetates in their production, so they're simply paying homage to the ingredient with this copious amount of potted plants.
39 ½ Crosby Street
Opened on September 8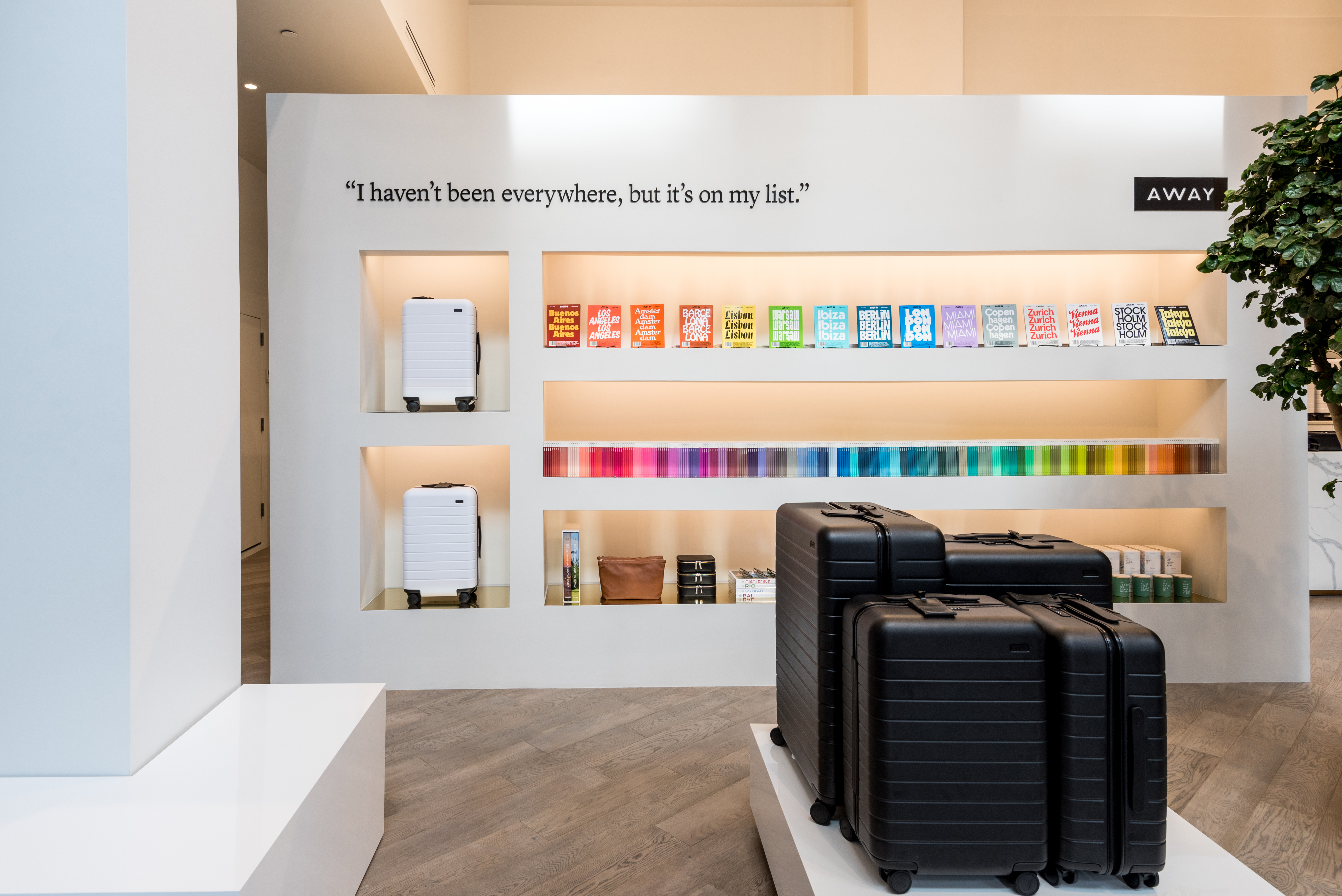 Before embarking on the headache that is holiday travel, remove one stressor by investing in a trustworthy piece of luggage from Away. This brand's first permanent store in New York carried all sizes of their rugged rollers—some of which come equipped with a built-in battery, so you can charge as you go.
There's also a slew of other travel-related items that promise to make your next voyage a breeze, including LostIn Travel Guides, TSA-friendly beauty products from Vitruvi Essential Oils and This Works Travel Mist, Slip Eye Masks, chic dopp kits and, of course, plenty of reading materials to keep you entertained during your next flight.
10 Bond Street
Opened in September 2017
Just in time for the arrival of winter weather, The Arrivals is popping up in Soho on October 14.
The space was created in part by the Bower design studio and interior designer Lotte van Velzen and has been splashed in the limited-edition color of Mars, which can be found decorating leather and puffer jackets in the fall collection. The hue is described by the brand as "a blush, dusty-nude hue inspired by the mineral tones of the planet," and the pop-up will be peppered with volcanic Arizona gravel, nuggets of lava and boulders, so it's definitely a space that Elon Musk would appreciate.
Alongside the brand's trustworthy leather and shearling jackets, plus puffers and sleek overcoats (all of which now come with a lifetime warranty), there will be bags from Cult Gaia, speakers from Bang & Olufsen and sunglasses from Westward Leaning. There will also be exclusive collaborations on hand, which The Arrivals team created in partnership with Byborre, Vuarnet, Instrmnt and Atelier YUL:. Consider this your one stop shop for that friend who is just too cool for this world; though you can also stop by the brand's pop-ups in Los Angeles, which opens on October 21 and San Francisco, which debuts on October 28.
42 Crosby Street
Opens on October 14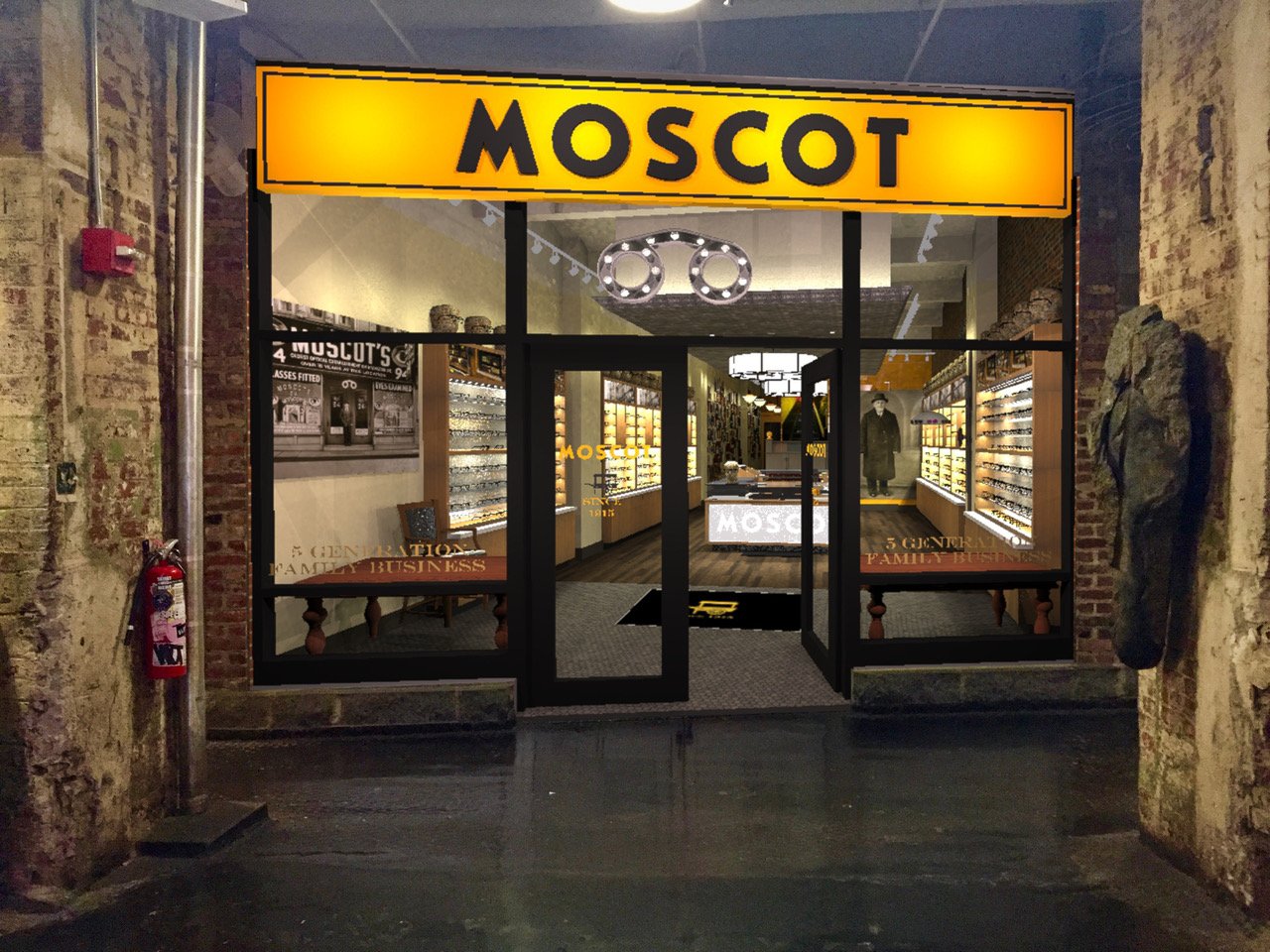 When it comes to optical institutions in New York, there's nothing more iconic than Moscot. As a player in the eyewear game since 1915, the purveyor of sunglasses and bold-but-simple frames has now built a small empire around their trusty product, with locations on 14th Street, on the Lower East Side, in Brooklyn and a few shop-in-shops at Barneys and Dover Street Market.
Now the West side is getting some love, as Moscot is opening up shop in Chelsea Market. Located next to Anthropologie, this location will have all the tell-tale signs of the brand's signatures, including yellow signage, retro graphics and rows upon rows of tasteful frames. It will also include The Tint-A-Majig. But what is it? "A quirky and never-before-seen, arcade-style contraption that will allow consumers access to Moscot's Custom Made lens tinting options. Consumers, new and old, are going to have a lot of fun putting their own spin on our classics," said Zack Moscot, Chief Design Officer and VP. Try-before-you-buy has never seemed so entertaining.
Additionally, there are services that cater to modern day New Yorkers, including optometrists who are trained to work with eyes that have become strained from staring at a computer screen all day.

75 Ninth Avenue
Opens on October 17
For a trench coat with history, Mackintosh has been the go-to for quite some time. Scottish inventor Charles Macintosh was credited with creating the rubberized fabric, used to create the weatherproof coat, in 1823. And the brand has stayed true to those historic roots, as now each of their luxe coats is handmade in Scotland by artisans who have been trained for decades.
This Upper East Side shop will probably allure tried and true trench coat wearers, but is worth a visit for anyone curious about sprucing up their collection of rain gear. Mackintosh recently received some high fashion street cred, when it collaborated with Vetements on an oversized trench for Spring 2017 and tapped Kiko Kostadinov to design their experimental ready-to-wear range, Mackintosh 0001. How do you feel about a fur-lined poncho—with a hood? Or a selvedge denim overcoat with a seam that looks like the fly of a pant? What about a pair of trousers with two shiny rubber stripes down the front? The classics are being mixed up at Mackintosh and it's not necessarily a bad thing, at all.
833 Madison Avenue
Opened on October 6