Stephen King adaptations are having quite the moment in 2017 across various platforms, from the incredibly popular It remake to the less successful Dark Tower theatrical release. There's also Hulu's forthcoming Castle Rock, which is inspired by the work of King, while Netflix (NFLX) has two originals, Gerald's Game and 1922, currently streaming. The latter, released just in time for Halloween, is adapted from King's 2010 Full Dark, No Stars novella collection. A Gothic heartland horror set on a farm in 1920s Nebraska, Thomas Jane stars as Wilfred James, who, after killing his wife, Arlette (Molly Parker), is terrorized by visions of rats and his undead spouse.
I recently spoke to Vancouver-based costume designer Claudia Da Ponte over the phone about the challenges of finding clothes from the roaring '20s that were less Great Gatsby and more farmland attire. She explained that everyday items from the period "are hard to find because those clothes got worn in, they were lived in. It is easier to go find a fancy dress than a farmer's shirt."
Da Ponte's background is in fashion styling, but her interest in the clothing industry started early—her mother was a seamstress, and trips to fabric stores were like "going to Candy Land" for the young Da Ponte. In 1922 there are few opportunities for glamorous outfits, save for the red dress Arlette is sewing up before her untimely death, which reflects the character's desire to move to the big city and escape country life. For this, Da Ponte made her own design, rather that seeking out a vintage version.
A mixture of the found and fabricated make up the costumes in 1922. Because Vancouver is a young city—better for sourcing clothing from 1940s onward—she made a trip to Toronto to find pieces from the right period. In what sounds like a reality show challenge Da Ponte had just 24-hours in the city to pull all the costumes she needed. "If I'd had cameras following me that day I'm sure it would look like a circus," she joked. Returning to Vancouver with four full suitcases and thirty shipped boxes meant the whirlwind trip was definitely worth it.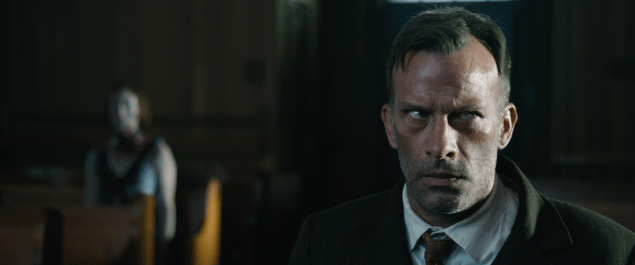 One challenge in looking for authentic costumes was budget constraints, as original denim Levi's overalls matching the ones worn by farmers during this period would have cost "half of my budget," said Da Ponte. "So I had to improvise." This reveals not only how lucrative the vintage denim business is, but also reminds us that long before denim overalls were leisure items, they were staples for working men. 
In a horror film, the level of destruction of a costume undergoes is often a consideration, and this was definitely the case for Arlette's murder dress. This frock was designed by Da Ponte and director Zak Hilditch based on a dress Hilditch had once seen in a museum. "I designed it and made different variations of it, ultimately using the one he wanted," said Da Ponte. Then, "we made multiples of that dress." This is what happens when you have to throw a lot of fake blood onto something. How the dress decays was subject to many, many conversations. Da Ponte had to know everything from how long the character was lying down in the well where her body was deposited, to whether the rats that found her were supposed to be destructive…or hungry.
For someone who used to faint at the sight of blood, this is hardly where Da Ponte thought she would end up. But she's found costuming for horror movies to be a lot of fun. "Now here I am throwing buckets of blood over wardrobe," she laughed. It isn't even the first murderous project she's worked on this year. Da Ponte's costuming also appears in Lifetime's Menendez: Blood Brothers.
1922 is available to watch on Netflix now.
Emma Fraser is the creator of TV Ate My Wardrobe and spends most of her time writing about TV, fashion and costuming, like Abbi and Ilana's Broad City style, the wigs on The Americans and Fleabag's lipstick. Emma has a MA in Film and Television, and she holds Angela Chase responsible for this path. You can find her on Twitter @frazbelina