In a city where "lunch" can mean spooning a yogurt into your mouth while standing on a street corner, "dinner" can also mean a three-hour affair as perfectly coordinated as a work of theater. If a restaurant can distinguish itself with its menu, nothing can make a patron forget the dirty, hectic streets outside like a good interior. These days, according to Anja Kouznetsova, editor of Appetizer: New Interiors for Restaurants and Cafés, a forthcoming book on restaurant design, that means comfort.
"A few years ago, there were huge industrial spaces converted into restaurants or bars," she says. "Now, the trend is toward smaller, more intimate spaces. Some feel more like a living room than a restaurant." It makes particular sense in a place like New York, where the city streets can often feel unwelcoming. In a collection of Manhattan's new high design restaurants, diners feel warm and at ease, surrounded by meticulously selected details—all while devouring an unforgettable meal.
The following restaurants offer as much for the eye as for the stomach, turning the unglamorous act of consumption into a sophisticated aesthetic experience.
Lobster Club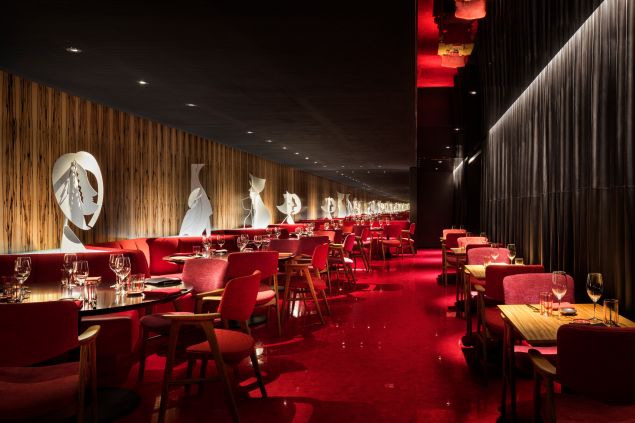 On November 1, architect Peter Marino debuts his design for the final Seagram Building restaurant to open this year, following The Grill and The Pool. This is, in fact, Marino's first restaurant design in the states. Known for his black leather wardrobe and his work in fashion—he's responsible for many a Barneys, Chanel and Louis Vuitton boutique—the eatery will feature a collection of eccentric details, phenomenal artwork, and a vague marine theme. In the side dining room, a cozy red banquette undulates like a massive lobster tail. Located underground, Lobster Club will offer a perfect spot to burrow with some sushi—and, indeed, lobster—from Michelin-starred chef Tasuku Murakami as winter approaches. Picasso ceramics, sculptures inspired by the artist and camo-printed chartreuse lounges add a playful sensibility.
Eleven Madison Park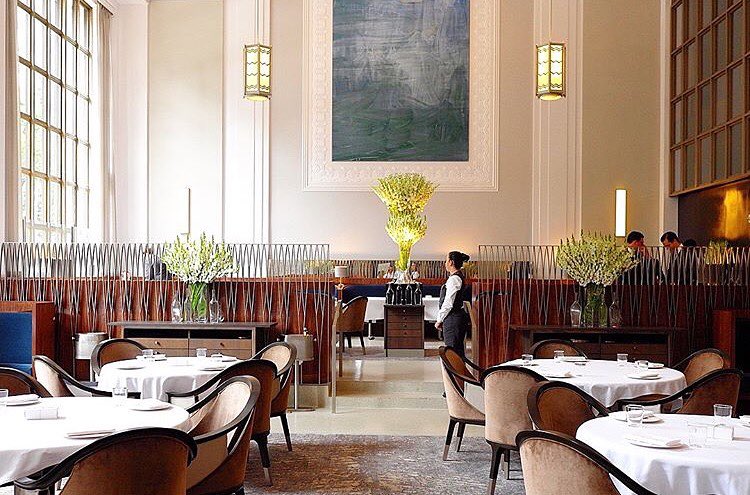 At the newly redesigned Eleven Madison Park, architect Brad Cloepfil and his team at Allied Works Architecture ensured that the interior echoed the eponymous greenery outside. Grids of mirrored panes that reach toward the high ceilings reflect the tops of trees just across the street. Grooves in the curved walnut banquettes ("more residential," Cloepfil explained) resemble seedpods, and the carpet pattern takes after sidewalk stains from fallen leaves. A blue and green chalkboard painting by Rita Ackermann hangs at the front of the room, evoking grass and sky.
Patrons can enjoy a three-hour long dining experience, the best in the world according to one list, bolstered by details such as the quiet, tiered terrazzo floor; a precisely measured nap on the mohair chairs at the entrance; soft lighting emanating from lamps interspersed among the tables; and plates that Cloepfil designed—the delicate raised lip creates a shadow and an accompanying culinary drama. His architecture is based on chef Daniel Humm and restaurant Will Guidara's objectives: "super elemental food, purity, clarity," says Cloepfil. "Not pretentious. Not over-presented." He's been involved at every step of the way, even helping the restaurant get their gas turned on before opening night. Simultaneously elegant and accommodating, the dining room is indeed a place you'll want to settle in for eight courses.
Public Kitchen
Chrystie Street's newly opened Public Hotel, conceived by Studio 54 founder Ian Schrager and designed by the Basel-based firm, Herzog & de Meuron (Tate Modern, Serpentine Gallery, Pérez Art Museum Miami), is unsurprisingly hip. On the ground floor, Jean-Georges Vongerichten's Public Kitchen offers "New York food" which, according to him, ranges from smoked salmon on potato latkes to pizza, and shrimp toast to lobster and lamb chops. A warm wooden ceiling, wood tables and chairs, and stacks of logs nestled in the wall that separates the kitchen from the dining room create a natural, inviting atmosphere that might be described as hearth chic. The garden outside the main room, enclosed by vine-covered wooden slats, offers secluded al fresco meals.
The Grill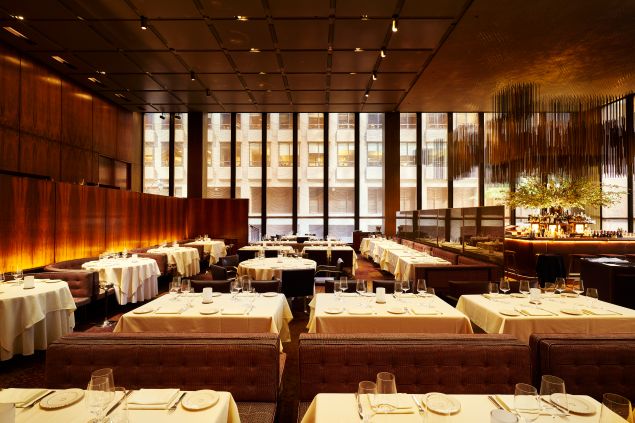 Back in May, the reopening of the Grill in the former Four Seasons attracted celebrities such as Jerry Seinfeld, Matthew Broderick and New York's most accomplished chefs. The culinary event of the year was also an architectural experiment in transforming a major landmark. Originally opened in 1959, the Four Seasons showcased the expertise of two of the day's most important architects: Ludwig Mies van der Rohe and Philip Johnson. Since its opening, 4,000 gold-dipped brass rods by sculptor Richard Lippold have hung formidably over the bar and mezzanine, an Alexander Calder mobile over the white marble pool in the Pool Room (which opened in July).
Architect Annabelle Selldorf restored the spaces, while the private architect of Seagram Building owner Aby Rosen, William Georgis, was responsible for the interior design. Lee Krasner paintings now hang in a private dining room for the Grill, while a blue and white carpet decorates the sunken pool room. In an ever-changing city, there's a certain comfort in eating in an institution that's been around since before John F. Kennedy became president, and a thrill at seeing the subtle, contemporary update.