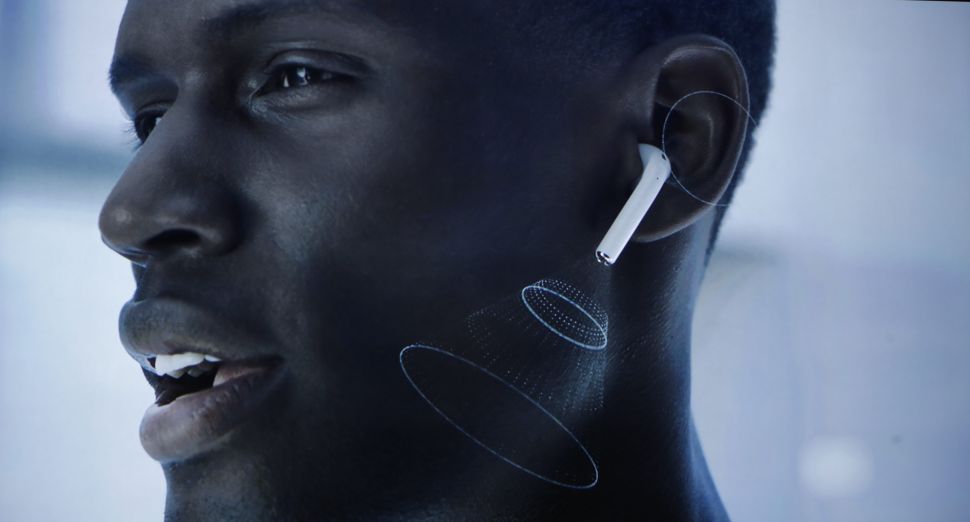 Sorry, audio enthusiasts—it's happening. Whether you like it or not, headphone jacks are a thing of the past. The Verge may have called this decision, which was first introduced by Apple in 2016, "user-hostile and stupid," and Mashable thoroughly trounced on the company's claims of courageousness, but the industry appears to be following in their footsteps. With its recent releases, Google has left the jack of the Pixel 2 and Pixel 2 XL smartphones as well.
Yes, you can use an adapter to plug in your wired headphones. But it feels cumbersome. Not to mention easy to lose, and hard to remember to bring with you on the go. Face it, eventually you're going to give in to Bluetooth wireless headphones. It's not too much of a loss; the sound on wireless headphones is almost as good as wired sound. Once more headphones and smartphones are equipped with Bluetooth 5, it's quite possible that the difference between wired and wireless sound will become practically unnoticeable to even the biggest audiophile's ears. And with more companies introducing their wireless headphone options ever day—including over-the-ear, on-ear, behind-the-ear, and neckband versions—AirPods are far from your only, or best choice.
This week marks the official release of the Bose SoundSport Free wireless earbuds, and judging by the amount of people lined up at the counter to buy these at the Bose store in Glendale, California on Tuesday morning, they're already a great success. There's a reason for that; Bose has been able to transfer their signature sculpted sound into these small nuggets with barely any connection issues. And they aren't the only ones competing with Apple. Here are the best wireless headphones on the market right now.
Price: $249
Weight: .5 oz. per bud, 2.8 oz. case
Battery Life: 5 hours per charge, 2 hours charging time
Noise Cancellation: Minimal passive isolation
The main thing that distinguishes the SoundSport Free from the AirPods is sound quality. Apple sacrifices for size and convenience, but that's not the case with Bose. The AirPods are only $90 cheaper, and while they may offer better phone call quality, that's not the main concern for many when choosing a headphone. The AirPods also don't have any noise isolation whatsoever, so it kind-of cancels out their improved call audio when you're trying to chat from a busy street—or really anywhere with background noise. The small amount of sound isolation on the SoundSport Free makes it possible to hear the caller even in a noisy area.
Price: $199
Weight: .24 oz. per bud, 2.47 oz. case
Battery Life: 3 hours per charge, 1.5 hours charging time
Noise Cancellation: Active
If you have ever become frustrated at the lack of noise isolation on the AirPods, the WF-1000X buds will seem like heaven—at least at first. The active noise isolation is among the best that any headphone device currently offers. You'll also like the sound quality, which is slightly warmer than it is on the SoundSport Free buds. There is a definite presence of bass, which is strong without being overwhelming.
An early release of the product revealed that there was trouble in Sony's audio paradise. This author had connection problems with the right bud, and this problem had been verified by many users. But even worse, the phone call quality was downright dismal. Perhaps Sony recalled these as most stores moved availability till the end of October. Let's hope Sony fixed the problems for the official release. These really have potential!
Price: $179
Weight: .24 oz. per bud
Battery Life: 4 hours per charge, 1 hour charging time
Noise Cancellation: strong passive isolation
The Jaybird Run earbuds offer better passive noise isolation than the AirPods or Bose buds. They even have a slicker design. But they noticeably lack sound quality. They have more bass presence than the AirPods, but Apple's buds have a far wider soundstage. Though this author hasn't experienced connection issues in a brief trial period, The Verge claims the Run earbuds are ruined by Bluetooth connection issues. Perhaps an upgraded firmware release can fix this issue.
Price: $329
Weight: .46 oz. per bud
Battery Life: Up to 5 hours per charge, less than 2 hours charging time
Noise Cancellation: Average passive isolation
The original Bragi Dash earbuds, which were the among the very first on the market in 2016, received mixed reviews due to poor battery life and connection issues. However, Bragi has, for the most part, learned from its mistakes with the Bragi Dash Pro. Unlike the AirPods, which are $170 cheaper, there are still some minor connection issues, especially outdoors. But the sound quality and phone call quality are among the best on the market. The biggest flaw may be the price.
Price: $199.99
Weight: .28 oz. per bud, 1.9 oz. case
Battery Life: 5 hours per charge, 1 hour battery increase with 10-minute charge
Noise Cancellation: Above average (according to early reviews)
The Samsung (SSNLF) Gear IconX 2018 wireless buds can be pre-ordered now for an October 27 shipping date, and anticipation for them is high. Unlike the AirPods and other brands, Samsung's buds have 4GB of internal storage, allowing you to leave your smartphone home if you just want to take a jog and listen to music.
Samsung brags that you can use them with the new Samsung voice assistant, Bixby. However, judging by reviews of the Siri-like assistant,  that's not necessarily a good thing. Early hands-on reviews say the new Gear IconX buds are impressive, although TechRadar claims the sound quality isn't exactly stellar. Perhaps these are the earbuds to get if you have a Samsung Galaxy S or Note device.
Daryl Deino is a writer, actor and civil rights activist who has appeared on shows such as The Untouchables, Parks and Recreation and Two Broke Girls. Besides writing for Observer, he has also written extensively about technology, entertainment and social issues for sites such as the Huffington Post, Yahoo News, Inquisitr and IreTron. Follow him on Twitter: @ddeino
More from Daryl Deino:
Everything Google Needs to Change About the Pixel to Compete With Apple and Samsung
Will Apple Stand in the Way of Widespread Public Wireless Charging?
Everything You Need to Know About iPhone X, iPhone 8 and Apple Watch Series 3
Samsung Galaxy Note 8 Preorders Have Started Arriving—Here's What Users Are Saying