There might (finally) be an autumnal chill in the air, but in terms of art offerings, October is heating up. Here are five shows opening this month that you need to see before you hunker down for winter or flee the city for the holidays.
Jeanne Silverthorne at Marc Straus
October 22 – December 10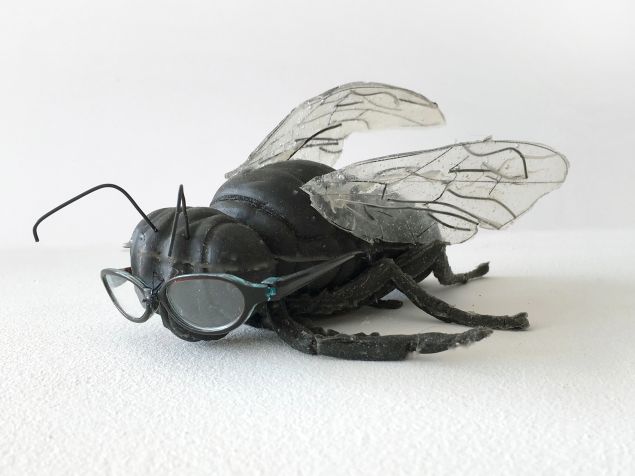 Silverthorne's work is fun and fleshy, belying its psychological depths. The sculptor takes everyday objects from around her studio—like rolling office chairs, shipping crates, and even flies—and casts them in industrial-grade rubber. Brightly tinting them and sometimes rescaling their original size, her objects appear almost cartoonish. Take, for instance, her self-portrait, which comes in the form of a rubberized fly the size of a mouse bearing the artist's signature spectacles. Though immortalized in a toy-like form, these items reflect Silverthorne's deeply personal meditations on mortality and vulnerability.
Barbara Hammer at Leslie-Lohman Museum of Gay and Lesbian Art
October 7, 2017 – January 28, 2018
Revolving around a retrospective by the same title at Leslie Lohman Museum for Gay & Lesbian Art, Barbara Hammer's Evidentiary Bodies project also includes performances, readings, and an extensive film program at various locations across New York City for the duration of the exhibition, so there's more than one way to catch a glimpse of this pioneering work in queer cinema. Since the 1960s, Hammer has explored themes of lesbian subjectivity and sexuality, politics and representation, and visceral manifestations of pleasure and discomfort. This exhibition brings together both known and previously unseen films, videos, paintings, drawings, collages, installations, and archival presentations to foreground resonating themes and qualities within Hammer's ongoing practice.
Emma Amos at Ryan Lee Gallery
October 19 – December 16
Amos was the only woman in the short-lived collective Spiral, which started in the 1960s with 14 black artists seeking to define a radical and distinct African-American form of visual expression. This show, featuring a selection of her bright, figurative paintings, both new and old, represents her first solo show in New York in six years, and her first with Ryan Lee.
October 17, 2017 – June 2, 2018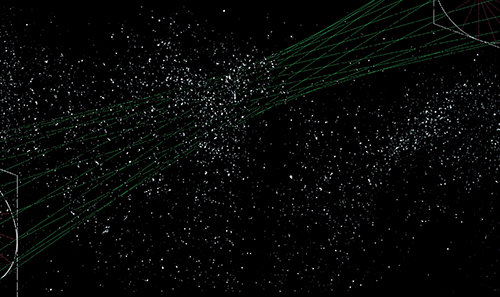 Who doesn't love pondering quantum physics, time travel, and the limits of existence? Particulates, a brand new commission by Rita McBride, does exactly that, using high-beam lasers to create representations of  wormholes as described in science fiction. Ambient dust and water molecules, dispersed in a flow of constant motion within the installation, displace the light—and your sense of gravity.
Eddie Martinez at The Drawing Center
October 13 – February 4, 2018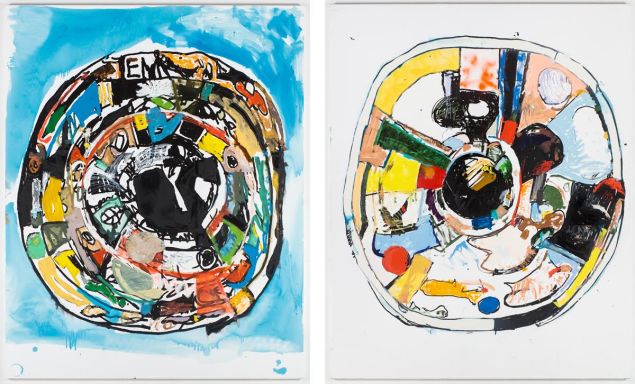 Martinez's work is wry, colorful, vigorous, and almost obsessive. The artist reportedly carries a pen and paper with him wherever he goes so he can be drawing all the time. His sketches are then returned to his studio, where he hangs them all over his wall as a means of inspiring his larger works. At the Drawing Center, the artist will offer rare insight to his private studio, creating an exhibition of his doodles and sketches, in which his signature snakes, cartoon ducks, and ogling eyes appear ad infinitum. These sketches will change constantly throughout the course of the exhibition, as Martinez adds new ones to the wall.
Margaret Carrigan is a freelance writer and editor. She planned to go to law school but she did terribly on the LSAT, so she got a master's in art history instead. She lives in Brooklyn with her cat, who is named after Alyssa Milano's character from the early aughts CW smash hit series Charmed.
More from Margaret Carrigan:
Alfredo Jaar Creates a Garden of Good and Evil in Northern England
Artist Sarah Meyohas Turned 100,000 Rose Petals Into a Data Experiment
SITE Santa Fe Unveils Its Newly Expanded Starchitect-Designed Space
Fondation Louis Vuitton Hosts US Expats in 'Being Modern: MoMA in Paris'