Amid swirling leaves and swooping collectors, the annual Frieze London and Frieze Masters art fairs opened to the public today. But there's plenty of great art to see outside of their unmissable white tents sprawling across in Regent's Park. We rounded up five gallery shows around the city well worth seeing whether you're fair-bound or just around.
Jala Wahid at Seventeen Gallery
September 9–October 14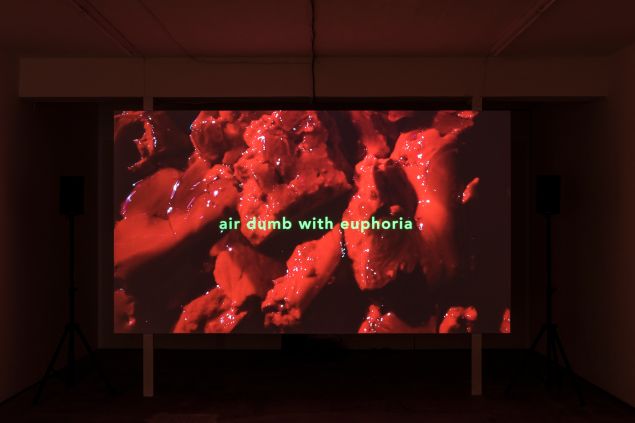 The only way to describe Jala Wahid's work is icky—but in a good way. The London-based sculptor and video artist blends common artistic materials like plaster, paint, and lacquer with unexpected organic—sometimes even edible—matter into forms that look fleshy, gooey, and seductive, if not a bit intimidating. For her first solo exhibition at Seventeen, Wahid debuts a new video work, Oh Leander! (2017), the result of filming the degeneration of one her sculptures made of materials like breast milk, intestinal bile, gelatin, sugar, fat, fruit and oils. The visceral imagery of the video is made tangible in the accompanying sculptural works—distended body parts on the floor and walls—as well as a large-scale wall drawing sketched with bile and human milk.
König Archive and Souvenir at König Galerie
October 5–TBD
König Galerie, a Berlin gallery-scene establishment, has made its U.K. debut just in time for Frieze week, presenting König Archive and Souvenir in a former car park in the Marylebone neighborhood. More of a showroom or shop rather than traditional gallery space, the London outpost will offer editions and artist-made souvenirs as well as present special performances and social events. It launches with a presentation of Julian Rosefeldt's critical investigatory film of Germany's history, Deep Gold (2013-14) and works by Austrian printmaker Kiki Kogelnik and Swiss sculptor Claudia Comte, among others. The gallery will also launch its first biannual magazine on October 5.
Cynthia Daignault at The Sunday Painter
September 30–November 11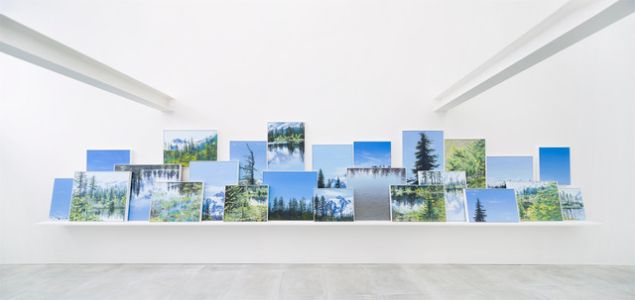 Brooklyn-based painter Cynthia Daignault has the honor of being the first to show in The Sunday Painter's sleek new location in London's Vauxhall neighborhood. The show—her first in the UK—showcases a new body of work all based around photographic representations of Washington State's Picture Lake, so called for being so photogenic it's become familiar to everyone through its ubiquity as screensavers and computer desktop backgrounds. By representing aspects of the scene over and over in paint, in which there will always be a margin of mistake or mistranslation, the artist proves the inevitability of ever being able to truly capture the beauty inherent in the natural world no matter our technical or technological abilities.
Katharina Grosse at South London Gallery
September 28–December 3
Known for her bombastic, immersive paintings, German artist Katharina Grosse has created a site-specific work for her first institutional solo exhibition in London. Using the gallery's main exhibition space as her canvas, the artist masked  the floor with a large foam stencil, painting over it and the surrounding walls in sprayed-on, bright acrylic paints, before lifting the stencil to create large, white, disconcerting voids upon entering the space.
Willem de Kooning at Skarstedt Gallery
October 4–November 25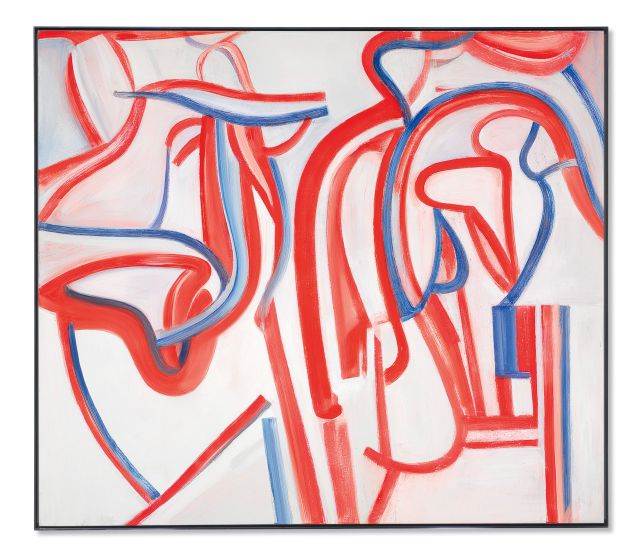 It's believed that Willem de Kooning once said he had three toads in his garden: line, form, and color. If that's the case, Skarstedt's tightly curated selection of eight of the artist's later works is one well-tended plot of land. Considered one of the modern masters of painting, de Kooning's late works are much less turbulent and anxious than his better-known earlier work, and these paintings rely entirely on a subtle interplay of gestural line work, light but layered color, and soft forms. Heralded as masterpieces even when they debuted in the 1980s, they were the subject of a major world-traveling exhibition in the 1990s. Skarstedt's presentation of the works is a rare opportunity to see them all together in London.
Margaret Carrigan is a freelance writer and editor. She planned to go to law school but she did terribly on the LSAT, so she got a master's in art history instead. She lives in Brooklyn with her cat, who is named after Alyssa Milano's character from the early aughts CW smash hit series Charmed.
Also by Margaret Carrigan:
Studio Museum Unveils Plans for New Building to Mark 50th Anniversary
Gallerist Bill Powers Tries Out 'One Night Only' Exhibition Model
Find the Taxidermy Bird You've Been Searching for at the Oddities Flea Market
How Can a Dealer Avoid Exorbitant Gallery Costs? Launch a Collaborative Space