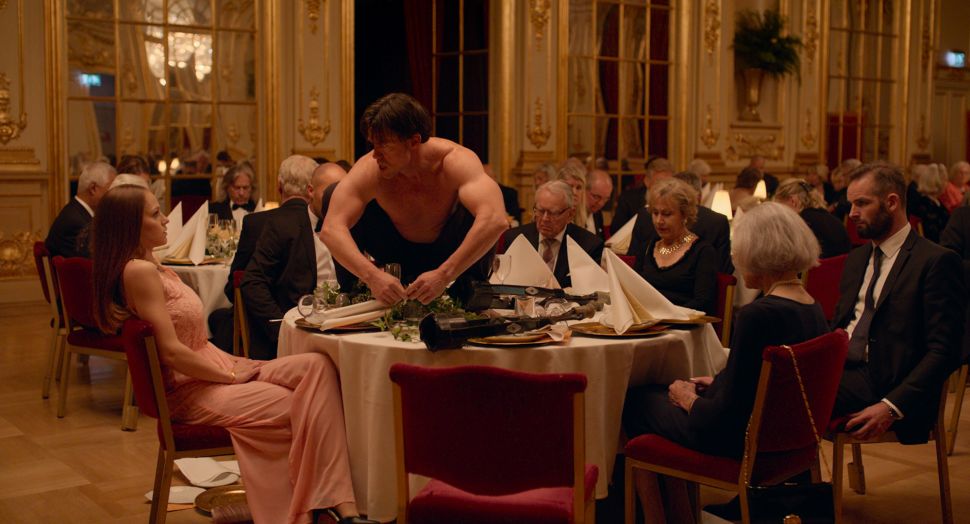 You may have never heard of the Hamptons International Film Festival. Despite it approaching its 25th year it doesn't have the same place in the convoluted awards-season narratives as Toronto or Telluride—where, we are told, the buzz for films begins—and doesn't have the varied scope of New York. But the exclusive and low-key shindig in East Hampton, New York, which boats Alec Baldwin as a co-chairman, has been quiety one of the best in the smaller circuit of festivals, offering a more intimate experience with a surprising amount of filmmakers appearances, special events, and a respectable lineup of features and shorts. And if calculating the odds on who wins golden statues is your thing, HIFF boats a seven-year run of screening the eventual Best Picture Oscar winner.
This year's fest runs October 5–9, opening on Thursday with the world premiere of  Itzhak, Alison Chernick's documentary portrait of the famed violin master Itzhak Perlman, and will close with I, Tonya, Craig Gillespie's fiction film detailing figure-skater Tonya Harding's orchestrated attack on her competitor, Nancy Kerrigan. A number of other festival standouts, including Luca Guadagnino's Call Me By Your Name, Guillermo del Toro's The Shape of Water, and Sean Baker's The Florida Project, will also be screened.
In addition to the films, former talk-show host Dick Cavett will be honored with the inaugural Dick Cavett Artistic Champion Award, while The Sound of Music and Mary Poppins star Julie Andrews will be presented with a Lifetime Achievement Award. And what is sure to be the start of a major push to get the film recognized for awards, Jordan Peele will take part in a special-event regarding his film, Get Out, along with producer Jason Blum and actors Daniel Kaluuya and Allison Williams.
Below, a few things not to miss if you're headed out to the Hamptons. I've left out most of the obvious choices, especially if they have received a lot of critical notice at other festivals already and attempted to focus on films that may slip through the cracks.
The Square
Ruben Östlund's Palme d'Or-winning The Square, much like his previous film Force Majeure (2014), revels in awkwardness and tension. Christian (Claes Bang), the head curator at a contemporary art museum in Stockholm, is excited about a new installation: a square box of light that is placed outside the museum's entrance that is meant to be engaged by an audience. But after Christian gets robbed in the film's opening minutes, his vanity and sense of manhood get in the way of his job, which turns nightmarish after a marketing team creates a viral video for the installation that is, well, as people say, problematic. Östlund has a skill in presenting scenes where the tone can suddenly shift from the comic to the tragic and back to the absurd, such as a late-in-the-film centerpiece featuring a rogue performance artist in a black-tie gala. Elisabeth Moss appears as a journalist who forms a relationship with the curator, while Dominic West plays an artist who resembles a famous pajama-clad painter.
Happy End
While they are certainly not cheery and sometimes not even good, the films of Michael Haneke are always worth watching. Happy End, his latest starring the legends Isabelle Huppert and Jean-Louis Trintignant, sounds like another chilly assault on upper-class sensibilities: a wealthy family (Huppert plays the daughter; Trintignant the father) falls apart amid inter-family tension, oblivious to the European migrant crisis happening right outside their door. It's just my guess, but I'm willing to bet the title is not meant to be taken literally.
Jane
Pieced together from over 100-hours of never-before-seen footage, Jane tells the story of legendary researcher Jane Goodall's first trips to Gombe Stream National Park in Tanzania to study the chimpanzee in the early 1960s, for which she would later become famous. The film was shot by Hugo van Lawick, a National Geographic photographer who later became Goodall's husband, and boasts an emotional score from Philip Glass.
The Other Side of Hope
Aki Kaurismaki's sort-of sequel to his humanistic comedy Le Havre (2011), The Other Side of Hope sees Finland's master of the deadpan once again tackle the migrant crisis of Europe. After Syrian refugee Khaled arrives in Helsinki via shipping boat, he is faced with a bureaucratic nightmare that keeps him from leaving a somber detention center. When it looks like he is going to be sent back to Syria, Khaled runs away, eventually crossing paths with a recently-divorced restaurant owner who hires him. Kaurismaki has a way of sneaking emotion into his stone-faced and often ridiculous comic scenes, often in surprising ways. This is a definite crowd-pleaser and deserves a larger audience.
Three Billboards Outside Ebbing, Missouri
Winner of the People's Choice Award at the Toronto Film Festival, often seen as a foreshadowing of awards success, the latest from playwright and In Bruges filmmaker Martin McDonagh stars Frances McDormand as a woman who takes aim at the local police through messages posted on a series of billboards after her daughter's tragic death goes unsolved. This is a comedy—of course, a dark one—and appears to fully embrace McDormand's verbal dexterity and bracing attitude. Woody Harrelson and Sam Rockwell also appear, as the chief-of-police and his deputy, but this clearly a vehicle for McDormand to show off, and it seems to be working.
Craig Hubert is a former editor at Artinfo.com. He has written for publications such as T: The New York Times Style Magazine, The Atlantic, Interview Magazine, and others. He lives in New York City.
More from Craig Hubert: