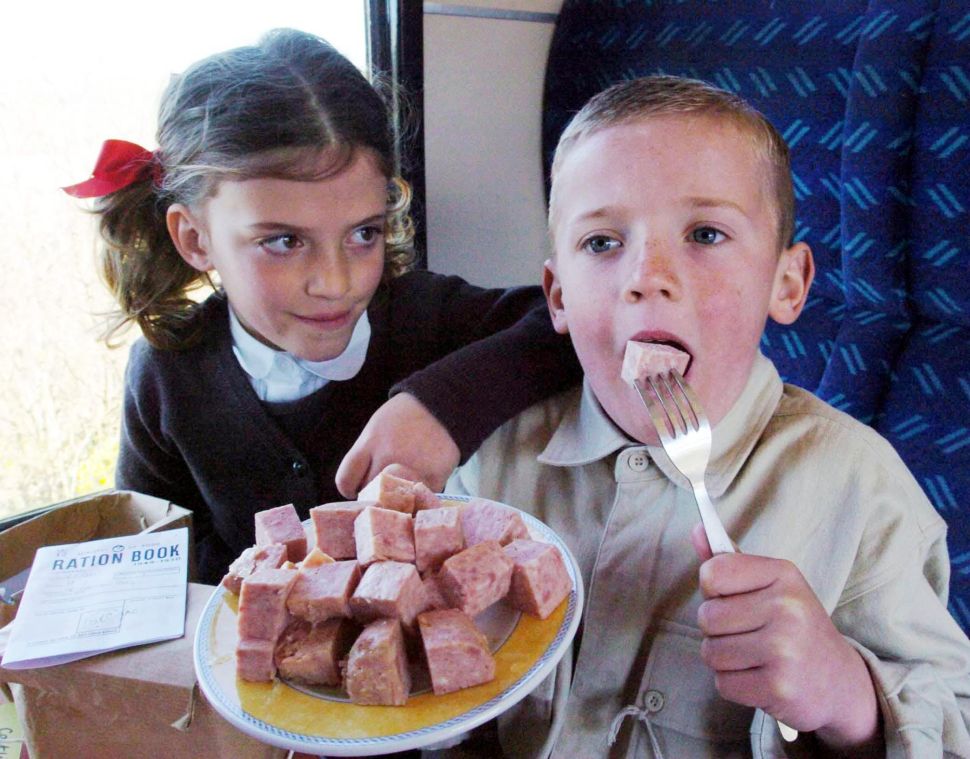 With tensions rising even higher between the United States and North Korea, I've been thinking a lot about Spam—the meat product, not the unsolicited email ads that end up in junk folders.
In case of a nuclear conflict, I want Spam in my bunker. While the bread-shaped food wouldn't prevent me from growing six toes, it could keep me alive with six iconic ingredients listed on its website: pork with ham (don't ask), salt, water, modified potato starch, sugar and sodium nitrate.
My great grandmother in Indiana cooked with Spam during World War II. The grocer included it with the family's rations as a ready-to-eat source of protein. While my great uncle fought in Europe, his mother and sisters back home ate Spam topped with sugar and pineapple, Spam in sandwiches and Spam with anything they could round up.
First introduced by Hormel Foods Corporation in 1937, Spam later became a wartime staple, not just by the U.S. and its soldiers and allies, but its enemies too. Today, in Okinawa, Japan, Spam continues to work its wonders in local cuisine and Spam burgers.
Each year, the U.S. consumes 80 million pounds of Spam. Ironically, South Korea eats the second highest amount of Spam, approximately 50 million pounds. I spied no trace of Spam above the Demilitarized Zone, but I'm sure Spam has no boundaries.
It may not even have an expiration date, although I recently bought a can and found a stamp on the bottom: "RS Best by JUL2020."
Close inspection of the label revealed that a 7-ounce container contains 3.5 servings each with 180 calories, 16 grams of fat, 40 milligrams of cholesterol, 790 milligrams of sodium and 7 grams of protein.
I don't know a single person in my circle of vegans, yogis or life coaches who would endorse this heart attack in a tin. One bite could launch a thousand protests on Twitter.
"Don't knock it until you try it!" exclaimed Jaynee Sherman, senior brand manager, Hormel Foods International. She was repeating the slogan for Spam's 2017 advertising campaign. When I called her, she explained how Spam's "fruity flavor" can make a "magical" fusion in many of today's meals. I found a YouTube commercial and had to agree the sound of sizzling Spam made my mouth water.
I pulled out Great Grandma Maude's recipe for Vegetable Salad. Penned on an index card, the cursive letters appeared skinny and dignified with the phrase "Real Real Good" at the top. The dish called for 8 small carrots, 1 can of Spam, ½ jar of sweet pickles and 2 T of grated onion. For extra flavor, Great Grandma Maude recommended Miracle Whip, sugar, lemon juice, salt and fresh horseradish.
After President Donald Trump referred to Kim Jong-un as "Rocket Man" and vowed to "totally destroy North Korea" if provoked, I decided to give "Vegetable Salad" a whirl.
I started with Spam. When I pulled the tab, my cats came running, thinking it was dinner time. But then they took a whiff and left the kitchen.
I gagged as I dumped the fluid-covered rectangle onto a cutting board for slicing and dicing. Then I mixed remaining ingredients in a vintage red bowl and felt like the sweet taste was following me. It was a strange sensation. So unique, I had to share it with my fellow New York City apartment dwellers who might one day be my sole companions.
"It's me, the lady upstairs," I said knocking. I could hear him fussing with the peep hole and the chain before deciding to let me in.
"Try this," I said, still tasting the chemicals in the meat. "It's Spam."
"That's not bad," the suspicious neighbor said, taking another spoonful. He liked the horseradish.
My next door neighbor and his girlfriend weren't so enthralled with my Cold War cookin'. "No thanks," they said, and closed the door.
So it was just me in my apartment and a huge bowl of Vegetable Salad laced with Spam.
In honor of Spam's six ingredients, here are six dishes to help you survive a nuke attack and stay cheerful with friends you barely know:
Spammit Janet Timewarp Wraps. Remember the film Rocky Horror Picture Show, when Brad sang "Dammit, Janet" to his lady love? It's been a long time since anyone stocked a fallout shelter, but the endeavor should start with a catchy earworm. Celebrate extreme togetherness with flatbread squares rolled around two slices of Spam and secured with a blingy toothpick. What a perfect appetizer for any late night sing-a-long that may involve crossdressing. Can it, Janet.
Spamagrino. Every can of Spam includes a watery ecosystem surrounding the meaty prize inside. Instead of discarding the liquid, drink it up in recycled glass bottles. Always stay hydrated.
Spamola Bars. Everyone knows almonds are good for brain health and figs are high in potassium. Why not combine dry goods and Spam to create nutritious nutballs you can roll into bars for quick fuel. Move over, granola.
Bk Tofu Spam Scramble. Brooklyn is hot. So is tofu. Use a bit of hipster ingenuity for this vegan-inspired dish that turns pork shoulder into the new soy.  Add mushroom (clouds) for an extra LOL. Toss everything up on a hot plate and charge $19.99 per serving. Douse with hot sauce.
Rocket Man Spam Dogs. For this modern take on pigs-in-a-blanket, cover a pointy strip of Spam with a triangle of biscuit dough. Light a match and brown the length of your dog. Your joy will fly you over the moon.
Supreme Leader Spam-tails. In case the end is near, say cheers with this blend of V8, vodka and diced Spam garnished with a stalk of celery. Shape the leaves into a flat top as an homage to Kim Jong-un. Don't forget the Worcestershire sauce.
Ann Votaw is a freelance writer in New York who has a M.A. in Health Education. She teaches yoga and physical fitness to adults 60 and better.
More by Ann Votaw:
5 Mindful Tips for Not Losing Your Shit at Your First Meditation Retreat
This Is Why Your Gym Clothes Smell Terrible—Even After You Wash Them
The New Rules of Yoga: Everyone's a Teacher, So You'd Better Be Pretty