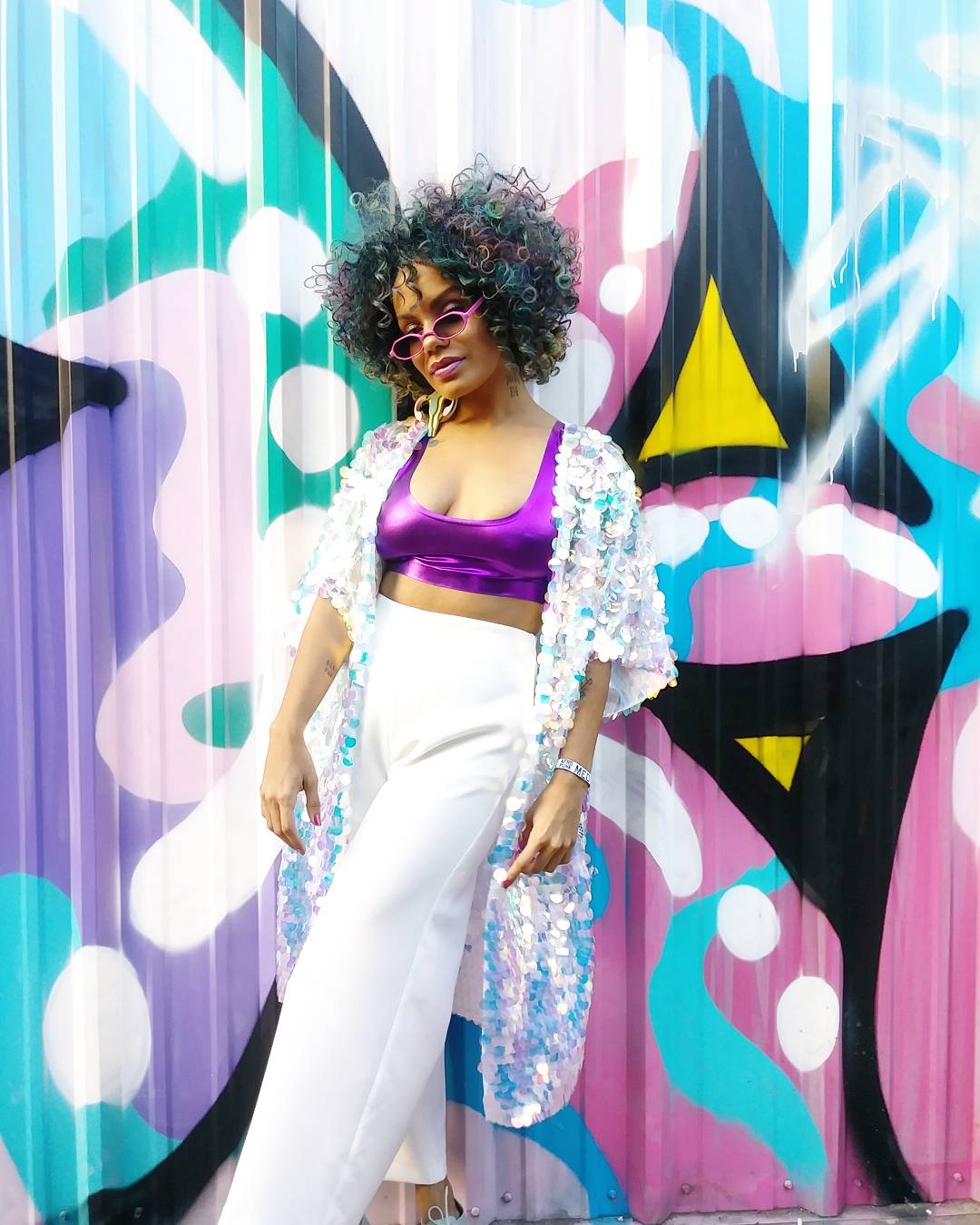 If Afropunk had to be described in one word, it would be "liberation." While entering the festival in Atlanta this weekend, attendees were greeted with forty foot tall signs on either side of the main stage that boldly read, "NO SEXISM, NO RACISM, NO ABLEISM, NO AGEISM, NO HOMOPHOBIA, NO FATPHOBIA, NO TRANSPHOBIA, NO HATEFULNESS." This festival is meant to celebrate music, art and fashion, but it also serves as a safe space for diversity, creativity, culture and community.
The festival defines Afropunk as: "Afro: as in, born of African spirit and heritage; see also black (not always), see also rhythm and color, see also other, see also underdog. Punk: as in, rebel, opposing the simple route, imbued with a DIY ethic, looking forward with simplicity, rawness and open curiosity; see also other, see also underdog. Afropunk is defining culture by the collective creative actions of the individual and the group. It is a safe place, a blank space to freak out in, to construct a new reality, to live your life as you see fit, while making sense of the world around you."
Afropunk began as a response to the 2003 indie film titled Afro-Punk, created by James Spooner. The first festival took place in Brooklyn in 2005 and was then molded into a space for people to come together, listen to their favorite bands and share their unique sense of style. It has since expanded to five locations, including Atlanta, Paris, London and Johannesburg.
Atlanta's festival, aptly named The Carnival of Consciousness, kicked off this past weekend with headliners such as Willow Smith, Miguel and Solange. And they did not disappoint; Smith brought her mother, Jada Pinkett Smith, onstage to perform a song from her own early 2000's band, Wicked Wisdom. During Solange's performance, she stopped to admire the crowd and described them as "looking regal as fuck."
Music aside, there were other attention-grabbing activities, including Solution Sessions, a series of panels featuring Melissa Harris-Perry, Michaela Angela Davis, Dorian Warren, and Yvonne Orji from HBO's Insecure. There was also Activism Row, that served to promote local and national activist organizations, Art & Times, an art installation in one of the warehouses at the location and Spinthrift Market, where artists, entrepreneurs, fashion and jewelry designers sold their wares. Oh, and don't forget the food trucks selling a variety of Southern cuisine.
What is it about Afropunk that has garnered so much media attention over the past few years? The headliners, of course, bring crowds, but media outlets primarily show up for the trendsetters. The myriad of personal style seen at Afropunk is unique and curated specifically for the setting. Various attendees told the Observer that they specially designed their outfit for the festival, but that they would not—or better yet, could not—wear these styles in their everyday life. The Afropunk crowd represented a variety of backgrounds; they're lawyers, activists, students, artists, teachers and entrepreneurs. Model Ebonee Davis describes Afropunk in a story for Essence saying that it "serves as a cultural incubator, giving us a space to share, exchange, cultivate and celebrate one another all while bonding over our favorite music."
Media coverage of Afropunk shows street style subcultures in a whole new light. One attendee stated that dressing for Afropunk is about being able "to express the most organic part of yourself." But don't think that these creative outfits flying under the radar. With the hype around the festival growing over the last few years, even major fashion outlets such as Vogue and i-D make their rounds to scout the season's freshest looks, straight from the streets. Photographers at this weekend's festival were scrambling to get pictures because there were just so many people worth photographing. It's arguable that the innovation behind the styles seen at Afropunk exceeds the creativity seen on the runways at NYFW.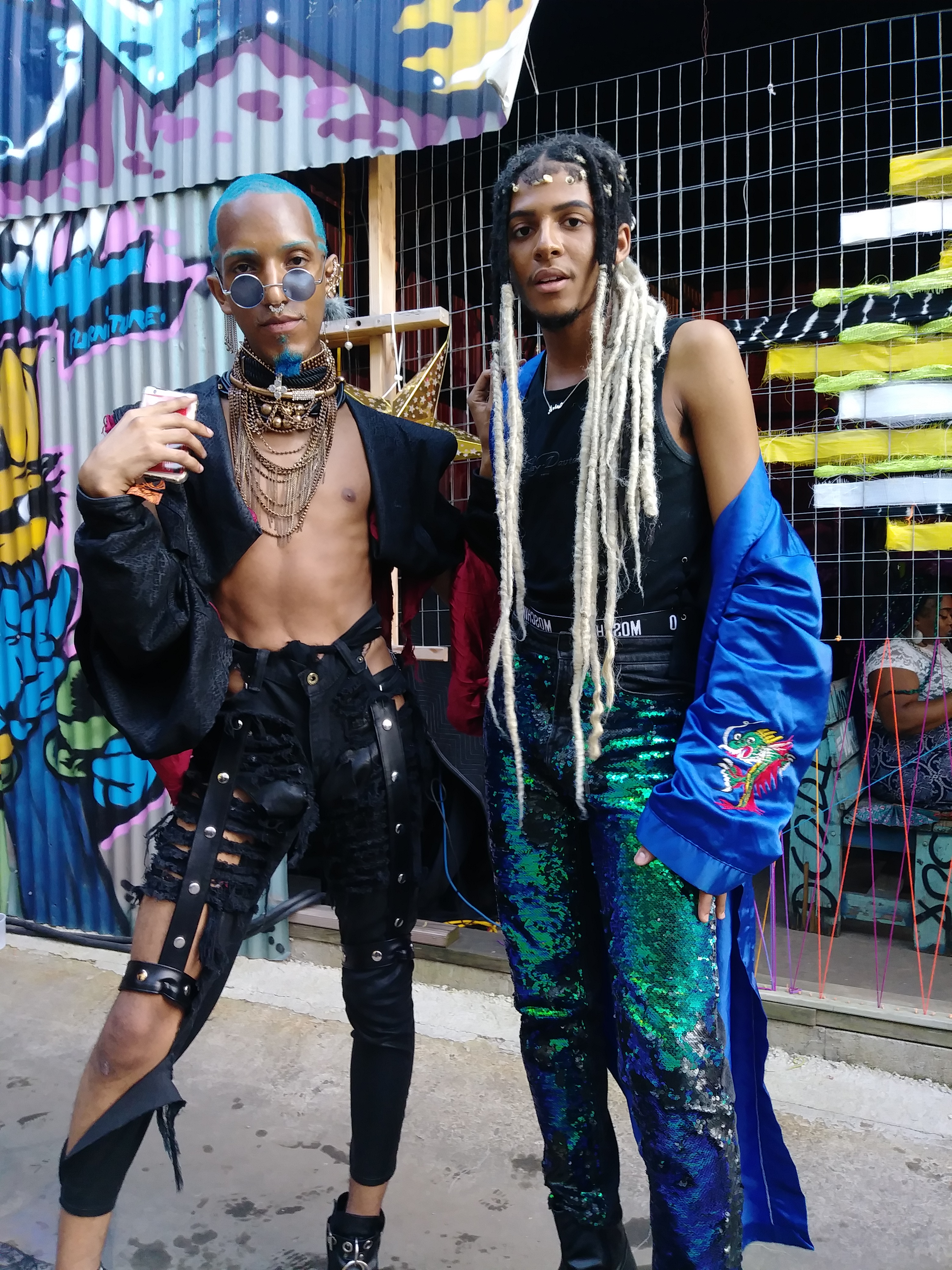 With music festivals being looked to as #inspo for next season's designs, what makes Afropunk a unique space for the weird, punk and organic street style? Fashion has been paying attention to what's happening in urban communities—if Urban Outfitters and Kylie Jenner haven't made that obvious already. Trend forecasters such as WGSN and media outlets including Refinery29 and Nylon have been attending festivals like Coachella, Panorama, the Governor's Ball and Burning Man in hopes of spotting the latest fashionista. Compared to these festivals, the style seen at Afropunk are arguably some of the edgiest and most creative examples of street style. It represents not just fashion and style but culture and identity; it represents breaking barriers, blurring gender lines and removing restrictions for who can wear what; it represents liberation for various marginalized identities.
The rules of the festival make it clear that this is a safe space for all who attend to show up and show out. For many festival-goers, Afropunk is a space where they can be free to express themselves through fashion. As one festival goer stated, "Afropunk is all about expressing yourself, being you!" Though the festival has been around for over ten years, it's clear that this is only the start for the Afropunk movement.