Earlier this month, The Guardian published a horrifying story detailing the Afghan CIA black site called "Cobalt," a prison created by contracted psychologists John "Bruce" Jessen and James Mitchell that has come to be known as "The Darkness" by those that survived it. The article came on the heels of recently released declassified documents from a 2002 case against Jessen and Mitchell lodged by two former prisoners, which was settled out of court in August. The documents reveal a torture manual for use against Al Qaeda detainees, for which the CIA paid the contractors roughly $80 million. Before Cobalt opened, the psychologists' theories were tested on Guantanamo Bay captive Abu Zubaydah, who was waterboarded at least 83 times and placed in small confinement boxes for hours on end. In May, Zubaydah gave up his immunity in order to testify to the "unspeakable torture" he endured at the hearing for Jessen and Mitchell's case.
Last week, at Yorkshire Sculpture Park (YSP), Chilean artist Alfredo Jaar—who has spent his career of three decades making work chronicling human rights abuses—unveiled his latest creation, The Garden of Good and Evil at Yorkshire Sculpture Park (YSP). On entering what appears to be a pristine grove of trees planted in large wooden cubes, visitors stumble upon fabricated steel cells, referencing the confinement boxes prisoners like Zubaydah experienced at CIA black sites around the world throughout the post-9/11 Bush era.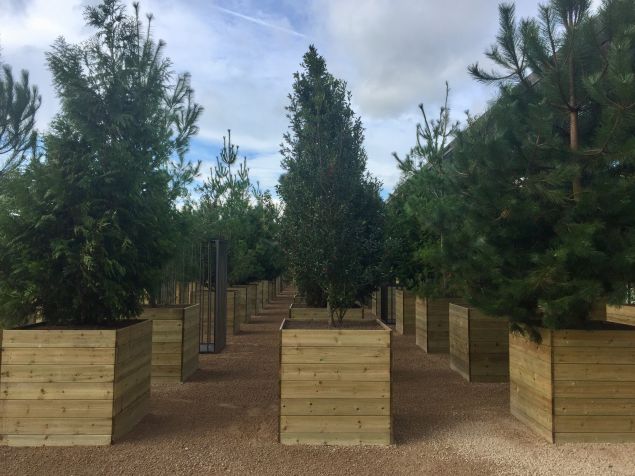 Located in the north of England, a region renowned for its dramatic moors and medieval history, the sculpture park commissioned Jaar to create the Garden—a work he has been wanting to make for years but never had the space—to mark their 40th anniversary. "A lot of people don't realize that Alfredo initially trained as an architect and a filmmaker," Clare Lilley, director of YSP, told Observer. "We wanted to allow him this freedom of expression." The commission is paired with an indoor exhibition of works spanning Jaar's career in the park's Underground Gallery, which includes well-known pieces like the photo series, A Hundred Times Nguyen (1994), comprised of four repeated images of a young Vietnamese refugee in Hong Kong, and his 2006 Sound of Silence film installation that tells the tragic story of a photojournalist who committed suicide after receiving a Pulitzer Prize for his photo of a Sudanese girl ravished by famine.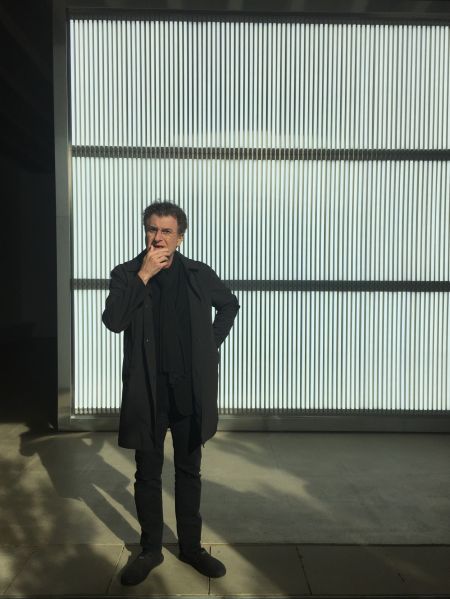 Despite the darkness and violence that underscores The Garden of Good and Evil, there's a simplistic beauty to the installation. The steel cells—some just large enough to contain a person on their knees, others able to accommodate a standing figure—range from barred to blackout. In their austerity, they are reminiscent of Donald Judd's cubes, which Jaar says is intentional. "I started studying architecture in the 1970s, when minimalism was at its height," he told Observer. "What struck me was how these works stripped things down to their most essential aspects at the time when there was so much social and political turbulence. I found a purity in it that I wanted to bring out in this work."
Like the title of the installation suggests, there is a duality ascribed to human nature and it's up to us how we define our legacy. When the exhibition ends, in April 2018, the trees will be planted around the park's expansive 500-acre property. Their unmarked installment will simultaneously nurture the project and the grounds of the park. The containment cells, on the other hand, will be removed.
Margaret Carrigan is a freelance writer and editor. She planned to go to law school but she did terribly on the LSAT, so she got a master's in art history instead. She lives in Brooklyn with her cat, who is named after Alyssa Milano's character from the early aughts CW smash hit series Charmed.
More from Margaret Carrigan:
Artist Sarah Meyohas Turned 100,000 Rose Petals Into a Data Experiment
SITE Santa Fe Unveils Its Newly Expanded Starchitect-Designed Space
Fondation Louis Vuitton Hosts US Expats in 'Being Modern: MoMA in Paris'
Museums Make Space for Sound Art This Fall