CNBC reported this week that Amazon may be moving closer to challenging YouTube as a destination for shorter form video, based on conversations with unnamed sources familiar with the talks.
As we started looking into this story, the hardest part to figure out was where a person could actually see Amazon's existing video offerings. Not its original video or its on demand movies and TV, but the YouTube-like stuff, short form more casual video, the how-to's, game reviews and product shorts. At the video direct site, it just prompts visitors to become a content creator.
It turns out the videos are just hosted on Amazon, in a section devoted to video shorts. We jumped to the section for popular videos, and the top video listed was from eHow, "What Wrist for a Wristwatch" (spoiler: it doesn't matter). Amazon also owns Twitch, a popular site mostly devoted to streaming video game play.
On YouTube, anyone logged into a Google account can contribute content. If it's garbage, YouTube just won't promote it. Amazon appears to be taking a somewhat more curated approach, and by vetting video more carefully, it might be able to do a better job of assuring advertisers that their messages won't accidentally show up along offensive material, hate speech or otherwise awkward content. That's been a big problem for YouTube in the last year.
Everyone knows that (for example) Dial Soap doesn't pick each and every shopping mall haul video that its ads might show up next to, and yet it still looks bad for Subaru if one of its ads appear alongside a video from an Isis recruiter. The CNBC story suggests that's the pitch Amazon's making to advertisers.
"It's not a story," Dan Rayburn of Streaming Media told the Observer in a phone call. In Rayburn's view, everyone who puts content on the web is constantly meeting with advertisers and agencies and trying to convince them to use their platform, looking for features that will win them over and closing sales. Rayburn argues that there's nothing new about that.
In terms of directly trying to take on YouTube as the place to go for 20-somethings screaming about the latest video game controversy and beauty tutorials, "There's no benefit to Amazon in doing that," Rayburn said. He sees the company looking for ways to focus on professionally made content, but it's also not something it's put a ton of energy into so far.
Much of the content on Amazon's site seems to be related to products Amazon might sell (though definitely not all of it). This makes obvious sense for Amazon. If it can solve the design problem of when a customer wants to see the product and when it wants to learn more, these videos could help it close purchases.
P.K. Kannan has collaborated with colleagues studying how firms can generate social media content to drive sales. He's a professor at the University of Maryland's business school. "From the my perspective, you cannot take lightly any project that Amazon is undertaking given its resources money-wise and talent-wise," he wrote the Observer in an email. On the other hand, with a decade lead as the top video destination, he also agrees that YouTube would be difficult to really compete with an all fronts.
"I see Amazon as a niche player as compared to YouTube given the vast difference in the number of unique visitors. Amazon may start out by targeting marketers who are very sensitive about what content they are paired with and thus try to build their video-ad platform.  But ultimately, their success will depend on the ROI the marketers generate from Amazon vis-a-vis YouTube," he wrote.
Brendan Gahan founded Epic Signal, which helps big companies create communities around content, especially on YouTube. "Big picture—I think that there is room for someone to become a viable competitor against YouTube. Amazon has shown they're able to move and innovate quickly," he wrote the Observer in an email. He credited Facebook with proving that there's appetite for video beyond YouTube.
Gahan pointed to Amazon's influencer program (still in beta), that lets them promote sales of items they discuss in their videos.
Both Rayburn and Gahan were skeptical about the idea that Amazon could veer into branded content, if that's under discussion. Rayburn said that, thus far, advertisers aren't willing to pay enough to make that kind of video well.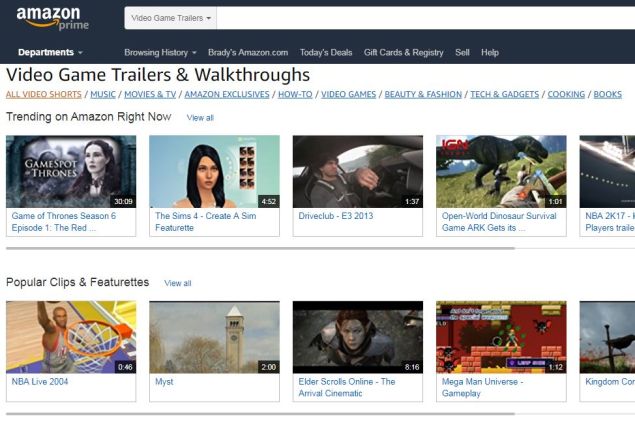 Amazon may have something more advanced in the works, but it's probably worth looking at what's up already to get an idea about direction.
From a user experience standpoint, the larger Amazon template just doesn't seem to feel right for video. Others might disagree, but here's some points that would be tough to debate. In general, the videos don't seem to play as clearly as what gets shown on YouTube or Vimeo. We clicked on some random gaming site channel, only to realize that the video hasn't been relevant since well before the Nintendo Switch launched in March. There's no indication of the publication date anywhere on a video's page, which is really important information for more timely content.
Also missing, an indication of the number of views a video has had. Not only does this drive virality, but it's also an important way to gauge the credibility of a video. Say I want a video on tying a double windsor knot in my tie. Odds are, the one with the most views is the most straightforward.
On the other hand, it's super easy to find where to buy products, if they are featured in  a video.
Amazon's monthly audience is much smaller than YouTube's, but most of those people are spending money buying something, so those eyeballs might be worth more to advertisers one day.