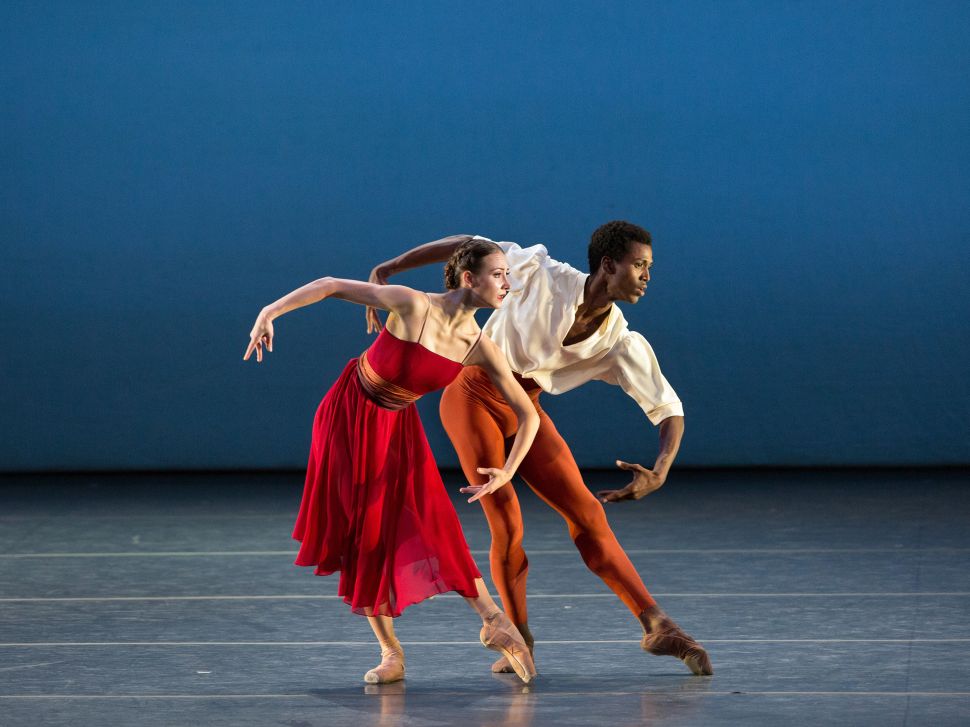 The recent American Ballet Theatre fall season at the Koch was short and mostly sweet. There was one masterpiece—Frederick Ashton's Symphonic Variations, a ballet almost sacred to the British, a hymn to harmony and order that seemed like balm in post-war 1946. Its evocative and unforgettable abstract backdrop; its passionate César Franck score; its deceptively simple choreography all come together to produce a work that resonates more and more the more frequently you see it. American audiences have never taken to it, and it's a tribute to the seriousness of Kevin McKenzie's artistic policies that he's brought it back again and again since 1992.
There were two casts. Misty Copeland was the first to step into Margot Fonteyn's iconic role, though however hard and honestly she works, she just isn't a ballerina on this level. Devon Teuscher, second-cast, has the allure and the chops, though not yet the mysterious dominating calm of Fonteyn. Arron Scott, a long undervalued dancer, worked well with Copeland. James Whiteside—a vastly improved dancer—was very effective with Teuscher. But whoever was dancing, it was a great pleasure to have Symphonics back with us.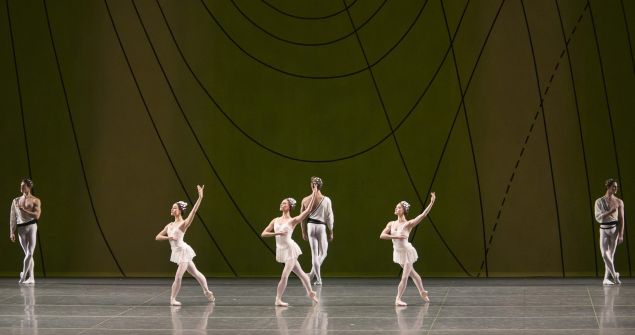 It was not a great pleasure to have back Jessica Lang's Her Notes—the "her" being the composer of this group of piano pieces, Fanny Mendelssohn. The music is pretty but hardly inspiring, the choreography busy but undistinguished. Copeland was more at home here; Gillian Murphy, as always, was magisterial. The two casts gave opportunities to the new wave of ABT principals and soloists—Skylar Brandt, Cassandra Trenary, Alexandre Hammoudi, Joseph Gorak, Christine Shevchenko, among others. Everyone danced well—to no effect. This is a pallid piece, not helped by a lot of pointless production.
Shevchenko is a question mark. She was recently made a principal, but I can't figure out why. She's very handsome, she moves pleasingly, but I see no real individuality. She didn't make much of an impression in the new piece by Alexei Ratmansky, Songs of Bukovina—not that it made a huge impression. The music—selections from a piano suite by Leonid Desyatnikov, with whom Ratmasnky has worked before—is fluent and stirring; the modest folkish costumes, by Mortiz Junge, are very pleasing. The dance, for a lead pair and four couples, is also fluent but not really stirring. I saw it twice, both times with Shevchenko (first-cast Isabella Boylston had to wait until later in the season, since her partner, Alban Lendorf, was injured). Undoubtedly Boylston, when she finally appeared, made a stronger case for this pretty, modest work.
But Ratmansky's Serenade after Plato's Symposium, with a strong score by Leonard Bernstein, made an even greater impression than it did when it premiered last year. This is major Ratmansky—a thrilling occasion for seven ABT guys, wonderful together and wonderful on their own with the solo opportunities the choreographer gives each of them. In the first cast, first among equals was Herman Cornejo with his blistering attack and irresistible charm. He had the audience reeling with pleasure. Daniil Simkin, in a beautifully judged role for him; stalwart Blaine Hoven; Whiteside and Royal again; appealing Gabe Stone Shayer; strapping Hammoudi (replacing Lendorf)—all were remarkable, clearly inspired. And the second cast was superb, too—less starry, but that lets us watch the ballet differently, more objectively. Both Teuscher and Hee Seo, as the mysterious muse who drops in at the end of the ballet, were very beautiful—well, they are very beautiful. People like to say that Ratmansky has done his best work for City Ballet, but Serenade refutes that notion.
Why management chose to bring back Christopher Wheeldon's Thirteen Diversions from half a dozen years ago is a puzzlement—maybe because it's already been paid for? It's standard Wheeldon, very busy, sometimes clever, and not very good. Yet again it demonstrates how much stronger he is with small groups than with large ones. And yet again it demonstrates how he depends on over-dramatic lighting to substitute for truly dramatic choreography. I knew I had seen it before, and reviewed it, but watching it this time round I didn't recall a single moment. There was nothing to remember.
Of course Jerome Robbins' Other Dances is a different story. It was created in 1976 for a gala benefitting the Lincoln Center Library of Performing Arts, and it was made on Baryshnikov and Makarova, the reigning royalty of ballet. Watch them today on YouTube, forty years later—one of the greatest pieces of dancing you'll ever see. Relaxed, in total harmony with each other and the Chopin music, secure in their Russianness—they're not just putting it on. How lucky we were back then to have dancing on this level constantly available to us in "the dance capital of the world." At least we knew we were blessed.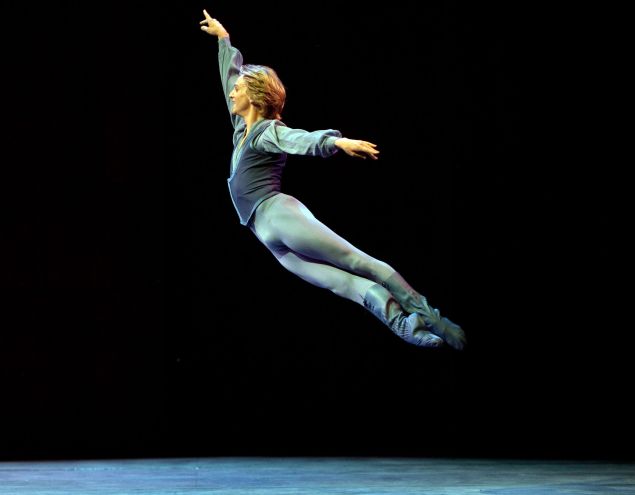 There are no dancers on this level today, here or anywhere else. The two couples who performed Other Dances this season were perfectly fine. David Hallberg, returned to us from his dire injury, is edging back into the repertory, and he's always a joy to watch. Those legs! That hair! That élan! Hee Seo is so gorgeous, so capable, that you can't really believe her dancing is so essentially bland. The other partnership this season was Gillian Murphy and Cory Stearns. She's utterly musical and commanding, and he was at his best. Together they made a happy impression. But after Misha and Natasha?
There's nothing much to be said about the pièce d'occasion Jessica Lang made for opening night: a workmanlike classroom ballet called The Gift honoring and featuring the ABT school and studio company. It did the job competently and wasn't way too long. As for the new Benjamin Millepied ballet, I Felt the Earth Move, having been disappointed by a dozen or so of his capable but empty pieces, I indulged myself by staying home.
Finally, it should be noted that the theme of the gala was diversity, illustrated by a charming film of kids in the school. ABT is practicing what it (and others) preach.