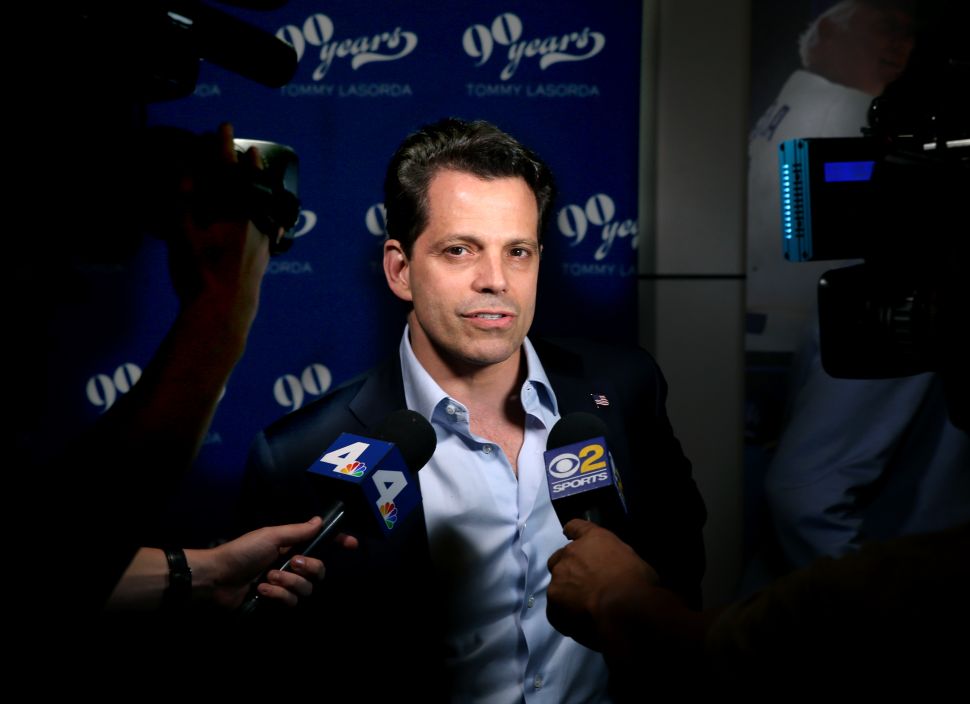 The Mooch is on fire. For the past few weeks, former White House Communications Director Anthony Scaramucci has hyped the launch of his independent media platform, "The Scaramucci Post," with a string of bizarre publicity stunts. Last week, just days before his divorce hearing with estranged wife Deidre Ball, Scaramucci announced over Twitter that the outlet would function as a "center lane in a two-lane highway" with "data-dependent arguments about policy" and a "rationalization of what's going on in the media."
The Scaramucci Post has since promoted emoji-heavy tweets and surveys about which reporters to follow on social media, leaving many to surmise that the Mooch is playing an elaborate prank on Washington.
"At first I was taken in by all the Twitter polls he was doing," said Daily Caller scribe Betsy Rothstein, one of several reporters The Scaramucci Post promoted. "But as it went on and on, I got bored. For someone who claims to be so straightforward and honest, why not be honest with us about what this is or isn't? Is he really hiring people? Is this a pro-Trump site or a real news site?"
After covering the ex comms director's rumored romance with Fox News' Kimberly Guilfoyle, Rothstein was allegedly threatened by Scaramucci's publicist Howard Bragman. Bragman, who previously managed Monica Lewinsky's PR and wrote Where's My Fifteen Minutes?, sent the reporter a threatening email comparing her to Holocaust founder Otto Adolf Eichmann.
On Monday, Scaramucci answered questions over Twitter in anticipation to the outlet's official launch party at Manhattan's Hunt and Fish Club (of which he is a co-owner). The tongue-and-cheek banter struck an awkward chord amid national sorrow over the Las Vegas shooting that occurred Sunday evening.
"Are you wearing Kevlar?" one viewer asked in reference to a tourniquet the ex-SkyBridge Capital founder wore.
"This is ice compression technology."
Although we will have a better idea of whether or not The Scaramucci Post is intended as satire following tonight's launch party, the Mooch's screwball relevancy is likely to continue bombarding the Internet. Or, in Rothstein's words: "If it's real, he should do what he knows how to do best: entertain."