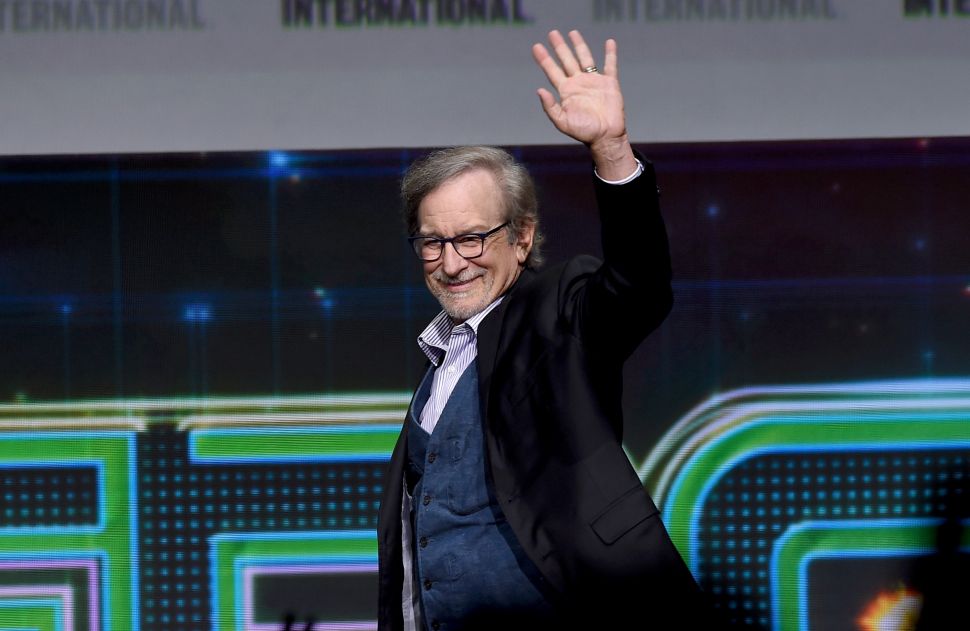 Back in in August, Apple announced that it was developing its own streaming platform to compete with the likes of Netflix and Amazon and was budgeting $1 billion for original content. Though the tech giant was rumored to be courting some heavy hitters in the entertainment industry, it had yet to publicly strike its first deal and even walked away from a hyped Elvis Presley biopic with The Weinstein Company in light of recent events. Apple may have had starry eyes, but it did not yet have a plan in place to reach those lofty heights.
But today comes word from The Wall Street Journal that Apple has signed an overall content deal with Steven Spielberg as they dip a toe into the highly competitive streaming industry. Spielberg's Amblin Television and Comcast Corp.'s NBCUniversal will partner with Apple to first reboot Amazing Stories, Speilberg's critically acclaimed sci-fi horror anthology series that ran for two seasons on NBC in the 1980s. The new show will reportedly cost upwards of $5 million per episode ($10 million per episode is considered very expensive).
The project was originally in development at NBC with Hannibal creator Bryan Fuller attached, though it never progressed forward.
"It's wonderful to be reunited with our colleagues Zack [Van Amburg] and Jamie [Erlicht] in their new capacity at Apple," Jennifer Salke, President, NBC Entertainment, told THR. "We love being at the forefront of Apple's investment in scripted programming, and can't think of a better property than Spielberg's beloved Amazing Stories franchise with the genius of Bryan Fuller at the helm and more exciting creative partnerships to come."
It is unknown when this series will premiere just as it still remains a mystery exactly how Apple will deliver content to users. It is also unknown if Spielberg will step behind the camera for any of the show's 10-episode order, though he is expected to executive produce. The original series won five Emmys over its two seasons.
Apple was rumored to be in talks with Spielberg for an Amazing Stories reboot as recently as late September, but now we have official confirmation. Former Sony executives Zack Van Amburg and Jamie Erlicht were said to have been searching for "big, smart, splashy dramas" to launch Apple's new content service. The company was even in the final bidding for Ryan Murphy's One Flew Over The Cuckoo's Nest prequel Ratched, though that eventually landed at Netflix. Now Apple has a strong foundation in place with one of the most decorated and beloved names in entertainment in Spielberg. In addition, Apple is also reportedly courting Reese Witherspoon, Jennifer Anniston, Vince Gilligan, Black Panther and Creed director Ryan Coogler and other A-list names for a variety of high-profile projects.
Your move, Netflix.