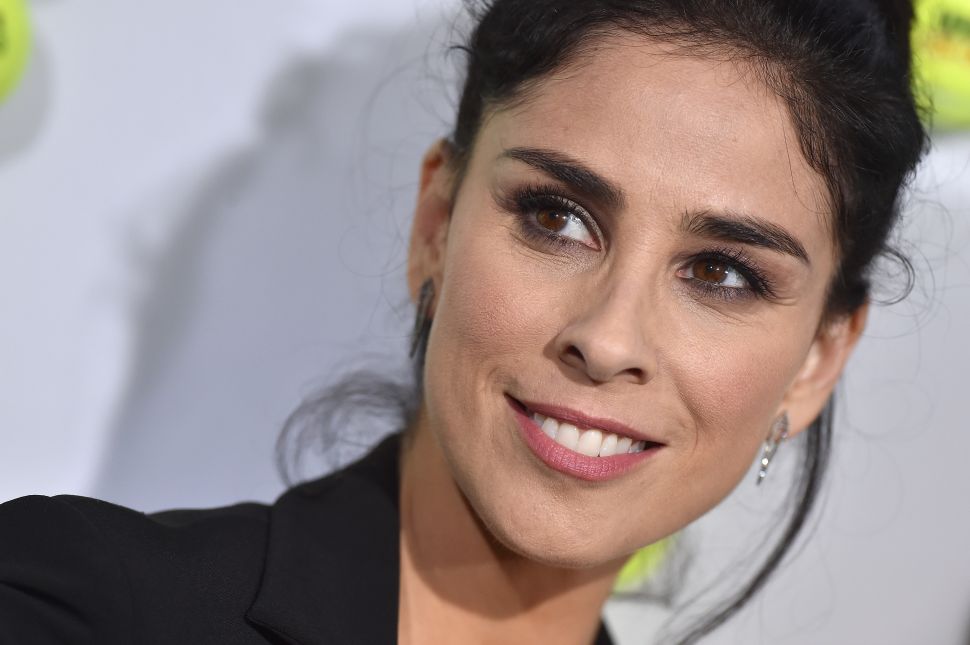 In the new six-episode web series The Shrink, which features celebrities summing up years of therapy in entertaining two-minute bursts, Sarah Silverman offers the biggest wisdom nugget gleaned from her long-time psychiatrist: "There's no bad weather, only bad clothes. And I was never cold again 'cause I bring layers."
Natasha Lyonne and Lena Dunham are among the other high profile contributors to The Shrink. (The latter was an easy 'get' since The Shrink's co-creator Alex Karpovsky played Ray on Girls.)
There is no shortage of potential participants who can be tapped for season two, given all the celebrities coming out of the mental illness 'closet' to share intimacies about their emotional demons. Adele, Christy Teigen and Hayden Panettiere have admitted how emotionally pulverized postpartum depression rendered them. (Panettiere was hospitalized twice.) Kendall Jenner, Emma Stone and Jennifer Lawrence are among those who've movingly described the heart popping out of your chest sensations that can herald a panic attack. Jon Hamm, sports legend Michael Phelps, Kristen Bell, former One Direction's Zayn Malik and Bruce Springsteen also admitted to enduring mental health issues. Pete Davidson, who last season took a leave from Saturday Night Live to enter drug rehab confessed on WTF with Marc Maron to being recently diagnosed with borderline personality disorder, adding, "I'm trying to figure out how to learn with this and live with this."
With the National Alliance on Mental Illness (NAMI) reporting that one in five adults are affected by mental health conditions each year, it's clear many of us have to learn to "live with this." In an era where it's common to post and tweet unedited thoughts and emotions the moment they're felt, it's not surprising that celebrities have leapt on the confessional bandwagon. But is being regarded as a role model the same thing as being one?
Sharon Rosenblatt appreciates the "communal vibe of knowing that celebrities are just like us." The 29-year-old New York-based communications director adds, "We think of Hollywood as this glitzy, perfect place. Then Lady Gaga, someone who has mega-money and fame, is so open about her problems in a Netflix documentary. It levels the playing field. No matter who you are, you can have mental illness. It's normalizing."
California entrepreneur Maureen Bradley-Lazo agrees, "I wish they were doing it when I was young. I didn't understand I was depressed until 15 years ago, when 31-year-old me heard Dick Cavett describe his depression as the 'CEO of black that can wash over you even in the happiest moments.' I finally understood that depression was more than sad. It was this blanket of blackness that would often envelop me."
In 2017, the belief that mental illness is a weakness is still held by many people. So it's more important than ever for light to be shed on the truth that we are all susceptible and all deserving of help.
However, celebrity commentator Rob Shuter points to some drawbacks in stars with very powerful platforms perhaps over-sharing and over-pontificating about their mental breakdowns: "My friends think they give wonderful advice but having listened to Oprah Winfrey doesn't make you qualified."
Yet there's a pressure for well-known people to venture into territory that can be well beyond their area of expertise. Shuter adds, "Opinions aren't facts but increasingly the world is such a touchy feely place if you don't talk about your opinions and feelings you could be seen as inauthentic…. Even news anchors and politicians can't be frosty anymore. Trump was willing to give his opinion on anything. Hilary was never comfortable being real."
Being open about being troubled does not always mean you are helping the public. The gossip columnist says, "There is a trend of celebrities like Ozzie Osbourne, Lindsay Lohan and Charlie Sheen using emotional issues and going to rehab as an excuse for really bad behavior. " Celebrities have a safety net that allows them to act out and get away with it by saying, 'I was troubled. I'm better now so all is okay.'"
Getting away with acting impulsively, then issuing a mea culpa can work for the ultra-rich and famous, but it's not a good take home message for the rest of us.
Sinead O'Connor's heart-rending, raw Facebook video that she was on the brink of suicide was not a manipulative step toward rehabilitating a blackened image but a cry for help. The singer's sharing that the stigma of admitting to mental illness can be worse than the disease itself touched millions. (Indeed, research shows that those who feel stigmatized are more likely to take their lives.)
Even more helpful in raising awareness is when a star with no motive but to help others comes forward. Glenn Close started the non-profit Bring Change to Mind with the express aim of ending the discrimination surrounding mental illness after her sister was diagnosed with bipolar disorder and her nephew with schizoaffective disorder. Close said, "My sister, fearing stigma, only came to us for help when she couldn't stop imagining her own suicide."
Diane Clehane, author of the novel Imagining Diana, which creates a world where Princess Diana survived the car crash, believes there are very few Boldface Names "who rise above the noise" and can make a positive difference in public perception of mental illness.
Clehane, long a respected pundit on popular culture and British royalty, says, "We are so overloaded with news, images, spin. Springsteen writing about his depression isn't de-stigmatizing it for anyone else. His story goes into the file about another celebrity who is coming forward. Not much impact."
To Clehane, that role had to fall on someone with, "a connection to the issue, someone people really care about and admire."
That job fell to Prince Harry, whose admission last spring in The Telegraph that for decades his way of dealing with Diana's death "was sticking my head in the sand, refusing ever to think about my mum, because why would that help?" galvanized people worldwide.
Clehane says, "Both Diana's sons are even-keeled, generous, charismatic men who have the benefit of 20 years perspective and really want to finish the work of openness and helping others that their mother started."
At least the cat is out of the bag and celebrities have helped jumpstart the conversation around mental health. Sharon Rosenblatt, who likes the communal vibe of knowing celebrities are just like us, laughs, "Hey, if Paris Hilton can do group therapy, I can too!"
Sherry Amatenstein, LCSW is a New York-based therapist and the editor of the new 'shrink' anthology: How Does That Make You Feel? True Confessions from Both Sides of the Therapy Couch
More from Sherry Amatenstein
Being a Therapist Doesn't Mean I'm a Bastion of Perfect Mental Health