Disregarding the inconvenience of his vilified surname, Juliet said of Romeo that "a rose by any other name would smell as sweet." Obviously for Shakespeare's infamous star-crossed lovers, the particularities of a rose were insignificant. Not so for New York-based artist Sarah Meyohas, who hired 16 men last summer to scrutinize 100,000 rose petals, digitally imaging each one and setting aside one from each rose they thought the most beautiful.
Meyohas, known for developing her own cryptocurrency called BitchCoin in 2015, and recently named one of Forbes magazine's "30 Under 30," started the data collection project—her largest to date—over a year ago, setting up a workshop in New Jersey's Bell Works multi-purpose technology building. Once known as Bell Labs, the Eero Saarinen-designed, two million square-foot space has served as a petri dish for modern technology, formerly housing the researchers that birthed binary code and digital cameras.
Now, over a year later of rose shucking and data analysis, the fruits of Mehoya's hired labor and poetic vision are on view in "Cloud of Petals," at Chelsea's Red Bull Arts through December 10. Comprised of a 30-minute film, a mosaic of 3,289 preserved rose petals, four infinity-mirror sculptures, and the artist's first virtual-reality installation, the exhibition explores human subjectivity in an increasingly artificially intelligent world, and the quest for a technological sublime.
Mehoyas spoke with Observer about her research process behind the project and the universal quest for meaning.
What prompted you to undertake this deeply analytical project?
Early last year, I chanced upon the Bell Works building in New Jersey, which is now a bustling multi-purpose tech building. But at the time they hadn't leased that much of it yet, so there was a lot of empty space. What intrigued me was that it was the former Bell Labs site, which is the birthplace of information technology: the basis of digital technology, binary code—it all came out of there. It's also at the root of corporate history since it was once the biggest monopoly in the U.S. By mid-June of last summer I had permission from the management company to set up shop there for a little while. In August I moved in with 10,000 roses, 16 temp workers, laptops, cameras, and a full film crew. The workers were told to pick and photograph all of the petals from the roses, then set aside one petal that they thought the most beautiful to create a physical subset of this overarching data set, which was 100,000 images of rose petals.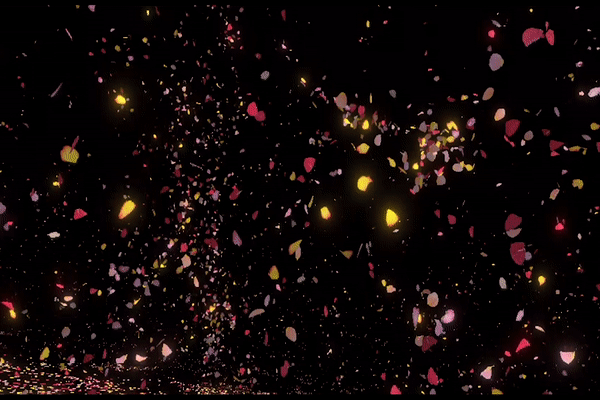 Why roses?
Roses are a super commercial product. They're the most popular flower. They're grown around the world. We've basically genetically embedded meaning in them by breeding them in every single color you can imagine.
The corresponding film that details the process of the petal picking is a kind of an ode to ordering and naming. It's not a documentary about the project; it stands alone as its own narrative, filled with distinct symbols and aesthetic considerations of how to represent a somewhat rote job. Why?
Yeah, I filmed the whole thing on 16 millimeter film, which was obviously a conceptual decision because, for one, film is kind of an obsolete technology now, so it's kind of nostalgic for a different time. And two, it's material, which was something that differentiated it from the digital data of the photographs. I also filmed some more surreal elements like a 14-foot python snaking through the switchboard wires and dead flies being placed on wires like branches because I wanted to create this sense of a new world. By documenting all of these rose petals, turning this organic matter into something pixelated, I wanted to recreate nature. It was kind of like playing god, so I wanted to evoke a technological primordial garden.
In this electric Eden, then, who are Adam and Eve?
That's where the artificial intelligence component comes in, because I realized the story wasn't complete. I have this data set, I have all this rich plot of information, but who is it for? So I worked with a couple guys in Palo Alto and applied a general adversarial net, which is like a form of machine learning, to the petals so it could generate new digital petals forever.
It's also worth noting that the men that I hired to shuck and photograph the petals were from a temp worker company called Manpower; they weren't, like, young interns or something from art school—they were professionals. That's important to me because I really wanted to push on this fear of automation and AI taking over human jobs, and create a direct metaphor for things like the Google Scanning Project and Amazon Mechanical Clerk.
How does the virtual reality portion of the installation relate to the project?
The VR functions in two ways. It's kind of a metaphor for the machine learning aspect I mentioned earlier. But it also forces a renegotiation for the viewer, one that challenges our humanist conceptions of self. Usually with artwork, there's a confrontation—we're aware of ourselves as distinct from what we're looking at. There's something in front of you; there's a sense of scale. But in VR, you're kind of disembodied, you're just a point within the space.
But there are physical artworks within the exhibition that viewers ostensibly "confront," correct?
Yes, I think of the physical elements like relics. There are two walls with 3,289 pressed petals that I hand numbered. Those are the ones that the workers chose as most beautiful. I wanted to include them because it reveals the roses as organic material that changes and decays, while the images of them won't. It's a reminder that all of our data, in all of the different places that it lives now, has human biases embedded in it, whether we know it or not. Perception is always subjective. When we start to apply AI and machine learning to these systems and don't necessarily map out the reasoning of human perception, of choice and free will, then we're taking these biases and propagating them. And, in my opinion, that's really neither good nor bad. It just is. And here, I'm doing it with one of the most subjective things, beauty, which is "in the eye of the beholder," as they always say.
Why did you feel it was necessary to look at something as simple as a rose in so many different ways?
It's about the search for meaning—something we all do—which is what makes us human. It's an attempt at pinpointing that somewhere between the triangulation of all these different aspects of genetics, computer code, images, narratives, etc.—because one alone is insufficient to express our entirety of being.
Margaret Carrigan is a freelance writer and editor. She planned to go to law school but she did terribly on the LSAT, so she got a master's in art history instead. She lives in Brooklyn with her cat, who is named after Alyssa Milano's character from the early aughts CW smash hit series Charmed.
More from Margaret Carrigan:
SITE Santa Fe Unveils Its Newly Expanded Starchitect-Designed Space
Fondation Louis Vuitton Hosts US Expats in 'Being Modern: MoMA in Paris'
Museums Make Space for Sound Art This Fall
Nick Cave Pays His Dues to Artadia
5 Must-See Gallery Shows in London During Frieze Week