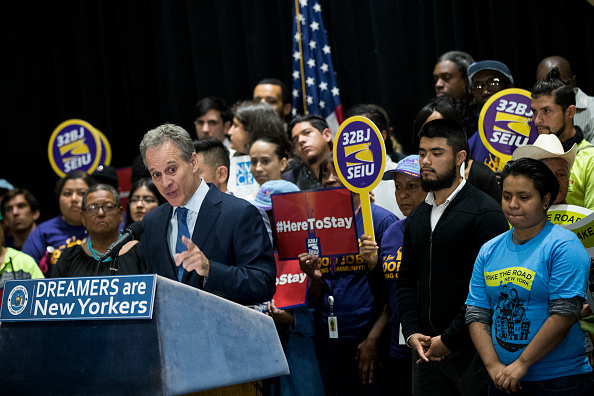 New York State Attorney General Eric Schneiderman has been making waves in recent months for taking on President Trump with various lawsuits seeking to block the president's moves in areas such as immigration, health care, education and LGBTQ rights, among other issues.
He has sued the president over everything from his executive orders barring entry to people from Muslim-majority countries, to his attempts to repeal former President Barack Obama's Affordable Care Act, to his decision to end the Deferred Action for Childhood Arrivals program for undocumented youths brought to the United States in their early childhood and what he has described as Trump's "campaign of climate change denial."
Amy Spitalnick, a spokeswoman for Schneiderman, said that it has always been "fundamental" to his job to protect New Yorkers when the federal government undermines their health and safety and New York State's best interests — and that the courts agree.
"Under the Constitution, the states have broad powers to protect their residents and their best interests," Spitalnick said. "This office did not hesitate to act under prior federal administrations to protect New Yorkers – such as challenging the Obama administration over greenhouse gas regulations, which ultimately led to the Clean Power Plan. Now, with New Yorkers' health, safety, constitutional rights — and very lives — in the balance thanks to the many dangerous policies coming out of Washington, we'll continue to do what's necessary to protect New York's families and our state."
She added that they have seen "significant success," noting that they beat back the travel bans, blocked the EPA's rollback of methane regulations and forced the administration to reverse course on smog regulations and energy efficiency standards.
The attorney general's office noted that Schneiderman sued the Obama administration a number of times when New Yorkers' interests were threatened but only pointed to its involvement in the Clean Power Plan.
Here's a look at some recent lawsuits that Schneiderman, a Democrat, has filed against the Trump administration in the last couple months of the president's tenure.
IMMIGRATION 
On Tuesday, Schneiderman announced that he and nine other attorneys general filed a lawsuit against the U.S. Department of Homeland Security for failing to disclose records on the detention and deportation of immigrants. The complaint, filed in U.S. District Court in Massachusetts, alleges that the states are asking for records that they are legally allowed to access and that the federal agencies have not responded to the requests within the legal time limit.
In September, Schneiderman, along with 15 attorneys general, filed a lawsuit against Trump over what they claimed to be the "discriminatory animus" of his decision to end DACA. The lawsuit, filed in the U.S. District Court for the Eastern District of New York, asserts that the administration flouted the equal protection clause of the U.S. Constitution by discriminating against DACA beneficiaries of Mexican origin, who constitute 78 percent of DACA recipients. It also alleged that Trump's decision did not provide DACA beneficiaries with due process and hurt the states' residents, institutions and economies. A month later, they filed an amended complaint.
On Oct. 12, Schneiderman filed a motion for a temporary restraining order against the implementation of Trump's third travel ban — which a federal judge recently blocked — and modified the original lawsuit to include legal challenges to the latest ban. The challenge, filed in the U.S. District Court for the Western District of Washington, contends that most of the targeted nations in Trump's Sept. 24 proclamation are Muslim-majority nations, similar to the previous two bans.
Last month, Schneiderman and 17 other attorneys general filed an amicus brief in the U.S. Supreme Court opposing Trump's 90-day ban on six Muslim-majority countries, the suspension of the U.S. Refugee Admissions Program and the downsizing of the program's refugee cap. And in August, he and other attorneys general filed a new amicus brief in the Hawaii travel ban litigation, opposing the Trump administration's appeal of the decision by the district court that the ban should not keep grandparents and other close relatives of United States residents from entering the country.
TRANSGENDER MILITARY BAN 
On Oct. 16, Schneiderman joined a coalition of 15 attorneys general in filing an amicus brief opposing the administration's plans to ban transgender people from serving in the military. The amicus brief, filed with the U.S. District Court for the District of Columbia, contends that banning transgender people is unconstitutional, runs counter to national security and adversely impacts the transgender community.
HEALTHCARE 
Last week, Schneiderman announced a multi-state lawsuit filed to defend health care subsidies after Trump announced that his administration will cut off the Affordable Care Act's cost-sharing reduction payments that lower co-payments, deductibles and other out-of-pocket costs for low-income Americans. The lawsuit, filed in California, argues that the federal government is legally required to make the payments and that it would violate the Administrative Procedure Act. In June, he vowed to challenge the proposed health care bill if it became law.
ENVIRONMENT
Earlier this month, Schneiderman said that he would sue the Trump administration following Environmental Protection Agency Administrator Scott Pruitt's announcement that the administration will repeal the Clean Power Plan, a decade-long effort by New York and partnering states and cities to mandate cuts in thee missions of climate change pollution from fossil fuel burning power plants under the Clean Air Act.
He also led a coalition of 15 state attorneys general in filing a notice of intent to sue the EPA for not meeting the Clean Air Act's statutory deadline for labeling parts of the country affected by unhealthy levels of ground level ozone, or smog. In August, Schneiderman and a coalition of attorneys general sued the EPA for illegally holding up the classifications and a day later, the EPA subsequently withdrew the delay.
EDUCATION
In July, Schneiderman sued Education Secretary Betsy DeVos on the grounds that the Department of Education breached federal law by abruptly repealing its Borrow Defense Rule, which targets abusive higher education institutions that cheat students and taxpayers out of billions of dollars in federal loans. The Obama administration implemented the rule in November 2016 after nearly two years of deliberations and the collapse of Corinthian Colleges, a national for-profit chain.
TRUMP, HIS FAMILY AND THE ADMINISTRATION 
In 2o13, he filed a $40 million fraud case against Trump, saying that he flouted state education laws by portraying his unlicensed real estate seminar program, Trump University, as a real university. In November 2016, a settlement was reached whereby Trump was ordered to pay New York State $1 million in penalties as part of a $25 million settlement sorting out pending suits against the program — just days after he won the presidential election.
In October 2016, he sent a cease and desist letter to the Donald J. Trump Foundation on the heels of reports that the foundation did not have the licensing to raise money in New York State and that it had used up donor funds to settle personal lawsuits against Trump, and to buy portraits of him at charity auctions that he used to decorate his business properties. The previous year, the attorney general's office kept Trump from closing his foundation before entering office since the investigation into the endowment was ongoing.
In June, Schneiderman was said to be looking into issues brought up in a Forbes report alleging that the Eric Trump Foundation used an yearly charity golf tournament to benefit the family's business. And at the end of August, it was reported that Special Counsel Robert Mueller was collaborating with Schneiderman on its probe into former Trump campaign chairman Paul Manafort's lobbying and financial dealings.