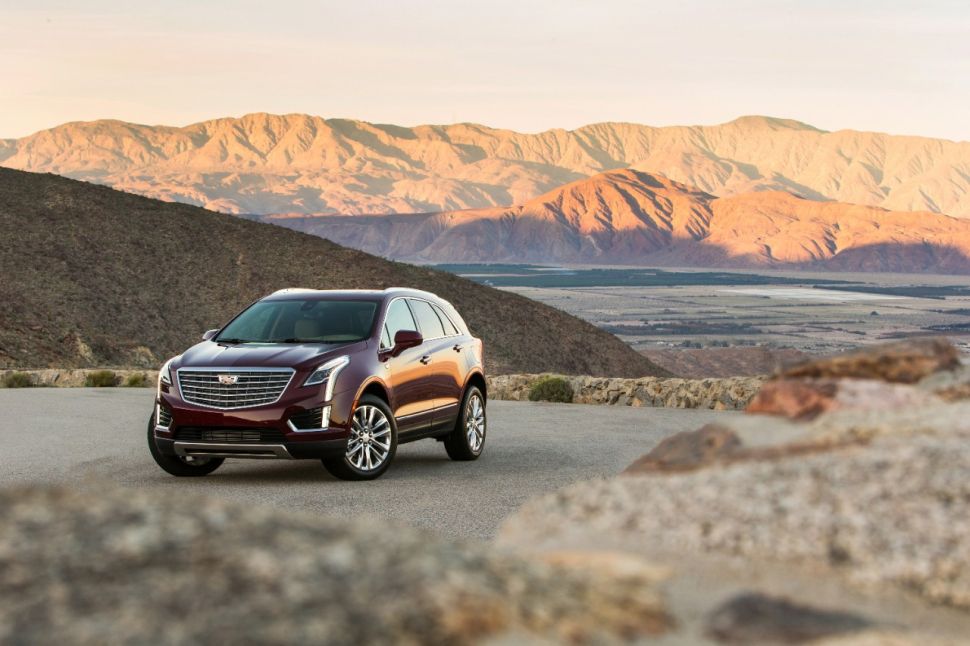 The information sheet Cadillac gave me for their 2017 XT5 SUV begins with the following factoid: "The XT5 is approximately the same size as the Mercedes-Benz GLE350, but weighs 650 pounds less." It's a bad sign that this what they've chosen to highlight.
What else is Cadillac going to advertise, though, besides "have you lost weight"? The XT5 replaces the SRX, one of the least-loved vehicles of all time. It's a substantial improvement on that monstrosity. But it enters a segment full of excellent options, from the Lexus RX, to the Audi Q5, and, most intimidatingly, the Porsche Macan, which has the double benefit of being a nice SUV that also is a Porsche. Anyone who chooses to buy a Cadillac over an equivalent Porsche either can't let go of their "buy American" politics or isn't paying attention.
The "Platinum" X5 I received for a week-long test priced in at a shocking $67,000 and change. It had a soothing beige and dark-wood interior, kind of like the law office of a successful personal-injury attorney from the provinces. There were also little plasticy bits throughout. I suspected that after a few months, things would start to peel. It boasted an intimidating grille and a tough profile, and was also jet-black. But unless Cadillac plans to start armoring them and having them do bank runs in Kabul, the tough profile of the XT5 kind of feels redundant. This is, after all, an upper-middle-class soccer hauler for two-kid families. Why intimidate at the dance studio when a nice red Lexus will do the work for $15,000 less?
You also have to take the technology interface into consideration when facing a General Motors product. This has long been an off-brand problem. Apple CarPlay is now fully functional in the vehicles, which is a nice distraction from paying attention to the road. There's lots of screen-pushing when it comes to changing the radio channel and adjust the temperature controls. There are signs that Cadillac is moving toward full self-driving capability, but we're still a few years off from that, so maybe bring back the knobs. I did like the seat heating and cooling functions, though, because those had buttons that were easy to find.
As for the driving itself, well, the car gets 310 horsepower off a V6 3.6 liter engine, which would have been extraordinary 20 years ago but these days is just average. Also, it gets about 20 MPG combined, and there are pickup trucks these days that do the same. I read one review that said something like "it didn't accelerate particularly well into traffic but I never felt like my life was in danger or anything." Keep in mind that assessment comes from a professional driver whose life is always at least 20 percent less in danger than the average person behind the wheel. The car definitely had some pickup when you pressed the throttle, but it didn't have extraordinary pickup. To me, it felt overly large and somewhat challenging to maneuver, no matter how much less it weighs than a random Mercedes of which I've never heard.
Also, and this is a point that must be considered very serious, the gears are hard to shift in this car. In order to put it into Reverse, an important function in any vehicle, you have to press a button, push the stick up, and move it to the left. But there are actually two buttons on the gear shift, and I found myself forgetting which one was which. So I had the uncomfortable experience, more than once, of sitting in neutral in a crowded parking lot, trying to figure out how to get the car to move.
I'm not sure why Cadillac has done this. Is it some sort of misbegotten car-guy nostalgia for an age when it was "fun to drive?" If you're going to do a stick shift, then do a stick shift. But those cars were called "standard" for a reason: Because there was a standard way to shift gears. The car has eight speeds and something called "Electronic Precision Shift," but that doesn't help it get into reverse. Unless you are a racer, which no one behind the wheel of an XT5 is or ever will be, driving shouldn't be a tricky puzzle.
But at least it's not a fatty.
Neal Pollack is the author of ten semi-bestselling books of fiction and nonfiction, including the memoirs Alternadad and Stretch, the novels Repeat and Keep Mars Weird and the cult classic The Neal Pollack Anthology Of American Literature. For some reason, his byline has appeared in numerous automotive publications, including Car & Driver, Road & Track, and Yahoo! Autos. He lives in Austin, Texas, against his will.