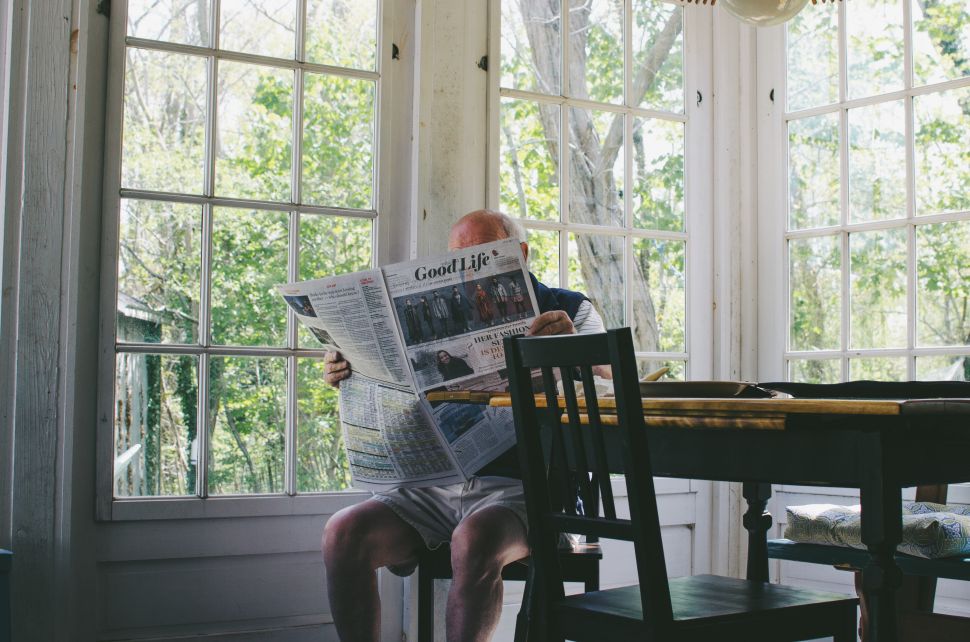 I was chatting with a friend this past weekend and over the course of the conversation, as we were talking about our careers, she mentioned another friend who's thinking over her next move. "She's 50, so she has what, another twenty years in the workforce?" my friend said. I nodded because that made sense. It only hit me later that for the white-collar men of my father and grandfather's generation, the idea of working past age 60 would have been a nightmare scenario.
Now, retiring at 70 seems like a best case scenario. Last Saturday, the Washington Post ran an article on the record number of people over age 65 who are still in the workforce. The piece detailed the precarious finances that have driven America's senior citizen workers to more than double (from 4 million to 9 million) since 2000. The article quoted Teresa Ghilarducci, a labor economist who specializes in retirement security as saying "There is no part of the country where the majority of middle-class older workers have adequate retirement savings to maintain their standard of living in their retirement."
It went on to detail that, as in sleep, so it is in aging: There is a distinct gap between the longer-lived well-off (who were insulated from the massive shift in retirement funding, from employer to employee, that characterized the 1980s) and the rest of us.
So what? We have not fully reckoned with the costs of the graying of the Baby Boomers. In 2010, one in six Americans was over age 65. In 2030, one in four Americans will be.
That big slice of the population went into retirement with its 401(k) programs savaged by recessions—according to Vanguard, the average baby boomer 401(k) portfolio is worth $177,805 and the median portfolio value is $71,579—meaning that approximately 50 percent of baby boomers with 401(k) portfolios have less than that saved.
Also not helping the financial picture: Nearly 50 percent of people aged 50 to 59 have no pension coverage, only 45 percent of American employers offer any kind of employer-sponsored retirement plans, and more than 40 percent of current retirees are at risk of running out of money to meet their living expenses.
The problem of how to feed, house and care for a substantial percentage of senior citizens is about to become much larger. Elderly people can't pick beets and pack Amazon boxes forever—either their bodies will give out or their work will be automated.
Who cares? American taxpayers should. Medicare, the federal health care program available to most Americans over age 65, currently serves 17 percent of the nation's above-65 population. (In some states, the percentage is much higher; in ten states, one in five seniors is on Medicare.) However, Congressional Republicans have been aiming at Medicare repeatedly, hoping to slash spending by 25 percent over 10 years. Were this to happen, it would be a remarkably stupid move from an economic perspective. As the New York Times noted:
One of the few ways that adult children can get help with caregiving duties is Medicaid's support for seniors, which many middle-class people qualify for after spending most of their income and assets on long-term care. Cutting Medicaid could make it more difficult to qualify, so more adult children would have to care for their parents.

…The researchers at Boston College found that these caregivers spend an average of 77 hours per month with their parents, the equivalent of about two weeks of full-time work. That time is money. Calculations based on the American Time Use Survey indicate that caregivers effectively forfeited $522 billion in 2012 due to such duties; that is more than double the total cost of formal care, at $211 billion.
I'm not going to do the math to see how we'd reduce Medicare spending over 10 years, but slicing 25 percent off the $646.2 billion spent on Medicare in 2015 means the country would save $161.55 billion in federal spending (i.e. "save that money in taxes") but lose $522 billion in personal income (i.e. the money used to pay taxes, to say nothing of the goods and services that fuel an economy's growth).
I bring up the Medicare example—and the hostility for paying for aging Americans' healthcare just as a whole lot of Americans are about to need more of it—because it's emblematic of how we're ignoring the financial crises that are cascading down as the baby boomers age. They may outlive their money, their medical care may face funding cuts, and there's a critical shortage of workers to take care of them when they're medically fragile.
When looking at a future like that, staying in an office job until age 70 doesn't seem that bad.
Lisa Schmeiser has been reporting on and writing about tech, business and culture since the dot-com days. Find her on Twitter at @lschmeiser or subscribe to So What, Who Cares.
More from Lisa Schmeiser:
For a More Productive Workforce, We Need to Change Our Sleeping Habits
How Apple Takes Experimental Tech From Other Companies and Makes It Mainstream
Smart Bras Could Be Savior of Flailing Wearable Technology Industry