On November 13, 1967, England's University of Newcastle upon Tyne awarded Dr. Martin Luther King, Jr. an honorary doctorate in civil law; it was was the only university in the United Kingdom to do so during his lifetime. Upon receipt of his degree, Dr. King made an impromptu speech—his last outside of the United States before he was assassinated—in which he said the following:
"And so that is a challenge and a great one: for all men of good will to work passionately and unrelentingly to get rid of racial injustice, whether it exists in the United States of America whether it exists in England… wherever it is alive it must be defeated. And somewhere along the way, in this sometimes sick and often terribly schizophrenic world, we have got to come to see that the destiny of white and colored persons is tied together. In a real sense we are caught in an inescapable network of mutuality."
Now, half a century later, the U.K. and the U.S. are as schizophrenic as ever, as both are witnesses to surges in populism while negotiating an increasingly global, borderless world. Marking the 50th anniversary of MLK's Newcastle visit, BALTIC Centre for Contemporary Art—located just a mile from the site of King's 1967 address—is staging "Starless Midnight," a group exhibition of nine contemporary American and British artists, all of whom address the enduring inequalities pertaining to race, class and gender.
"We have a good dollop of pride that at least Newcastle recognized him in this way during his lifetime," the exhibition's curator, Laurence Sillars, told the Observer. But he said that it was difficult to set an appropriate tone for the show since, while it was meant to commemorate the historic occasion, there was little to celebrate. "The predominant social issues that King raise in his speech here—racism, poverty, and war—well, those same things could have been said last Tuesday. We haven't made as much progress as we think we have."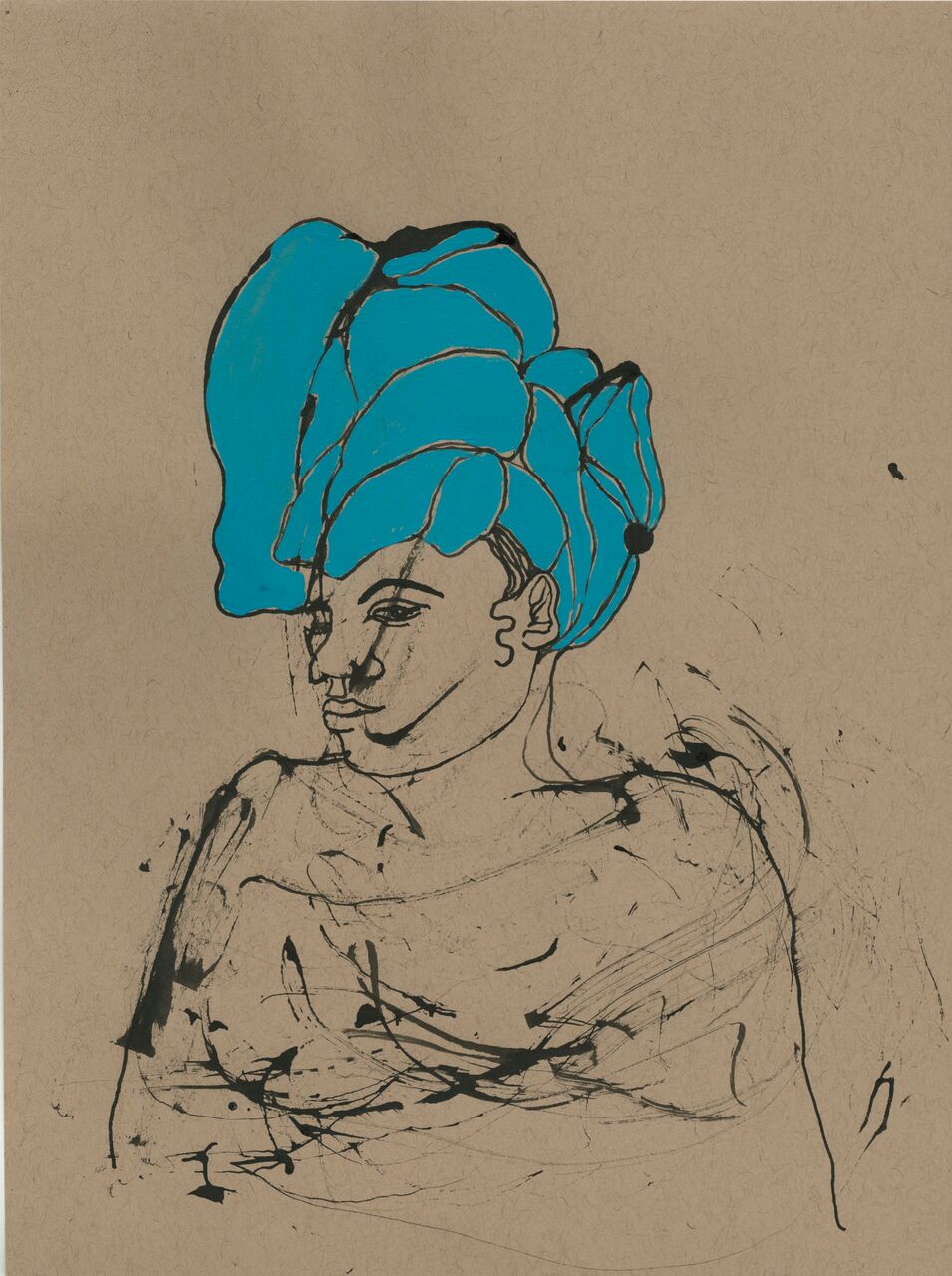 The exhibition opens with Karon Davis' Waiting Room (2016), a replica of a typical medical center waiting room, complete with tasteless armchairs, generic landscape paintings and crayon drawings on the wall from impatient children. The work started as an intensely personal manifestation of the L.A.-based artist's experience after her husband was diagnosed with terminal cancer and she often found herself in depressing hospital antechambers awaiting good news. More broadly, though, the series—which comprises nine separate sculptures, like Nicotine, a life-sized papier-mache nurse who is smoking—also looks at coping mechanisms in times of stress.
"With everything going on politically, there's a sense that the whole world is now in a waiting room. We all want good news but we're not sure what's going to happen next in the Brexit situation and the huge implications that it could have regarding freedom of movement and our understanding of other cultures," Sillars says. "And then there's Trump, who on a daily basis tweets a new prognosis, so we're never sure what to expect."  
But Sillars also notes that the intention of the exhibition isn't to universalize or water down the experience of systemic oppression and inequality. "I'm privileged through my existence as a white straight male, so I didn't feel like I could address the issues MLK raised adequately without the input of other voices," he explained. Which is why he collaborated with American artist Edgar Arceneaux to bring the show to fruition. Arceneaux has done substantial research in Dr. King's archives and frequently returns to historical moments in his performance and video work, to rewrite the narrative.
"Starless Midnight" includes new commissions by the likes of Charles Gaines, whose audio-visual installation scores much of the exhibition with specially composed, evocative piano music and scrolling text reiterating King's words from 1967. Opposite the video is a wall of posters collected by Louis Cameron, all addressing recent police violence against black men by artist peers such as Sanford Biggers, Rashid Johnson, and Derrick Adams.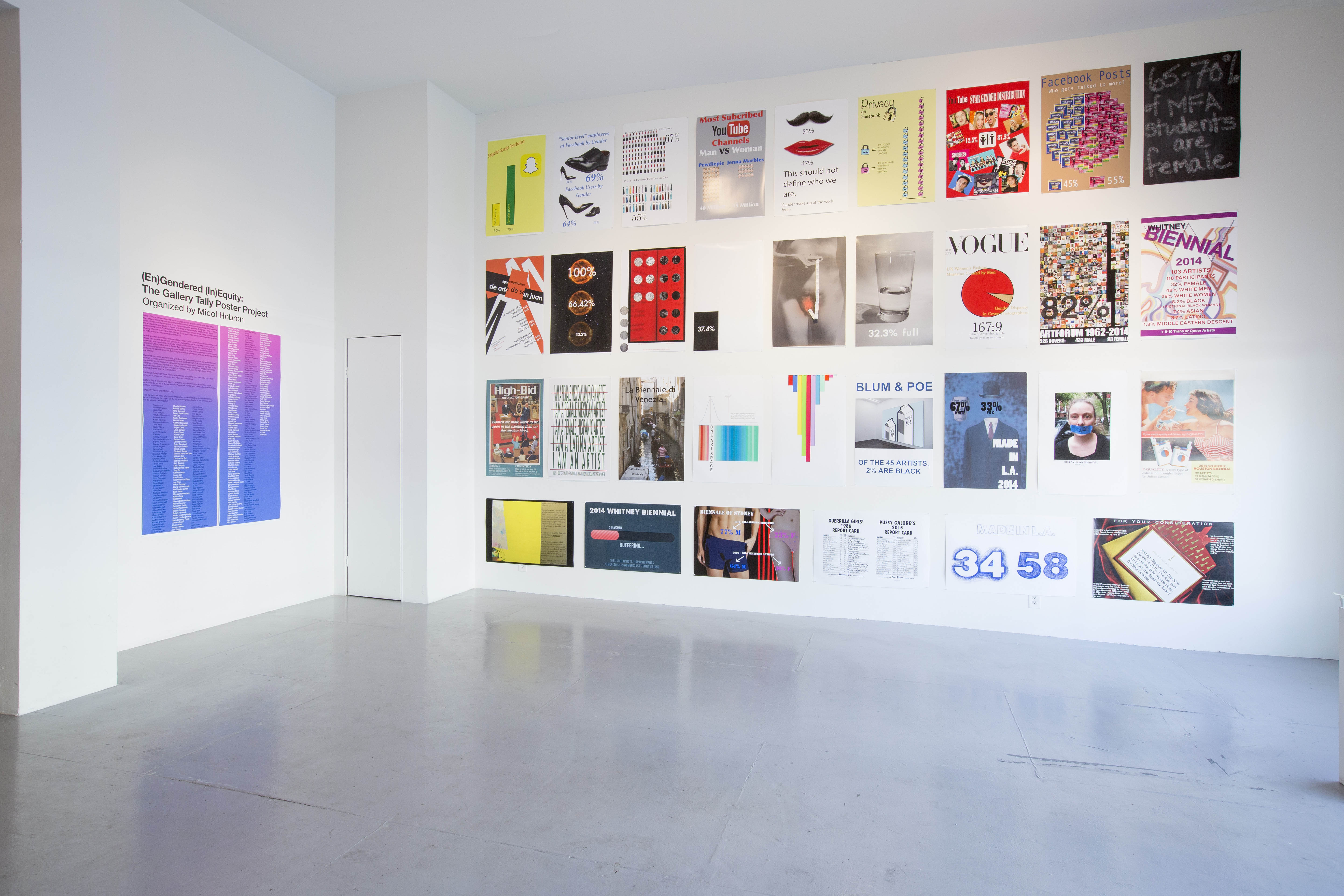 Micol Hebron's Gallery Tally, launched in 2013, also features a series of posters illustrating the percentage of female versus male artists in major commercial art galleries around the world. Hebron's work riffs on that of the collective Guerilla Girls of the 1980s, when they started making billboard and posters highlighting the number of works by male artists in major museums.
"Micol was interested in the commercial aspect beyond the representation statistics, though," explained Sillars. "How are you supposed to survive when the odds are stacked against you even making money to live?" The project relies on contributions by local artists and is open for submissions; new posters will be added throughout the run of the exhibition, which remains on view through January 21, 2018.
The artist also requested that feminine hygiene products be made available in the center's bathroom for free during the exhibition, and the books by male authors are turned around in its research library, to further highlight issues of gender bias and privilege.
"As an institution, we have to be mindful of our part in systematized inequalities as well," said Sillars. "We all need to be held accountable when it comes to social injustice." After all, as King said fifty years ago, we're in an inescapable network of mutuality.
Margaret Carrigan is a freelance writer and editor. She planned to go to law school but she did terribly on the LSAT, so she got a master's in art history instead. She lives in Brooklyn with her cat, who is named after Alyssa Milano's character from the early aughts CW smash hit series Charmed.