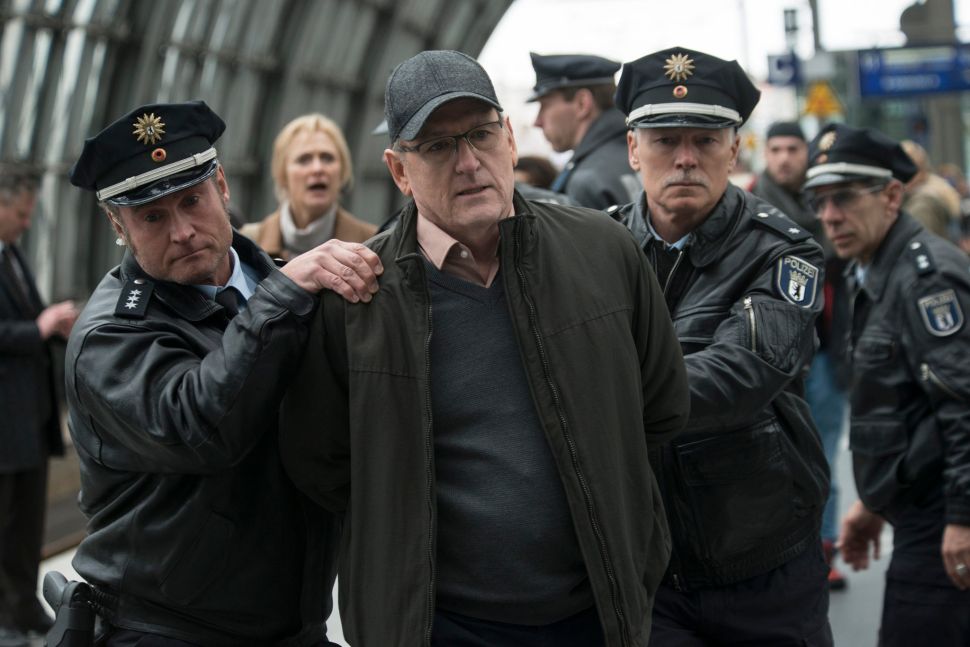 When the creative team behind the political thriller Berlin Station set out to tell a story about the rise of the far-right, they had no idea how apropos this narrative would actually become.
"The idea was wholly baked before the 2016 Presidential election," reveals showrunner and executive producer Brad Winters.
Set in Germany, Berlin Station is a fictional account of Alt-Right party leader Katerina Gerhardt, who attempts to sway disillusioned voters fed up with the status quo in the midst of a pivotal election.
CIA operatives working at the station must infiltrate the far-right group, after it's revealed members are plotting a terrorist attack that would be blamed on refugees—an attempt to drive voters to elect a new anti-migrant nationalist party into power.
When he came up with this story, Winters didn't realize how relevant it would seem upon its release. This was before the nationalist Alternative for Germany party won enough votes in the September 2017 election to enter German parliament for the first time, and prior to this summer's white nationalist rally in Charlottesville, Virginia.
"I hatched the idea right around 2016. Given where we were in the U.S. and with what was happening in Germany, I thought it would be interesting to do a story about the rise of the far right in Europe and use it to transpose some of the issues that America was struggling with," said Winters.
Winters admitted that when he presented the idea to network executives in October 2016, they had an intriguing reaction. "There was a degree of 'oh this is interesting but, you know, we're going to have a Democratic president.' Then, just a few days later, the election went the way it did and it was like, 'oh wow, now this is far more pertinent than we thought it would be.'"
But at that time there was still uncertainty about the political situation in Germany, which directly affected the project, said Winters. "We shot the entire season before the Germany elections. So, all along there was a low level quite concern of, 'what if we get this totally wrong? What if the elections happen and we're completely off the mark of what just happened?' It was a weird position in not wanting the election to go the way we were positing in the season but at the same time not wanting to be off the mark."
At a certain point, the team behind the series just had to accept that the narrative of the series is actually just fiction, explained Winters. "We're not telling the actual story of the 2017 parliamentary elections, we're telling a larger story about the rise of the far-right and how American geopolitical interests interface with that."
Now, Winters and his team feel a bit shocked that the crafted storyline is so close to what's transpired in real life, saying, "What happened in Germany is eerily exactly what this season's storyline advances, to the decimal point. It turns out that what we were working towards is the reality after all."
In this political climate, Winters is well aware that there will be a segment of viewers who might shy away from this narrative, feeling that they're already over saturated with highly charged news headlines. To this he says, "I hope everyone might be curious enough to look at this from a dramatic perspective as opposed to a politicized and partisan perspective. What is it like to potentially relate to the concerns and grievances in that arena? We're trying to break down the 'good guys versus bad guys' that dominates the thinking on both sides."
He went on to say "This is an issue that's ensconced in extreme shades of black and white on both sides of this huge divide. My whole approach to this was to gray it all up through character and story. I wanted to really subvert stereotypes and really put character in place of what's become a caricature."
Digging even deeper into this tangent, Winters said, "The driving principle here is that you can't judge a person by his or her party affiliation or his or her political identity. We're subverting default things that we bring to the identification game of nationality and political affiliation. That's the heart of this season—our characters are going in with certain understanding and coming out with those personal ideals shaken."
As a final thought, Winters wanted to make sure that viewers know, "you hear about a show doing a storyline about the far-right and one would automatically assume maybe there's a left-wing agenda driving that show. This isn't that. It's really more about getting past some of the barriers that have defined the debate in our news cycle. And, no matter what your affiliation, it's pretty clear that everyone can get behind the desire to understand the bigger picture."
Berlin Station airs on Sunday nights at 9 p.m. e/p on Epix.
Anne Easton is a West Coast-based writer for Observer. She's an Emmy-award winning writer and producer who has worked in news, sports and children's television for FOX, ABC/Disney and the ReelzChannel. Follow her on Twitter at @anne_k_easton.