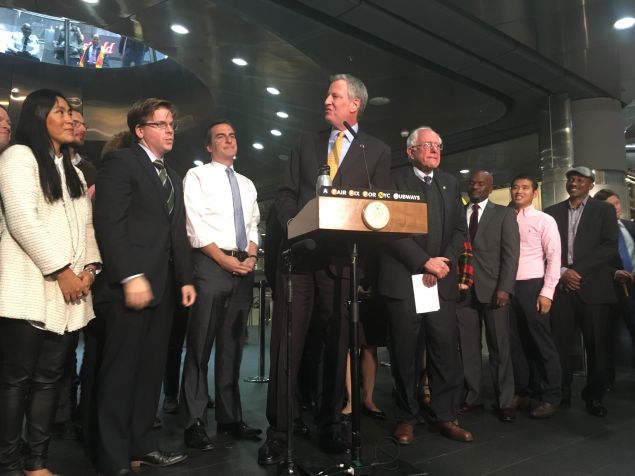 As New Yorkers prepare to hit the polls next week, Mayor Bill de Blasio received a boost from Sen. Bernie Sanders, the progressive Democrats who galvanized young voters during the 2016 presidential election.
De Blasio, who will be facing off against five challengers next Tuesday, has been positioning himself as a national leader on progressive issues, often traveling throughout the country. He backed former Secretary of State Hillary Clinton for president — though it was a belated endorsement — and he has long maintained that he is a fan of Sanders.
Sanders touted de Blasio's universal prekindergarten initiative, a similar initiative for 3-year-olds and his millionaires tax proposal to fund subway repairs and half-priced Metrocards for low-income New Yorkers.
"We can do it if we have the guts to become involved in the political process, if you have the guts to take on the billionaire class and fight for our children and our perks," Sanders said. "Brothers and sisters, on Election Day, let's show the country that by a large vote, if you like a huge vote, let's re-elect Bill de Blasio and let's show the world what this great city can do."
De Blasio touted his universal prekindergarten initiative, two rent freezes, a $93 million program to ensure legal counsel to any tenant facing eviction, 300,000 New Yorkers lifted out of poverty, a drop in the use of the stop and frisk policing method and an overall decline in crime in the city.
But he said that the system is "still rigged" and said that the day will come when health care is a right for all Americans, the wealthy 1 percent pay their fair share in taxes and college everywhere "is actually debt-free."
"That day is gonna come and when it comes, you're gonna look back and say, 'Who started all this? Who started this all along? Who started this movement? Who planted the seed? Who gave us the hope? Who showed us the way?'" the mayor said. "Ladies and gentlemen, Senator Bernie Sanders!"
De Blasio finally endorsed Clinton, whose successful 2000 Senate bid he managed, at the end of October 2015. After a barrage of emails leaked by Wikileaks revealed that he sought instruction from her campaign on how to interact with her rivals and the press, he maintained he helped push her more to the left.
But a month after the November presidential election, de Blasio said Sanders was the candidate with the message that "would have won the election." In the immediate aftermath of the election, the mayor said that Clinton's platform lacked a progressive populist economic message. 
Earlier today, after riding the A train from Penn Station to Fulton Street, Sanders and de Blasio held a press conference at the Fulton Street station, where Sanders formally backed his proposal to institute a millionaires tax on the wealthiest New Yorkers to fund subway repairs and reduced fares for low-income New Yorkers.
Sanders noted the country's crumbling infrastructure and said that it is "not a radical idea to say that when you ride on the subway, you should ride in comfort."
He said that he would not take sides in the feud between de Blasio and Gov. Andrew Cuomo over the best proposal to fund subway repairs. While he said that he did not have all the details about Cuomo's congestion pricing proposal, he seemed to reject the approach.
"In general, again, I think that at a time of massive income and wealth inequality you don't want to be taxing working families and working people who might have an automobile and be travelling in the city," Sanders said.
Sanders is not the only prominent progressive Democrat to join the de Blasio bandwagon. Earlier this month, Sen. Elizabeth Warren (D-Mass.) urged New Yorkers to donate to de Blasio's reelection campaign, proclaiming that he is "the sort of progressive leader New York needs."
And on Monday morning, another Brooklyn native, Senate Minority Leader Charles Schumer — for whom Sanders voted to become the leader of the Senate Democratic Caucus in November 2016 — endorsed de Blasio for reelection.