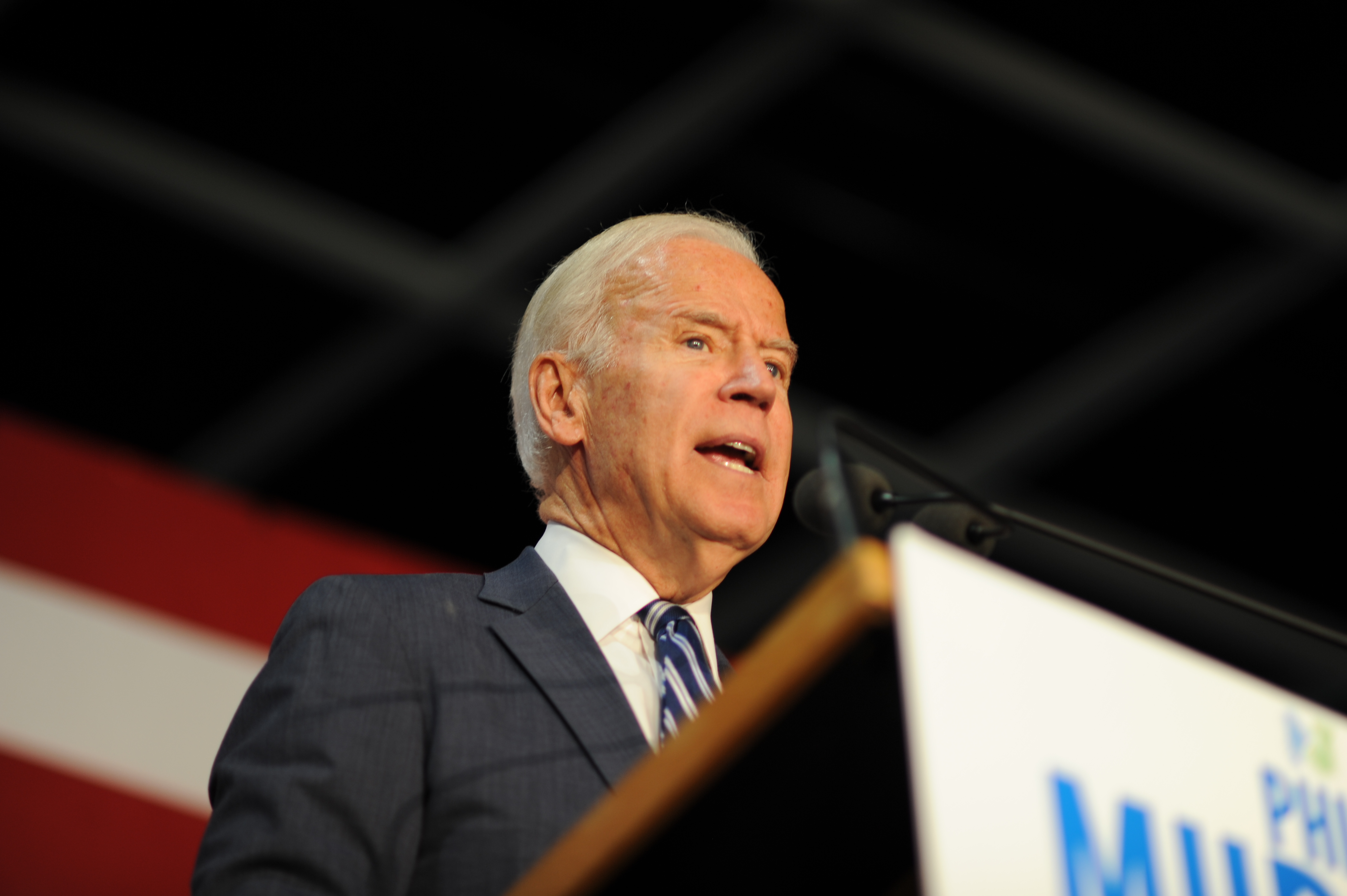 Phil Murphy will be able to go toe-to-toe with hedge fund managers and major corporations if elected governor because of his experience on Wall Street, former Vice President Joe Biden said Thursday.
Murphy's 23-year tenure at Goldman Sachs (GS), where he rose to the top ranks, is largely perceived as a liability on the campaign trail. But Biden tried to turn it into a strength during a rally in Edison. Because Murphy, the Democratic nominee for governor, "understands the complexity about those hedge fund guys," Biden said, they won't be able to "pull anything over on him."
"We need someone as smart as they are," Biden reasoned. The suggestion is that having worked for the Galactic Empire, Murphy knows where to find the blueprints to the Death Star.
Biden, campaigning with Murphy for the second time this year, spent part of his 25-minute speech railing against corporations that take advantage of tax loopholes but don't pay their employees higher wages. He then promoted Murphy as capable of eliminating those loopholes to free up hundreds of millions of dollars to spend on programs like higher education.
Murphy plans to raise $1.3 billion in taxes by targeting the state's wealthiest residents and major corporations, and by legalizing and taxing recreational marijuana. He has called for a "millionaire's tax" as well as an elimination of a loophole that allows some corporations to shift profits to lower-taxed states. In addition, Murphy wants to tax "carried interest," of performance fees earned by hedge fund and private equity managers."
Biden also condemned — though not by name — Republican gubernatorial nominee Kim Guadagno for her new TV ad, which claims Murphy would protect from deportation undocumented immigrants who commit murder. Biden called the 30-second spot "the return of Willie Horton," referring to an infamous political ad used against Democrat Michael Dukakis in the 1988 presidential election. The ad attacked Dukakis for violent crimes committed by Horton after he was released from prison on a weekend furlough program and never returned.
Biden accused Republicans of employing "gutter politics," and compared the Guadagno ad to the tough-talking ways of Gov. Chris Christie and President Trump. "People are sick and tired," he said. "They wanna raise the standard. They wanna raise the standard of dialogue."
In a statement, Guadagno mocked Biden for once saying it would be patriotic for the wealthy to pay more in taxes. "Joe Biden says that paying higher taxes is 'patriotic,'" she said. "Well, if Phil Murphy becomes governor, we'll be the most patriotic state in the country."
Biden, who is discussed as a potential 2020 Democratic presidential candidate, called the New Jersey gubernatorial election "the single most important race" of the year because local leaders will matter more in the Trump-era. "We have got to send a message all across America and around the world: New Jersey is back and America is on their way back to get rid of this circumstance we have," he said.