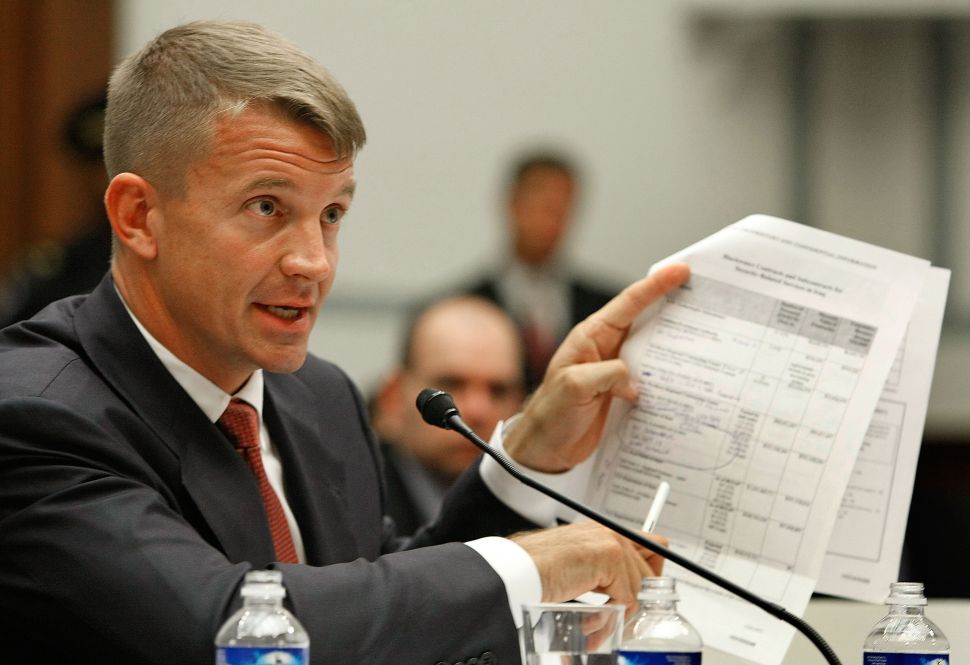 After years of hiding out in the United Arab Emirates, Blackwater founder Erik Prince has stepped back into the limelight. Last week, The New York Times reported that Prince was musing a Senate run orchestrated by former White House strategist Steve Bannon and bankrolled by New York hedge fund manager Robert Mercer. Today, in an interview with The Daily Caller, Prince staked further claim to the political landscape by calling on Attorney General Jeff Sessions to launch a probe into the Obama administration's reported surveillance of Americans who met with foreign officials.
"This is an abuse of an intelligence service's powers," Prince told the publication. "It is dangerous. This is a problem for American liberty."
Last April, The Washington Post published a front-page story alleging that Prince had established a backchannel between President Donald Trump's campaign and Russian President Vladimir Putin during a January 11 meeting in the Seychelles Islands.
"The United Arab Emirates arranged a secret meeting in January between Blackwater founder Erik Prince and a Russian close to President Vladi­mir Putin as part of an apparent effort to establish a back-channel line of communication between Moscow and President-elect Donald Trump," the Post reported.
Prince refuted the report while claiming that he was "unmasked for political purposes."
"I've had on numerous times, when I lived in the Emirates that my rights as a citizen were violated. I would meet with an Emirate official and minutes later, they would  get a phone saying, 'Why are you meeting with that guy?' That's just not America. This was America under the Obama intelligence groups. That's disgusting," he said.
Prince claimed that while conducting business at the island's Four Seasons Hotel he briefly met a "Russian guy in town on some Russia-Emirates related business." The meeting, however, had nothing to do with the United States, U.S.-Russian relations, the election, or President Donald Trump's campaign.
"We talked about the Russian business climate, where we thought oil was headed price-wise and how much he thought Russia would like to do business in America," said Prince. "It had nothing to do with national security, the Trump campaign, or anything else."
Last March, Republican California Congressman Devin Nunes, the chairman of the House Permanent Select Committee, announced he had viewed National Security Agency surveillance intercept records that had been called up by Obama officials to identify Americans who had contact with foreign officials.
During a private testimony before the House Intelligence Committee last September, former White House National Security Advisor Susan Rice admitted she unmasked the identities of senior Trump officials who met in New York with the the UAE Crown Prince Mohammed bin Zayed bin Sultan Al-Nahyan. Those unmasked were former National Security Advisor Michael Flynn, former Campaign Advisor Steve Bannon, and Trump's son-in-law and White House Senior Advisor Jared Kushner.
The House Intelligence Committee is currently investigating the matter. On Friday, former U.N. Ambassador Samantha Power arrived on Capitol Hill for an interview with House investigators.
After selling his shares in a private paramilitary empire that was awarded $2 billion in government security contracts from 1997 to 2010, Prince founded Frontier Services Group, which supports Chinese investments in oil and gas resources in Africa. In an August op-ed in The New York Times, Prince advocated for turning Afghanistan's geopolitical landscape over to private military contractors.
With former Obama administration staffers under investigation by the House Committee, and past and present Trump advisors testifying en masse before the Senate Intelligence Committee, corruption pulses through the currents of D.C.'s power-grid. The founder of the world's most powerful mercenary army, who profited from Middle Eastern bloodshed while employing soldiers who massacred innocent Iraqi civilians, complaining about having his "rights as a citizen violated" embodies a new trend of powerful men claiming to be victims.
Contrary to Prince's statement, the bigger problem "American liberty" faces is that war profiteers actively advancing other countries' interests are awarded with Senate runs. Though given the current White House administration's ties to Goldman Sachs and Russia, and the liberal embrace of Bush-era neocons like Bill Kristol and David Frum as leaders of the #resistance, the perfect place for an architect of the modern-day military industrial complex to flaunt their power may be the public sphere.