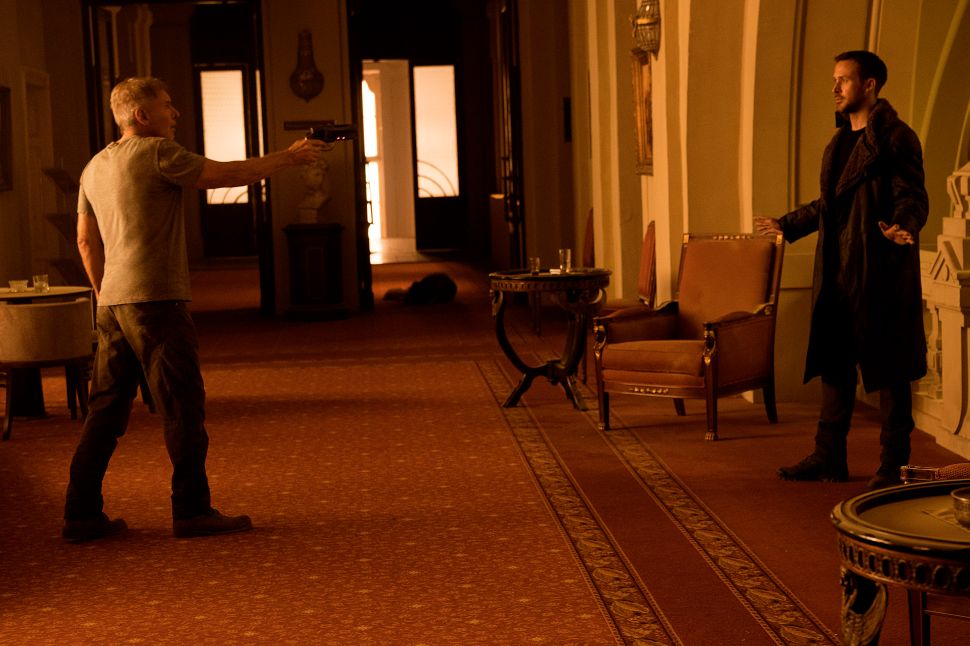 If Blade Runner 2049 doesn't earn at least $400 million worldwide, film studio Alcon Entertainment will be in very serious trouble. So is that goal attainable? Let's break it down.
Deadline is reporting that tracking numbers suggest a domestic opening of $45 million and a worldwide opening of $100 million. Considering that it's a hard R-rated film, that's not bad at all. However, Blade Runner 2049 carries with it a production budget of $155 million, with insiders telling Deadline that the real number is closer to $175 million. Given that, you'd like to see a slightly higher take. Perhaps it's not a coincidence that internal estimates over at Sony peg the opening closer to $48 million to $52 million.
Working in the film's favor are its two strong leads with through-the-roof recency bias appeal in Ryan Gosling (coming off the Oscar-winning La La Land) and original star Harrison Ford (coming off Star Wars: The Force Awakens). Director Denis Villeneuve is one of the best filmmakers in all of Hollywood and the 35-year-old property should have cross-generational appeal. Most importantly, the film is being universally lauded by critics as one of the best movies of 2017.
However, it's also a dense sci-fi meditation that runs close to three hours, limiting the amount of showings theaters can post in a single day. It also has a handful of still-running and new movie competition that will nibble into its total take.
The best case scenario would be for Blade Runner 2049 to play like Mad Max: Fury Road, another requel of a popular 1980s property that posted solid box office numbers and garnered several Oscar nominations, including Best Picture. Fury Road opened to $45.4 million domestic before going on to earn $378.8 million worldwide, per Box Office Mojo. While not a perfect comparison—Fury Road was a shorter movie in a longer-running franchise—this would be a solid marker of success for 2049.
Let's assume the Gosling-Ford flick carries the same multiplier as Fury Road (3.3x), approximates the same domestic/overseas splits (40 percent vs 60 percent) and opens on the higher end of expectations ($50 million). By that logic, we're looking at a domestic total of over/under $165 million and an overseas gross of around $248 million (which is asking a lot of foreign markets). In this scenario, we get a worldwide gross of over/under $413 million, meeting Alcon's needs. That's fine and dandy…and likely optimistic
If 2049 opens around Deadline's $45 million expectations, it may struggle to cross the $400 million mark. If that were the case, Alcon would still be praised for delivering a critically acclaimed feature (Villeneuve's Arrival snuck into the Best Picture race last year), but would probably ending up losing money. Realistically, the movie may play more like Tron: Legacy, which did well in the U.S. ($172 million off a $44 million opening), but slowed down overseas ($228 million). If that were the case, Blade Runner 2049 may finish its run right around the $400 million mark, but it'll be close.
So let's hope for the best, but temper our expectations with this pricey endeavor.