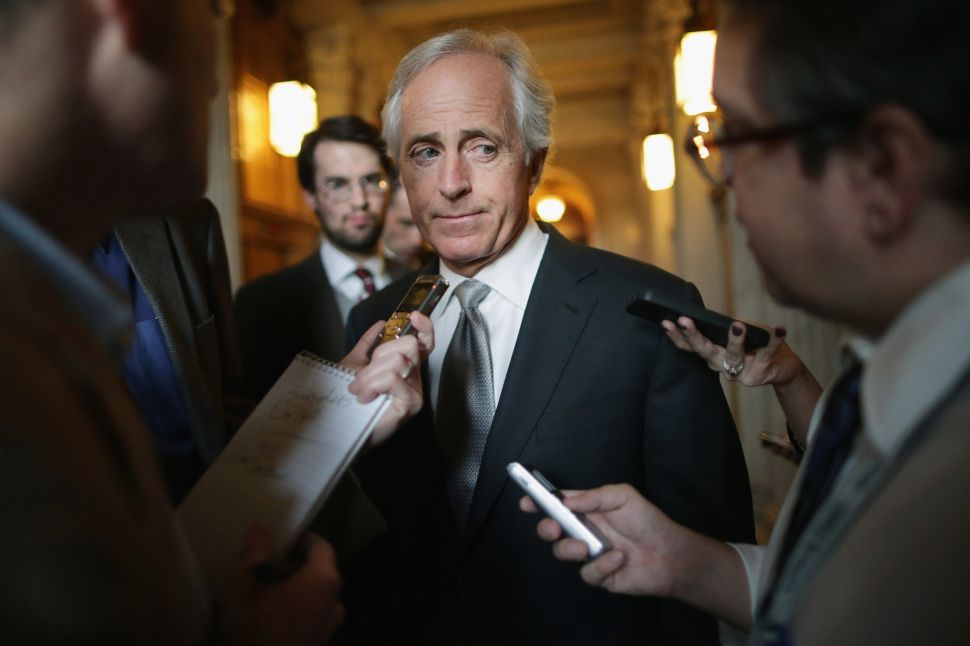 Republican Sens. Jeff Flake and Bob Corker will not be running for re-election. The mayhem began after Corker was attacked by Trump on Twitter last week. He retaliated by calling Washington under Trump's supervision an "adult day-care center," adding, "Someone obviously missed their shift this morning." Later that day, he told the New York Times that Trump was treating the presidency like a "reality show" and setting the United States "on the path to World War Three." Then, in an eruptive speech to the Senate on Tuesday, Jeff Flake announced his decision to leave behind an administration ridden with "complicity" and caught in an "alarming and dangerous state of affairs" under the blind leadership of Donald Trump.
Corker and Flake dared to say what many government officials and citizens from both parties are thinking. Their headline-grabbing words captivated audiences and media alike due to their blatant disregard for composure when beguiling the trials and tribulations of an America forced into settling for Donald Trump's constant stream of ubiquitous lies. For a Washington teetering on the edge of unprecedented levels of malpractice, there is no time for decorum. There's only time for saying what desperately needs to be said.
Bob Corker earned a reputation for speaking out against a backward administration quickly into Trump's presidency. "The President has not yet been able to demonstrate the stability, nor some of the competence that he needs to demonstrate, in order for him to be successful," he commented as controversy erupted after the Trump's apparent failure to properly condemn the radical hate displayed by white supremacists at the Charlottesville rallies. By choosing to speak out on Trump's lack of propriety in the wake of the tragedy, rather than validate him with his silence like most other members of the GOP at the time, Corker struck a chord with Trump that resonates much further than a Twitter war. Republicans in power refusing to accept falsified claims from the President send a message that the lack of accountability will not be tolerated.
In an interview with CNN's Manu Raju, Corker expanded on that idea. "Nothing that he said in his tweets today were truthful or accurate. He knows it, and people around him know it. I would hope the staff over there would figure out ways of controlling him… We grew up in our family not using the 'L' word. But they are provable untruths. Provable." These "provable untruths", as Corker puts it, is a refreshing if not humorous twist on the "alternative" facts the White House feeds the American public through Kelleyanne Conway and Sarah Huckabee Sanders. When will Republicans use their power to finally speak up and say what is right? Bob Corker and Jeff Flake are seizing that time as now.
Jeff Flake's address to the Senate is already being dubbed "the most important speech of 2017" by those who side with his call to action against Trumpism. He slammed Donald Trump and his enablers within the White House for leading a misguided and indecent administration with a  "flagrant disregard for truth or decency" and denounced its "regular and casual undermining of our democratic norm."
"We must never regard as 'normal' the regular and casual undermining of our democratic norms and ideals," said Flake, "We must never meekly accept the daily sundering of our country—the personal attacks, the threats against principles, freedoms, and institutions, the flagrant disregard for truth or decency, the reckless provocations, most often for the pettiest and most personal reasons, reasons having nothing whatsoever to do with the fortunes of the people that we have all been elected to serve."
Francesca Friday is New York City-based National Politics contributor for Observer. Follow her on Twitter: @friday_tweets_