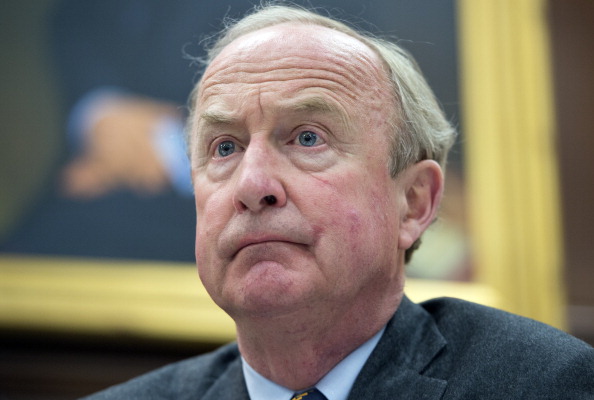 New Jersey members of Congress are gearing up for the 2018 midterms, a race with significant national impact as Democrats attempt to regain a House majority and Republicans push to solidify their numbers.
While some state districts have seen little movement, hot spots including Rep. Leonard Lance's (R-7) district Rep. Rodney Frelinghuysen's (R-11) have been drawing big bucks a year out from the midterm elections.
Millions of dollars have been raised this year as incumbents and challengers prepare for big campaigns that could draw national attention.
Here's the status of fundraising in all of New Jersey's 12 districts, according to FEC reports filed in October:
1st District
To date, no one has filed to challenge incumbent Rep. Donald Norcross (D) in this Democratic-leaning district. Norcross has raised about $734,000 to date and has about $634,000 in cash reserves.
In his October report — which covers fundraising from July 30 to Sept. 30 — Norcross reported adding over $104,000 to his campaign's coffers.
2nd District 
Incumbent Rep. Frank LoBiondo (R) is facing a challenge from Democrat Tanzie Youngblood. But the Republican has a more than $450,000 cash advantage. According to FEC filings, LoBiondo has more than $460,000 in cash on hand while Youngblood has nearly $9,400.
3rd District 
Rep. Tom MacArthur (R) has raised more than $1.2 million since launching his bid for a third term. His October report shows that nearly $622,000 of that was raised in the third quarter of 2017. He has more than $860,000 in cash on hand.
MacArthur has aligned with President Trump on key issues including repealing the Affordable Care Act and more than $800,000 of his total fundraising comes from a June event held with the president at Trump National Golf Course in Bedminster.
The district is being targeted by national Democrats and one challenger, Andy Kim, a former national security adviser to President Barack Obama, has raised $255,000 and had $216,000 in cash on hand as of the latest reports.
Democrat Katherine Hartman has also reported fundraising in the 3rd district, however she ha dropped out of the race. She has $53,000 in total fundraising and $38,000 in campaign reserves, according to FEC filings.
4th District
Rep. Chris Smith (R) has nearly $369,000 in cash on hand, a number approximately eight times greater than Democrat Jim Keady's $45,000. Keady — a frequent candidate who last year ran for the House seat in the 3rd district — ramped up fundraising in the third quarter, adding $48,000 to his campaign accounts.
5th District 
Freshman Rep. Josh Gottheimer (D) toppled tea party Republican Scott Garrett in 2016 to become the first Democrat in recent history to represent the 5th congressional district, a region that spans much of North Jersey. With Republicans looking to recapture what was long considered a safe GOP seat, Gottheimer is not taking his chances and has shattered fundraising records.
To date, he has more than $2 million in cash on hand, the most of any New Jersey candidate in 2018. According to his October filing, Gottheimer raised more than $634,000 from July to September.
One potential Gottheimer challenger, Steve Lonegan, is a movement conservative looking to pick up where Garrett left off. He has over $560,000 in cash on hand, the bulk of which came from a self-loan of about $500,000.
6th District 
No competitors have filed to challenge Rep. Frank Pallone (D) in this Democratic-leaning district. Pallone has over $1.2 million in cash on hand, which gives him an imposing firewall to fend off or dissuade potential challengers from running.
7th District
Seven challengers have filed to run against Rep. Leonard Lance (R), the only GOP representative in New Jersey to hold regular town hall events with constituents since Trump was elected. Lance reports about $462,000 in cash reserves.
Of the seven that have filed, Democrat Lisa Mandelblatt has been the most successful fundraiser. She has more than $235,000 in cash on hand.
Another Democratic candidate, Linda Weber, has also been fundraising steadily. To date, she has raised about $229,000 and has about $150,000 in cash on hand.
Among the other Democrats, Goutam Jois reported nearly $100,000 in cash on hand, Scott Salmon reported $57,000, and Peter Jacob reported $14,000. Christine Brown and Tom Malinowski have both filed to challenge Lance but neither has reported fundraising to the FEC.
8th District
Rep. Albio Sires (D) has more than $237,000 in the bank, but no challengers have filed to run against him. Sires hails from a deep-blue district in Hudson County where Republicans have long failed to make inroads. Paired with the institutional support Sires has from the state Democratic Party, a challenge seems unlikely.
9th District
Like Sires, Rep. Bill Pascrell (D) represents a heavily Democratic district in North Jersey. Pascrell has more than $1.4 million in the bank.
Another Democrat, Michael Wildes, is registered to run in the district and has over $700,000 in cash reserves. But Wildes has passed on a primary challenge for several years, although he has kept his campaign committee open.
10th District
Rep. Donald Payne Jr. (D) has $80,000 in cash reserves. No challengers have filed to run in this deeply Democratic district covering Newark and surrounding areas.
11th District
Rep. Rodney Frelinghuysen (R) represents a traditionally safe district for Republicans, but Democrats see him as a prime target in 2018. Frelinghuysen chairs the House Appropriations Committee and was a yes vote on Trump's effort to repeal and replace Obamacare, along with MacArthur. Potential challengers have been making hay out of that vote and say the longtime incumbent is out of touch. Frelinhuysen has raised more than $1.1 million and has more than $970,000 in cash on hand.
A number of Democrats have stepped forward to challenge Frelinghuysen. A former federal prosecutor and Navy veteran, Mikie Sherrill, reported more than $744,000 in total fundraising, with $498,000 of that raised between July and September. She has almost $500,000 in cash on hand.
Another registered challenger is Tamara Harris (about $450,000 in cash on hand). Passaic County Freeholder John Bartlett is also registered to challenge Frelinghuysen and has more than $247,000 in cash reserves, according to FEC reports.
12th District
Rep. Bonnie Watson Coleman (D) is not facing a challenge at this point. She has more than $128,000 in cash reserves, according to the FEC.