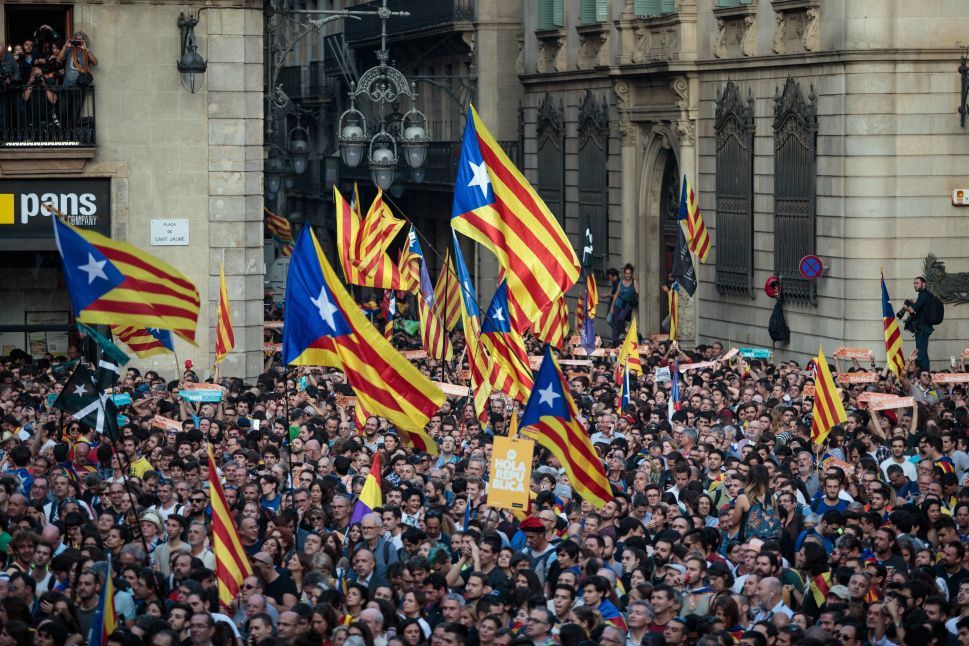 Spain's civil unrest in the Catalonia region peaked on Friday when the month-old separatist movement manifested into a declaration of independence by its parliament, choosing to break free—in theory—from its historical masters in Madrid.
Not long after, the national leadership in the Spanish Senate approved emergency procedures to take control of the Catalan government and its separatist leaders.
However, it wasn't clear by the end of the Spanish work day just how those measures would be implemented.
It also remains to be seen how volatile the situation could become as Catalan separatists rallied to support their rebel government.
The sparring between the two sides devolved incrementally over the week, with Friday's dueling decisions capping weeks of negotiations. A confrontation seemed to increase with each passing day, and after Thursday's waffling by the Catalan government, the separatists were hungry for action.
The brinksmanship has resulted in very little, however, for the Catalan separatist movement, according to Dr. Andrew Dowling, a professor of contemporary Hispanic history at Cardiff University whose book on the Spanish secessionist region, The rise of Catalan independence: Spain's Territorial Crisis (London: Routledge), is set to be published in 2018.
Dowling told the Observer on Friday that the Catalan government is taking a huge risk, given that not one nation-state has sided with their cause.
"We have entered new terrain," Dowling said. "For now, the advantage is with Madrid. Spain has the ability to take control of Catalonia. Catalan independence does not (have the capability to take control). We are talking about effective control of the territory.
He continued, saying Madrid doesn't know to what degree separatists could possibly revolt.
"What will really determine things is the scale of civil disobedience to Madrid taking control," he said. "We don't know the scale of that until it happens. And the Catalans have no international support. [Roughly] 1,600 companies have moved their [headquarters] out of Catalonia in the past few weeks. This will now become a flood."
Dowling said though most, or a good portion, of those companies relocated their executive offices elsewhere, they conduct business affairs in the area.
"But many observers think that this change [in the business climate] may become more," he said, cautioning the worst may still have yet to come for Catalans. "So far the companies [which have left Catalonia] comprise 30 percent of Catalonia's gross domestic product."
If Madrid doesn't cripple Catalonia, the exit of business could.
For now, it's a wait-and-see game. The weekend could be the true showdown Spanish political analysts have been waiting for, as the crisis escalates—the greatest constitutional emergency Spain has seen since it switched to democracy in 1978.
Les Neuhaus is a National and International Politics contributor for the Observer. Follow him on Twitter @LesNeuhaus