Ever since Moroccanoil launched their argan-based hair care collection about a decade ago, consumers have been obsessed with the notion that moisturizing oils are essential for beauty care. Argan might have been this movement's early rock star, but oils continue to be a beauty market craze, appearing in everything from your shampoo to your facial cleanser. And while argan remains a stalwart, the market is always ready to jump at a new oil trend.
Enter CBD or cannabidiol hemp oil, a non-psychoactive compound found in cannabis that has long been used for its therapeutic benefits, which include soothing skin, treating joint injuries and easing chronic pain—though it's largely been shunned by western medicine due to its close relationship with its psychoactive sister, THC. But a few small studies have confirmed what has been thought by traditional cultures for years—a 2014 scientific report found that because of its anti-inflammatory and sebum-reducing properties, CBD and cannabis sativa can have a positive effect on acne-prone skin.
In the beauty industry's experiments with CBD, a number of early adopters have confirmed the oil's incredible moisturizing and skin soothing properties, due to its high levels of essential fatty acids. And for hair, they're touting its ability to soften and thicken the follicles.
But many retailers in the U.S. are hesitant to stock anything containing CBD, and for good reason. The laws surrounding its possession and distribution are murky, at best, so selling CBD products could constitute an illegal activity. The federal government classifies all cannabis extracts as a schedule one drug. Depending on what part of the plant CBD has derived from, the oil may be illegal, as well. Yet because many aspects of drug regulation fall under the purview of individual states, 15 have been able to legalize the plant's use for recreational purposes over the past 5 years, and in these states, the use and sale of CBD are above-board. With legal access to cannabis increasingly growing, the stigmas against its non-psychoactive byproducts has lessened, and companies and consumers alike are eager to experiment with its potential benefits.
High-potency CBD oils and salves can currently be found in medical marijuana dispensaries, cannabis lifestyle stores and health food stores in the states that have legalized its use. But as CBD becomes more mainstream, expect to see more big companies joining in. Andrea Hume, manager of Herbin' Living, a smoke shop, vape lounge and dispensary in Miami, Florida can't keep enough stock in store to keep up with the demand of CBD topicals. She predicts that in the coming months we'll see more popular skin care companies "throwing a CBD line into their range."
It's already a main selling point for a few. TheraJoy, Khus + Khus, CBD for Life and Herb Essntls, have all made a name for themselves by openly disclosing the fact that CBD oil is their main ingredient.
"We created this company because we wanted to give people a way to feel better," said Gene Fein, CEO of TheraJoy Pharma, who have created a high-potency CBD and coconut oil-based salve that is sold through dispensaries in Southern California. "I feel pretty confident that when major retailers do start carrying CBD products, we will be one of the first brands stocked on those shelves," he said.
Moreover, the Industrial Hemp Farming Act of 2017, introduced to the house this July, aims to remove Hemp from the list of federally controlled substances. This Act defines industrial hemp as containing less than 0.3 percent THC and acknowledges that "industrial hemp is a non-narcotic agricultural commodity that is used in tens of thousands of legal and legitimate products."
"CBD derived from cannabis has some THC in it" says Fein. That's why his company buys its organic hemp from Europe, where it can be legally sourced and lawfully imported into the U.S. "We want to stay in compliance," he asserts.
There is still a lot of speculation around the beauty benefits of CBD, but nevertheless, beauty companies have jumped on board, infusing everything from bath bombs to pomade with this trending ingredient. Here are five products to try.
From one of the leading brands in the CBD beauty space comes a face serum that uses European Eco-Certified CBD Oil as its main ingredient. Antioxidant and anti-aging skin nutrition is what this serum will deliver to your weary visage.
This topical ointment combining 99 percent pure CBD and pure coconut oil claims to be one of the most potent salves on the market. It can be used to ease joint pain, while providing added moisturizing properties to the skin.
Herb Essntls Cannabis Infused Moisturizer
Cannabis sativa oil takes center stage in this facial moisturizer. It is made with organic ingredients and purports to keep skin looking young and healthy.
Great for when the skin feels stressed out, Apothecanna's body oil was built around cannabis and other nourishing ingredients to relax the body and soothe the mind.
For those days when hair just won't stay comes a hair pomade from Malin + Geotz. Using cannabis as an ingredient, this pomade provides essential fatty acids to moisturize, smooth and keep flyaways at bay.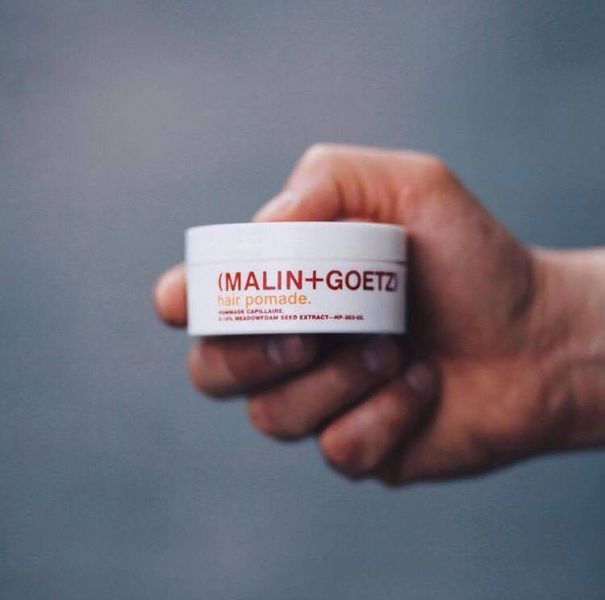 Shiri Sarfati is a beauty and wellness expert and licensed esthetician. She is the Founder of BeautySomething.com, a news media site focused on trending and shareable beauty stories. She is also the President of Markati Group LLC, a digital marketing and branding agency. A native New Yorker, she now lives in Miami. Follow her on Instagram @ShiriSarfati