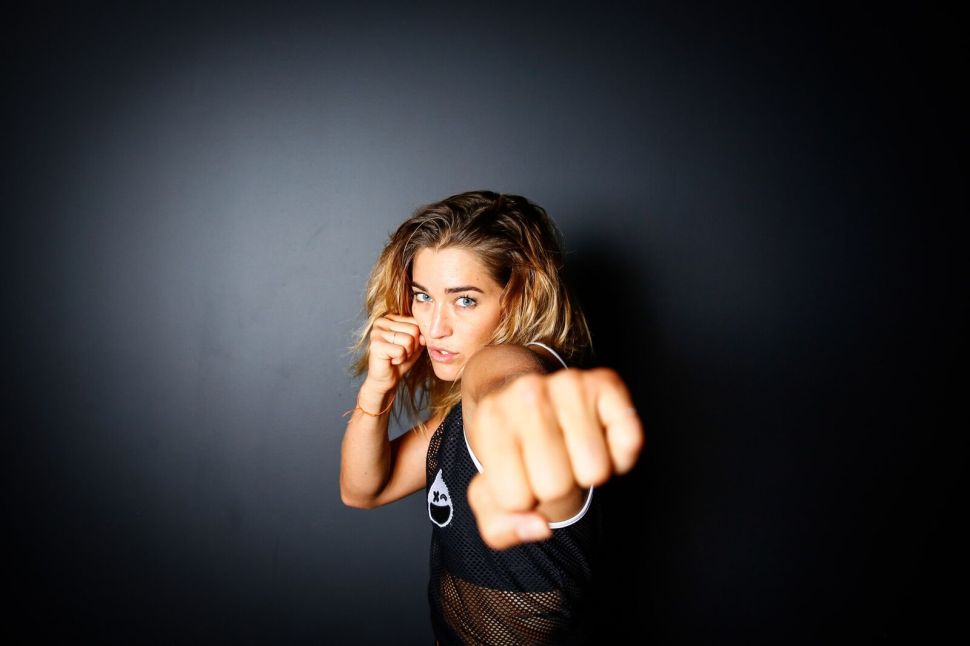 Starting in the 4th millennium B.C., the Egyptians worshipped their gods at temple shrines. Today, we go to workout studios with strategically placed candles to sweat out all the toxins in our bodies and worship the instructors encouraging us to reach for more. O.K., so we don't bow down to them—well maybe sometimes at the end, if the class is mixed martial arts—but we put them on pedestals both figuratively and literally. In the ever-growing boutique fitness industry, instructors have taken on a whole new status symbol. Not only do we trust them with our bodies, but we use them as role models—especially when they've had a hand in sculpting the figures we idolize on the pages of glossy magazines. Here are five fitness instructors that are beloved by their celebrity clientele, but, through their daily classes at studios across New York City, are accessible to us mortals as well.
Julie "Jaws" Nelson
Studio: Rumble Boxing
Instagram Followers: 19,200
Celeb Clients: Natasha Lyonne and Lo Bosworth
Daily Mantra: "The mind is the athlete," and "Hard work works."
With a nickname like Jaws, you know this instructor has to be intense. Julie Nelson has shown her ferocity in every workout she has taught—and she has taught a lot. Her career started at age 11 when she joined the Kirov Academy of Ballet, a prestigious pre-professional boarding school in Washington, D.C. This led to a few Broadway gigs (including Rock of Ages and Fuerza Bruta), some film and TV work and a modeling contract with Wilhelmina. A talented swimmer and diver—which earned helped earn her an aquatic nickname—she pivoted yet again, when she started boxing eight years ago at Trinity Boxing Club.
Her mix of boxing strength and a dancing background definitely gave her an edge. After becoming a founding trainer at Shadowbox, she was recruited to become a star instructor at Rumble. "I was drawn to Rumble because it not only involves one of my favorite sports, boxing, but also encompasses everything I love about fitness—empowering individuals through the community. There's no greater sport than boxing to help people feel more confident, self-assured, and accomplished. I love that the founders of rumble realized and capitalized on this," she told Observer.
As for whether she gets nervous with celeb clients, the instructor says she treats every client the same. "People are coming to my class for a killer workout no matter who they are. A lot of celebrities like group fitness, but want to maintain anonymity; I hope I provide a space for that." 
With her impressive resume and social media following, it's no wonder Adidas selected her to become one of their official athletes, a cachet she promotes through her sartorial selections. "I try to keep my brand, so to speak, authentic to my work and my values. I try to promote the values of hard work in whatever I do—boxing, teaching, or modeling—on my social media. I hope people are drawn to my values, rather than just the pictures!" Nelson said. Though the pictures are pretty fun, too. 

Isaac Calpito
A man once said, "What doesn't kill you, makes you stronger," but that man had clearly not been to Isaac Calpito's Torch'd class at the new SoulAnnex studio, an offshoot of SoulCycle that includes a variety of workouts—minus the signature bike. The workout will make you stronger, but you might find yourself curled up in the fetal position at the end of your first class. Torch'd is a unique mix of barre, pilates, aerobics, a little bit of dance (Calpito has performed on Broadway in West Side Story and Mamma Mia!) and suspension of disbelief in the strength of your body. He will sometimes even inform the class of the point at which the super fit Kelly Ripa (who has been a good friend of his for years) expressed her pain. It's always comforting to know that America's morning sweetheart sometimes reaches her breaking point, too.
The technique of Torch'd is based on one Calpito has been developing for years with his celebrity clients. "My workout creates a long, lean and strong body, without bulk. I train a vast variety of wonderful people including expectant mothers. I'm passionate about navigating through my client's needs," Calpito told Observer. Of two particular clients with high expectations, Calpito said, "Both Kelly and Faye [Dunaway] place high demands on themselves in performance. When you train people who have seen it all, you have to really wow them and take them off guard. I love to motivate people to take the dive into a life of fitness, but these women represent the percentile that demands me to take them even further. Kelly and Faye are completely different, but they both crave the results that this workout gives them."
He said dance is the way to Ripa's heart, which usually means a playlist full of Madonna. "Kelly loves to dance and her energy floors me! She's really unstoppable. But most of all, she's a genuinely caring person. She lets me stay at her house in the Hamptons whenever I teach at SoulCycle out there. I'm sure anyone can imagine how rare generosity like that is in showbiz."
Calpito is something of a celeb magnet. Even Gigi Hadid and Mariah Carey have turned up on his social media feeds. Clearl, he still finds time to socialize, despite a busy schedule that has him up at 4:30 a.m. to teach the Soulcycle roosters class. " I'm running all day, but I'm not complaining. More is more. I love what I do."
Mary Helen Bowers
Studio: Ballet Beautiful
Instagram Followers: 573,000
Celebrity Clients: Lily Aldridge, Miranda Kerr, Martha Hunt and various other Victoria's Secret models 
Daily Mantra: "Thinking positive is everything!"
Black Swan might have been a highly disturbing movie, but it still managed to spawn a renewed interest in ballet classes. Natalie Portman totally transformed her body for the film (for which she was rewarded with a Best Actress Oscar) and the woman who got her there was Ballet Beautiful founder, Mary Helen Bowers. After joining the New York City Ballet at the age of 16, Bowers danced with the company at Lincoln Center and all over the world before going on to found her school.
The class is a combination of ballet exercises and stretches, aimed to help obtain the lean and toned physique of a dancer. Bowers knows that part of the allure of her workout is the glam factor. "The costumes, satin slippers, the rigorous training…I think there is a lot of mystery surrounding the art. I love peeling back the curtain to make ballet a bit more everyday. While I adore the art of dance as both a dancer and an audience member, I also love to share this magical world with others."
As for her celeb clients, she particularly loves helping Victoria's Secret models prepare for the runway. "There really isn't a bigger runway moment for showing off a model's physique! These women take their jobs and their bodies very seriously, they train hard and have a serious work ethic, which makes every workout more serious, but also fun. With any client, I want to understand their goals, timeline and then formulate a plan to help them get there."
Shaun Jenkins
Studio: Tone House
Instagram Followers: 9,032
Celeb Client: Nina Agdal
Daily Mantra: "Never Stop."
Though Tone House might sound like a cool coffee shop, it's actually one of the toughest workouts in New York. Shaun Jenkins, one of their lead instructors, told Observer, "We challenge you beyond the normal ideals of group fitness class and we support you every step of the way. We will never let you fail, every step forward is a step towards success in our community."
When working with celebs like Agdal he said, "I feel no pressure around these amazing people. You quickly realize that they just want to be treated like anyone else. We become the person that helps them temporarily escape their reality, and they depend on us to keep them on track to complete their individual goals."
Jenkins, who lifts, runs and does Muay Thai in his free time, is so popular that he has become a Lululemon Ambassador. This title is given to those in the fitness space who the brand considers to be community role models. Meghan Chisholm, a Lululemon Czar, said of the role, "From product development to goal coaching, our ambassador program supports a community of driven athletes and yogis who elevate athletic, active and mindful communities across the globe."
A mother of five-year-old twins, Tanya Becker starts her day off with meditation before a packed day that usually includes teaching classes, meetings, drinks and then back to her kids.
"Dry shampoo, a good lipstick, and change of clothes get me through it all!" she told Observer. She's the founder of Physique 57, which she started way back in 2006 with the intention of empowering women by giving them an effective and inspiring workout experience. Becker admits to getting a little nervous when a celeb drops in, but she soon forgets once she's in the teaching zone. "I mostly teach group classes, so while many celebrities request private sessions, it's always great when they prefer to take the class alongside regular clients and experience the energy of a full room." Becker recently did a special ballet-focused class with Misty Copeland.
In addition to the dry shampoo, she relies on a green juice to recharge. "I need a lot of electrolytes, so I tend to mix water with coconut water and drink throughout the day. I also use aromatherapy to stay alert and sharp; my favorite scent recently is patchouli mixed with cypress," she said.
Becker sees herself traveling more in the next few years, as Physique 57 now has six international locations, including Dubai and Bangkok—with one in Mumbai on the way.
Meredith Lepore is a freelance writer and editor who has written for 

Instyle.com, Brides.com, LEVO, and Bustle

 well as magazines including 
Marie Claire, SELF
, 
Women's Health
 and 
Cosmopolitan
. She earned her Master's in Journalism from the Newhouse School at Syracuse University and resides in New York full time
.