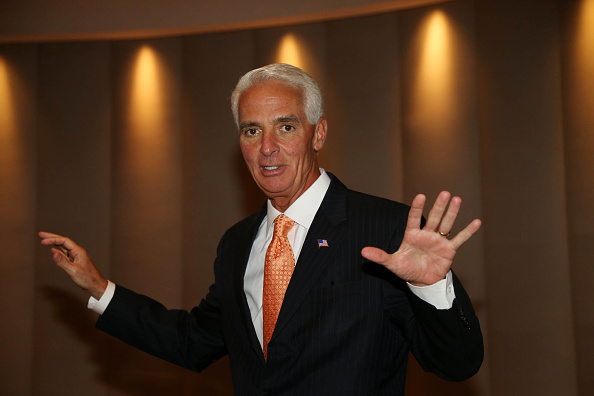 NEWARK — Sen. Bob Menendez is not the only politician to have stayed at the home of Florida eye doctor Salomon Melgen, according to testimony on Tuesday from Melgen's wife, Flor Melgen.
Flor Melgen said she and her family played host to former Florida Gov. Charlie Crist, who stopped by for an unexpected visit in 2010.
"He was looking for my husband," Flor Melgen said of Crist. "He knew that my husband was Bob's friend."
But Melgen was not present for the majority of Crist's stay, arriving only after the former governor had dinner with Flor Melgen, her daughter, and her son-in-law. Menendez was not present for any part of Crist's visit, Flor Melgen testified.
At the time, Crist was running as an independent candidate to represent Florida in the U.S. Senate. During his tenure as governor, Crist had identified himself as a Republican. In 2010, Menendez was the chairman of the Democratic Senatorial Campaign Committee, a key fundraising group.
One of the charges that Menendez is facing is a failure to disclose expensive personal gifts including flights on Melgen's private jet. Crist's visit coincided with one of the flights that prosecutors say Menendez failed to disclose until after press reports.
Defense attorney Kirk Ogrosky said on Tuesday that Crist's visit with the Melgen family demonstrates that the trip in question was political nature and that the flight should have been reimbursed by the DSCC, not Menendez personally.
Flor Melgen was questioned about Crist's political aspirations at the time of the visit. In response, she told prosecutor Monique Abrishami that she didn't know much about politics.
"You know enough about politics to donate to Senator Menendez, right?" Abrishami asked.
Flor Melgen responded, "He is my friend."
Throughout the case, attorneys for both Melgen and Menendez have been claiming that a personal friendship between the two men has been misconstrued. Menendez stands accused of accepting gifts and bribes from Melgen in exchange for political favors including helping Melgen secure visas for foreign girlfriends and arranging meetings relating to a Medicare billing issue Melgen was facing.
Defense attorneys also had Flor Melgen confirm that Crist had written Salomon Melgen a check for $100 to cover the cost of his visit and dinner, a payment that Flor Melgen said she was not anticipating. Melgen also confirmed a note that Crist wrote at the time of the visit, thanking the Melgen family for their hospitality.
"So at least this politician knows how to pay your husband back for things?" Abrishami asked Flor Melgen during the government's cross-examination. That question was quickly objected to by lead Menendez attorney Abbe Lowell.
Walls told jurors to disregard the question, calling it a "throwaway question."