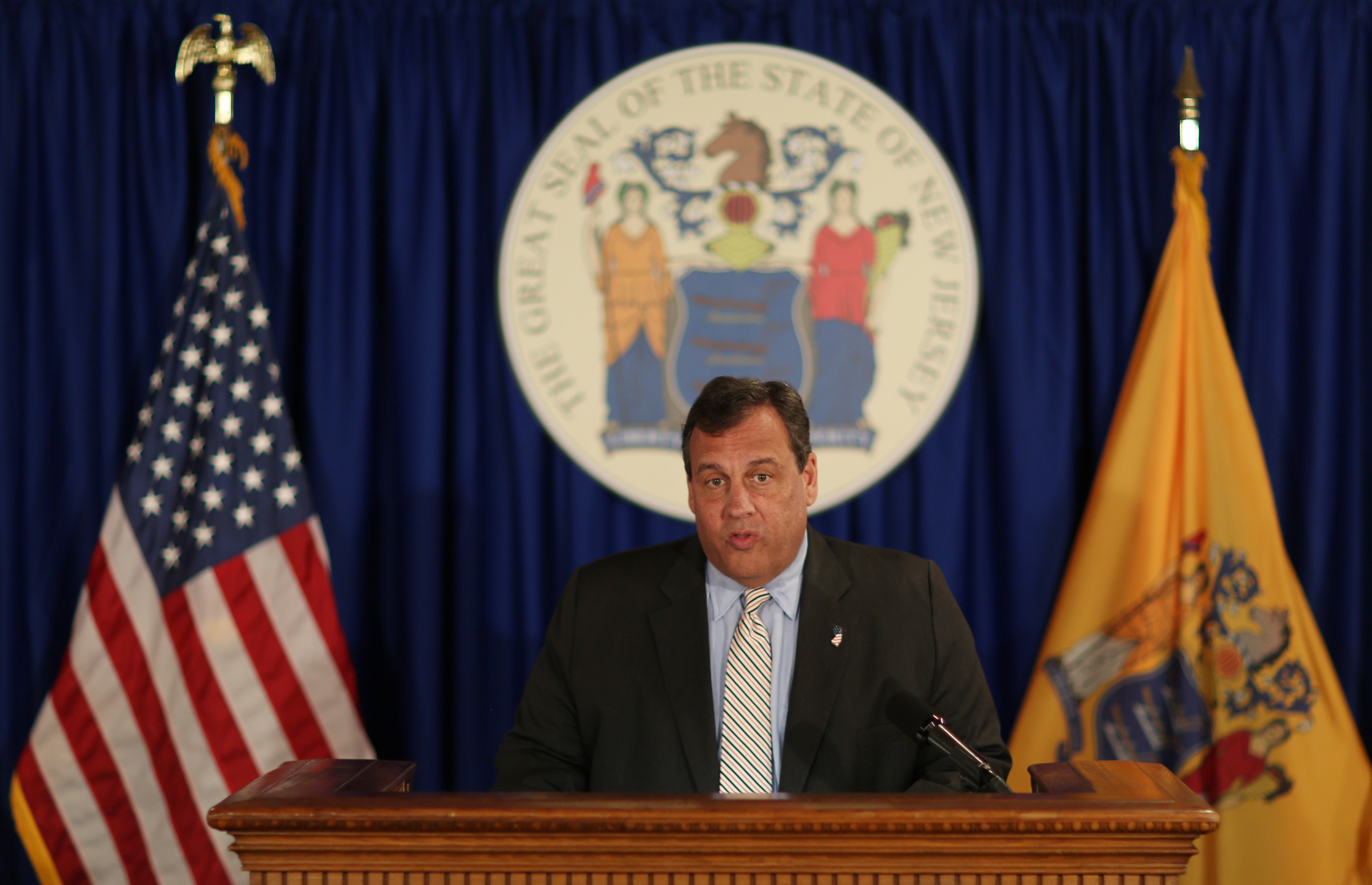 Gov. Chris Christie said Friday that he's open to banning a gun accessory found in the hotel room of the Las Vegas attacker, even though he said he's against new gun restrictions.
Christie engaged reporters in a game of semantics Friday, saying the gun accessories — called "bump stocks" — are not guns and a ban on them would not, technically, be "a gun law." But his comments were far afield from what he said Monday, when he dismissed the idea that a ban on bump stocks would have stopped the attacker from carrying out the deadliest mass shooting in U.S. history.
"A bump stock is not a gun," Christie said Friday during an unrelated news conference in Trenton. "I am not in favor of infringing any further on people's Second Amendment rights. They have no Second Amendment right to own a bump stock."
Christie's careful answer came as state lawmakers continued to introduce bills to criminalize the sale and possession of bump stocks — a gun accessory that allows shooters to fire bullets rapidly, resembling automatic fire. Assembly Democrats announced a bill banning the accessory Friday morning. Senate Democrats and Assemblywoman Holly Schepisi (R-Bergen) unveiled similar bills earlier in the week.
Stephen Paddock, who killed 59 people and injured more than 500 others when he opened fire at a concert crowd from a Las Vegas hotel window, modified his weapons with bump stocks to increase the rate of fire. The weapon accessory has come under scrutiny since the shooting.
On Monday, Christie didn't outright oppose a measure to ban bump stocks, which are already illegal to use in New Jersey but can be legally purchased. But he suggested criminalizing the accessory would not have stopped Paddock from killing innocent people or obtaining bump stocks.
"Listen, at the end of the day we can pass as many laws as we want," Christie said during his monthly "Ask the Governor" radio appearance on NJ 101.5FM. "If you really think that guy, who broke through the window of a hotel, with now they're saying 18 weapons in his room — do you think that he would have said, 'you know what? Maybe I'm not going to kill these people because I might get arrested for buying a bump stock off the Internet? He's going to get that stuff one way or the other."
Christie has had shifting positions on gun control over the years. In 2013, on the heels of the Sandy Hook massacre, Christie called for a bill banning high-powered, .50-caliber weapons. The Legislature sent him a measure that would have criminalized such guns, but he vetoed it, citing minor differences in the legislation.
The Christie administration had spent years defending the state's strict handgun restrictions in court, but just before jumping in the presidential race, in 2015, the governor appointed a commission to study the state's handgun laws. The panel said they were too burdensome, so his administration announced rule changes in March to water down a regulation that requires people to show a "justifiable need," or an urgent ongoing threat, to get a carrying permit. Christie's new rule required only "serious threats." Democrats sued to block the changes and the case is still in court.
"I've taken my positions on the 2nd Amendment during my time as governor fairly consistently," Christie said Friday.
The Las Vegas shooting has renewed a debate over control and momentum is building in Washington D.C. for a national ban on bump stocks. The White House, key Republicans in Congress and the National Rifle Association — the powerful gun lobby group — have said they're open to new regulations on the accessories.
Phil Murphy, the Democratic nominee for governor, has proposed several gun control measures and said he'd sign a bill banning bump stocks "without hesitation." Lt. Gov. Kim Guadagno, the Republican nominee, later said she would also ban the devices. But like Christie, she had also said earlier in the week that she wouldn't change the state's gun laws.
Asked on Friday about Christie and Guadagno's new comments on bump stocks, Murphy stuck his finger in the wind.
"Now all of the sudden, so the NRA or the gun lobby gives you the permission slip to be able to widen your latitude. That's what it feels like to me, honestly," Murphy said.