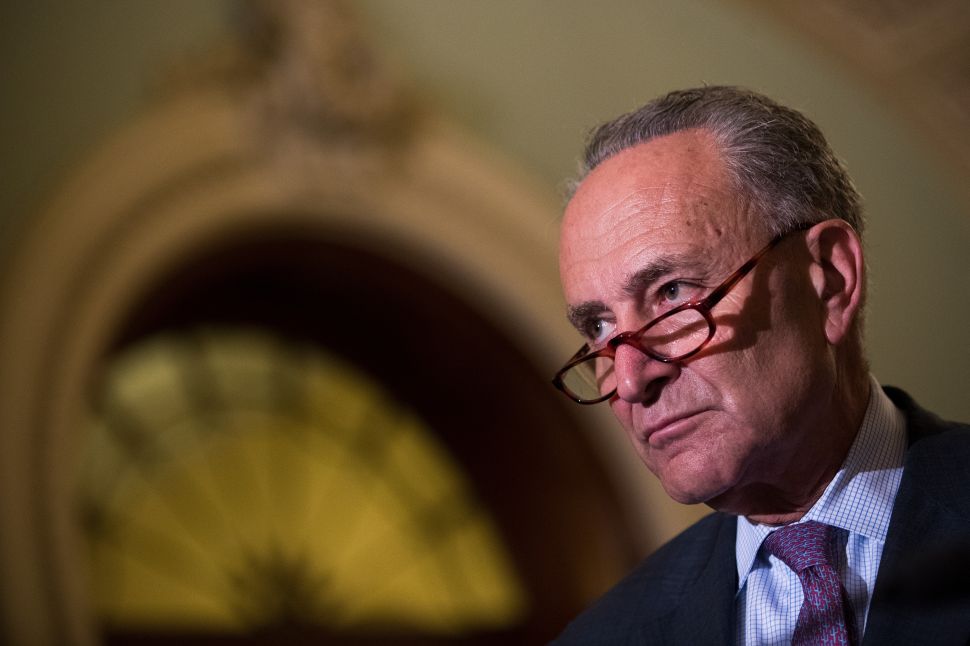 After delivering the death blow to college freshman blackout sensation Four Loko, Senate Minority Leader Chuck Schumer has declared war against a new industry harming today's youth. During a Sunday press conference in Manhattan, Schumer eviscerated the e-cigarette market, citing data showing that one in five teens in New York State *gasp* vape. He then held up the sleek electronic cigarette "Juul" next to a thumb-drive, showing how the gadget can easily be concealed by high-school students.
"To know that New York kids are much more likely to be using these new age e-cig devices, like Juul, is not only concerning, but it could be dangerous," Schumer said. "Up until now, the FDA was on track to reign in e-cigs and regulate them like any other tobacco product, but this recent delay, coupled with the new numbers showing a rise in the use of gadgets like Juul, which can fool teachers and be brought to school, demands the FDA smoke out dangerous e-cigs and their mystery chemicals before more New York kids get hooked."
Juuls come in a variety of flavors and are refilled with nicotine cartridges. Hitting one is akin to sitting through the second presidential debate between President Donald Trump and then-presidential candidate Hillary Clinton, in that you're left feeling nauseous and disoriented, unable to move from the sofa as you try not to obsess over every horrible life decision that culminated in you consuming those toxic fumes of American Empire.
"We are strong supporters of effective regulation designed to prevent the improper sale and/or use of our products, and we always welcome the opportunity to work with lawmakers, regulators and advocacy groups in pursuit of restricting our product to its intended consumers," a Juul spokesperson told Observer when asked whether the senator's remarks drove a surge in sales.
According to the Centers for Disease Control, e-cigarettes were used by 11.3 percent of high school students nationwide in 2016. Although e-cigarettes don't contain tobacco, Schumer went on to cite a study published in the New England Journal of Medicine that found that some e-cigs with higher voltage levels can contain cancer-causing formaldehyde, at levels up to fifteen times more than regular cigarettes.
Schumer said that delaying vaping regulation is a mistake that would ensure e-cigarettes stay on the market until at least 2022. The senate minority leader has previously waged successful crusades against inhalable caffeine, K2 spice, Four Loko, The Silk Road, and aromatic bath salts (all of which give impressionable high-schoolers problematic highs).
In this battle, however, Schumer is up against an industry that has consolidated its power while offering a "healthier" alternative to traditional cigarettes. Not to mention, "vaping congressman" Duncan Hunter (R-CA).