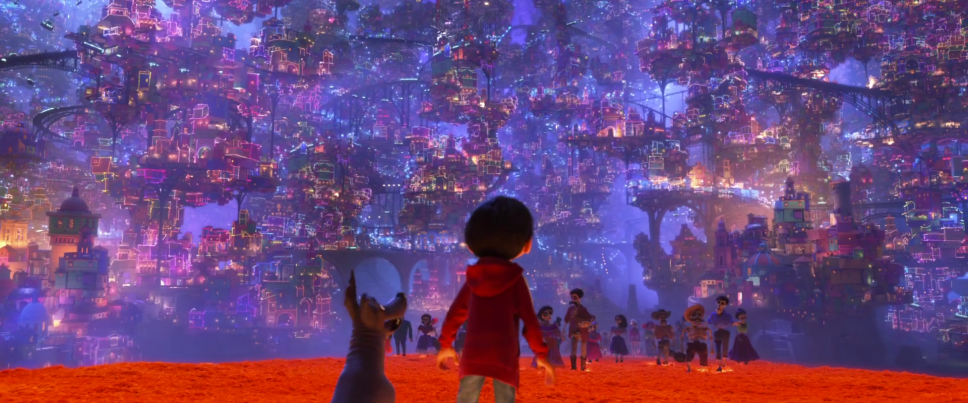 Disney (DIS)'s Pixar has released 18 films to date with the vast majority of them becoming all-time classics. You'd be hard pressed to find anyone who doesn't connect a special memory with a Toy Story or Finding Nemo. But the undisputed success of the studio keeps fan expectations higher than the house in Up, adding extra layers of pressure for each subsequent release. Can't you just hear jaded millennials walking out of the theater chirping, "Yeah, I liked it, but it wasn't nearly as good as The Incredibles?"
Needless to say, there's a lot riding on the studio's upcoming feature Coco, not only as a continuation of the Pixar brand, but as one of its first films to be headlined by non-white characters. The movie follows 12-year-old Miguel, who dreams of becoming an accomplished musician like his idol and late and long-lost great-great-grandfather, despite his family's ban on music. In an effort to prove his talent, Miguel and his dog Dante end up in the Land of the Dead where they must find a way to return to the living or be lost forever. Classic Pixar tale.
Coco won't hit domestic theaters until Thanksgiving, but it did premiere Friday at the Morelia International Film Festival in Mexico, where a few critics were in attendance. Here's what they had to say.
The Hollywood Reporter's Michael Rechtshaffen:
"At every imaginative juncture, the filmmakers (the screenplay is credited to Pixar veteran Molina and Matthew Aldrich) create a richly woven tapestry of comprehensively researched storytelling, full dimensional characters, clever touches both tender and amusingly macabre and vivid, beautifully textured visuals.

"There's dazzling work on display in the inventively delineated lands of the Living and Dead…And behind the scenes, the assembled voice cast similarly shines."
Variety's Peter Debruge:
"In any case, it works: 'Coco's' creators clearly had the perfect ending in mind before they'd nailed down all the other details, and though the movie drags in places, and features a few too many childish gags (like skeletons who snap off their own arms and use them as nunchaku), the story's sincere emotional resolution earns the sobs it's sure to inspire, inevitably bringing Ernesto's catchy 'Remember Me' back around in a fresh context (if only the song itself were more worthy of remembering). In an era when young people are so easily seduced by celebrity, 'Coco' reveals the emptiness of such adulation, poignantly teaching kids to preserve and respect the memory of their elders while reminding them that the source of true creativity is so often personal."
Coco will arrive in theaters on November 22.