Nearly two years after first attempting to sell his penthouse, U.S. Secretary of Commerce Wilbur Ross, Jr. finally found someone to take it off his hands.
Ross, however, took a loss on the historic duplex, which is located atop the Briarcliff at 171 West 57th Street. He accepted $15.95 million for the 5,573-square-foot condo, and as hefty as the sum may seem, it's a significant loss from the $18 million Ross and his wife, Hilary Geary Ross, paid for the apartment back in 2007, and way less than the $21 million he first listed it for in October 2015. It's even lower than the $16 million the condo was last on the market for.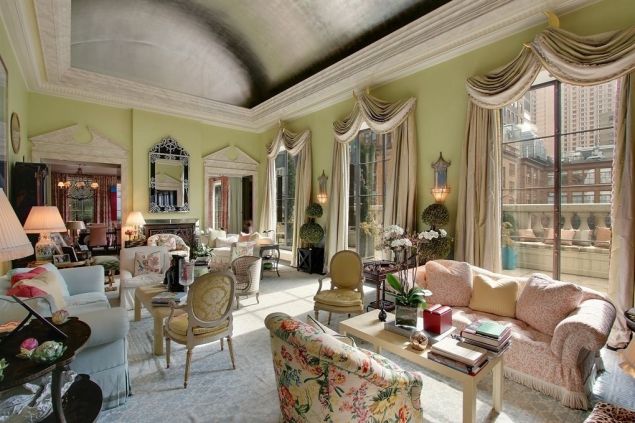 It was, however, an all-cash deal, per The Real Deal. The buyer used 118 West 87th, LLC for the purchase; the limited liability company is linked to the Arnall Family Foundation, a charity headed by Sue Ann Arnall, says The Real Deal. 
And considering Ross is worth an estimated $2.5 billion, it's unlikely the investor is hurting too much from the loss he took on the apartment.
The duplex is far more traditional and old world than many of the other glassy offerings on Billionaire's Row. The living room features a double height vaulted ceiling and there are wood panel finishes throughout. The dining room comfortably seats 30 guests, assures the listing held by Corcoran broker Carrie Chiang, so it's fitting that there's a catering chef's kitchen with high-end appliances, a stainless steel island and black granite countertops, for all the potential entertaining opportunities.
There are five wood-burning fireplaces throughout the four-bedroom, 5.5-bathroom abode, including one in the library anda 1,847-square-foot terrace wraps around the apartment. The interior décor includes wall treatments of lacquer and silk.
The Ross' already made a big home purchase in D.C., even before they found a buyer for this duplex—they paid around $12 million for a mansion in the Massachusetts Heights neighborhood back in December.