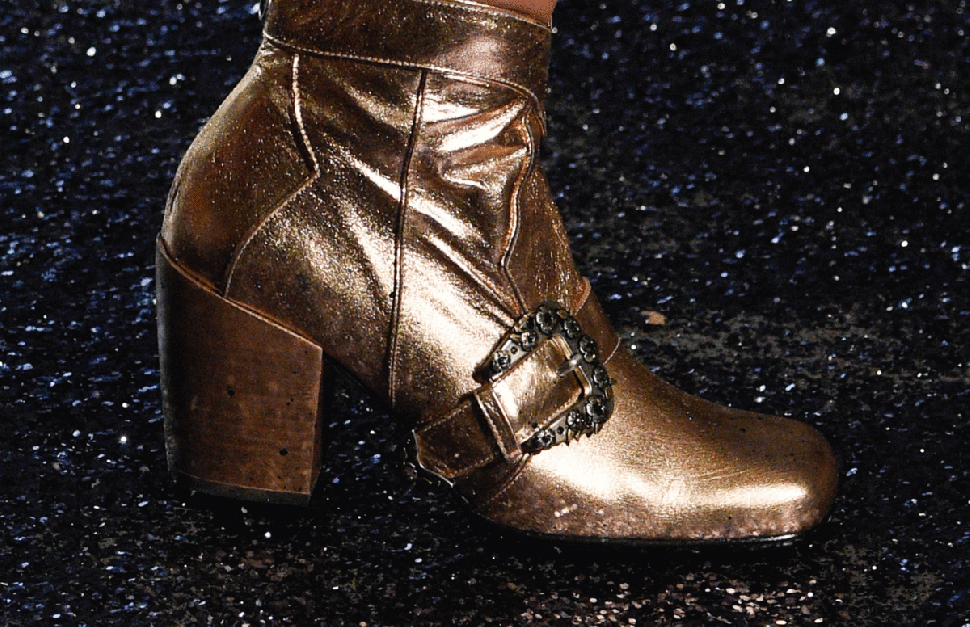 The cowboy boot might not be the first thing one immediately thinks of when it comes to covetable, fashionable shoes, but it's quickly reemerging as a major trend. Just a few weeks ago, labels ranging from Cinq à Sept and Calvin Klein to Coach and R13 sent their own versions of the humble boot down the catwalk during fashion month. Coach's were glittery and ultra feminine, Calvin Klein's had a minimalist steel toe and R13's were styled with certain country accoutrements—John Deere baseball caps, for one—that made the look all the more ironic. Simply put, the new iterations of cowboy boots are anything but typical.
The trend is one that's been steadily building. While the aforementioned boots won't be available until spring 2018, there is a slew of retail stores currently stocking fashion's new favorite footwear. Céline is selling their own exaggeratedly curvy version of cowboy boots. Louis Vuitton, too, has released a luxe, short embellished boot that pays tribute to the silhouette of the shoe. Even Margiela has gotten in on the obsession, with the label's own gilded option, crystal spur and all.
As it turns out, this style of boot also has a controversial history, one that even historians feel uncomfortable pinning down. Some attribute the style to Texas origins, while others suggest Kansas. Some associate the cowboy boot aesthetic to a mishmash of different styles, while others give all credit to one man: Charles Hyer, who created a custom pointed toe style for a Colorado cowboy who requested the style from his shop.
According to Tyler Beard's book The Art of the Boot, "As far back as we know, horsemen have preferred higher heeled boots." Beard cites two styles of boots that were worn by true cowboys during the 18th century, which contributed to the modern versions we have today: the Wellington and the Hessian. The Wellington was a British boot, usually rendered in black or brown leather with side seams and a one-inch heel. The Hessian was also a boot of English origins, but introduced by Germans. The Hessian boot fell under the knee and has a distinct v-cut in the front. Billy the Kid was known to wear this style.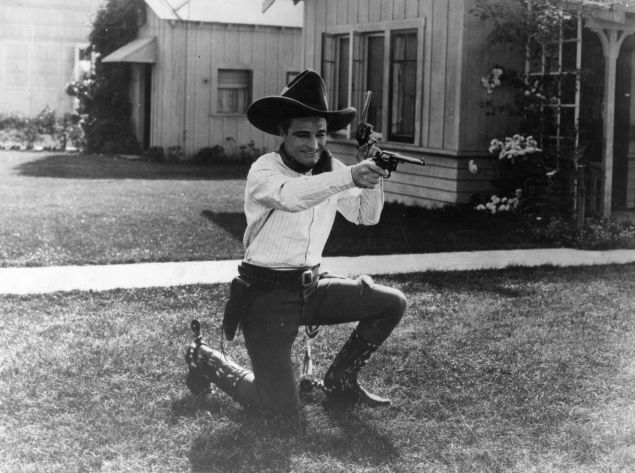 Around this time, the San Antonio based shoe company Lucchese was also founded. Since 1883, the brand has specialized in the modern day cowboy boot—with celebrities including Zsa Zsa Gabor and Bing Crosby wearing custom versions of the brand's shoes. To this day, rare or custom Lucchese boots from the past can cost hundreds of dollars.
According to Kara McClurg, fashion specialist at the online estate marketplace Everything But The House, rare cowboy boots are always in demand. "Craftsmanship, materials and design are the trifecta when it comes to boots," she told the Observer. "Working with leather is a true art that takes years to master, and people respect that, especially in this day and age. A well-crafted cowboy boot will last years beyond anything you could buy at the mall. Throw in some exotic skins and some artistic flair, and you've got something truly special."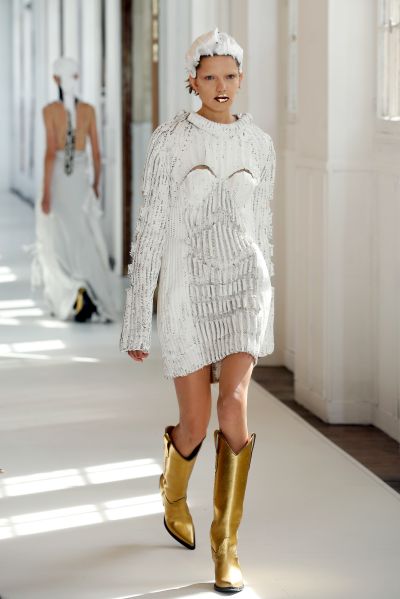 Add customization to the mix—which has always been a huge part of the cowboy boot's history—and these kicks become all the more covetable. Tradition has it that cowboys, ranchers or anyone else who wore this style of boots would go to a cobbler to have them custom-fitted.
"We recently sold a pair of custom ostrich skin boots for Tanya Tucker which was very cool," said McClurg. "Each boot was decorated with her monogram over the state of Texas. You can't get much more country and western than that."
Robyn Graves, who is also a fashion specialist in the luxury estate sale market added, "Cowboy boots that bring in more value are the custom-made boots that have the more exotic skins, embroidery, elaborate designs or more themed designs, as well as vintage boots like 'Old Gringo.'"
The actual style of the shoe has experienced a major change in aesthetics, more than a few times. The first occurred in the 1920s and 1930s, during the rise of Hollywood Western films. Actors such as John Wayne and Gregory Peck wore embellished editions for the big screen, spiking demand for a more decadent cowboy boot. In the 1960s, a more simplified boot came back into fashion, followed by a resurgence of everything opulent during the 1980s.
Possibly one of the most interesting things about today's modern cowboy boots? They've always been associated with high quality and durability, which is why in some ways, Céline and Louis Vuitton's recent commitment to the style isn't all that unexpected. Cowboy boots were built to last through everything and have beautiful craftsmanship—some of the same values shared by luxury French fashion houses.
Fashion's biggest houses have also shown their love for western wear in other ways, too. Gucci, Vetements and Jeremy Scott are just a few of the labels that showed western shirts on the runway over the course of the past few seasons.
It's interesting to note too, that some of the most iconic designers who have reinterpreted the style throughout history might just have a strong connection to the culture associated with them. Tom Ford, for instance, showed cowboy boots for his fall 2014 collection. It's no surprise that the designer is native to Santa Fe.
If you're looking to get your own piece of history when it comes to cowboy boots, Céline, Margiela and Louis Vuitton will do, but if you want something that will stand the test of time in western wear, McClurg suggests investing in a pair by Lucchese, Tony Lama and Old Gringo. "[They] churn out some great classic Western boots, as well as heavily embellished styles with a more honky-tonk feel."