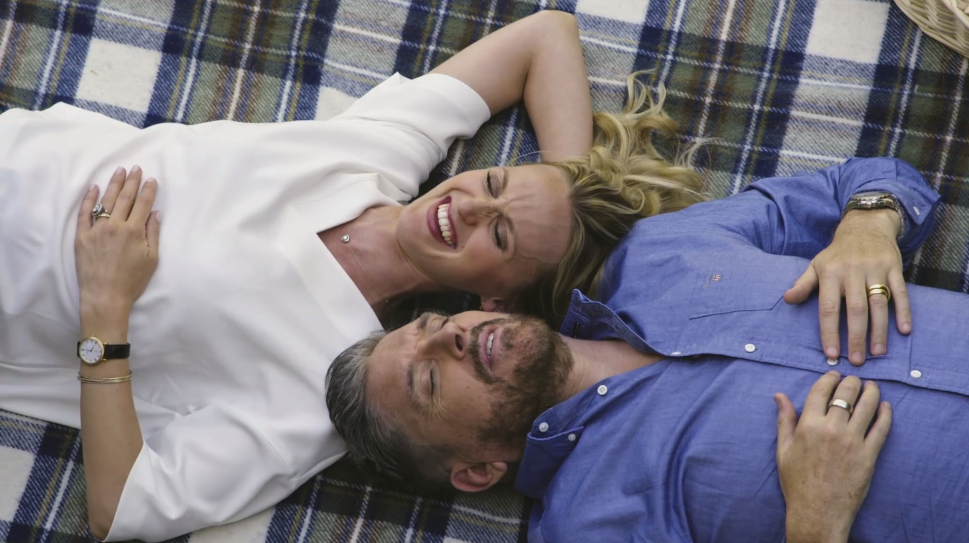 Former The Late Late Show host Craig Ferguson doesn't miss late night TV. He doesn't care about the ratings battle between Stephen Colbert and Jimmy Fallon and he's glad he doesn't have to keep up with the line-in-the-sand Trump era. At 55, he's a bit older than you remember him on-air and he sports a light beard that would have never passed CBS's broadcast standards. But his spirit—that cheeky grin, curious nature and underlying intellect—is still very much intact and being put to good use.
Ferguson and his wife Megan star in a new, six-part interview series branded by Gant—yes, the clothing company—called Couple Thinkers, where they have open conversations with experts from a wide array of fields. Astrophysicist Neil deGrasse Tyson weighs in the state of the planet, genetic specialist Daisy Robinton explores decelerating the aging process and journalist Jon Ronson covers the media's role in society today. No, that might not be what you expect if you only know Ferguson as a former funny-man, and it's certainly not an endeavor you'd think to see from a clothing retailer. But it really works (watch the first episode, hosted on the company's YouTube channel, below) and it represents a new avenue for the entertainer and for the entertainment industry itself.
That's not to say that Ferguson himself wasn't a bit…hesitant about the whole thing.
"I turned them down a couple times but they were very persistent," Ferguson told the Observer. "…I was like, 'You don't do this, you make pants and shirts and other attractive knitwear.' But they said they wanted to make a television show that reflects the never stop learning motto of their brand. They talked me into it and I believed them."
Couple Thinkers is a "talk show" only in the sense that the "talk" comes before the "show." It's a series of in-depth, thought-provoking and question-raising discussions that is made all the more authentic by the pairing of Ferguson with his wife as co-host. Early on in development, Gant asked who Ferguson felt he had his most meaningful conversations with, as they were looking for a male and female team. "My wife," he jokingly suggested. Gant's response? Great, when can we meet her?
The dynamic between the two helps to synthesize these great, big ideas into easily understandable back-and-forths for viewers who likely aren't trying to study for a mid-term when they sit down for some TV.
"It is really free flowing," Megan said. "For us, our sacred thing is our coffee time. We sit down in the morning and we have our cup of coffee and we talk about everything. It was really just those conversations, where we just talk to each other and ask questions and it was really fun and natural."
"It's not school," Ferguson added. "But it's not for people who don't want to learn, it's for people who do. It has humor and energy and life, as it should."
Couple Thinkers works in large part because the Fergusons are genuinely passionate about asking interesting questions that you've debated with friends and family over the dinner table, but also because it's for everyone. You can watch it as a curious high school student tuning out in homeroom or as a retiree who thinks Golf sucks. There are no parameters with which Couple Thinkers doesn't fit. Who would've thought that a clothing retailer with no real track record in original content could help create something so inclusive?
"I think that's what shocked me the most about it because it was, for all intents and purposes, a commercial enterprise at first. At least that's what I thought it was, I thought they wanted to make a commercial and they're hiding it," Ferguson said. "Actually, I never got the sense of that at all. I don't think you get the sense of that when you watch it. No one is trying to hide the fact that Gant made it and paid for it and they're interested in it. But there's no one saying, 'So tell me, Neil deGrasse Tyson, do you think aliens would wear sweaters?'"
And that's where Couple Thinkers represents a change in the industry. This isn't a Netflix or HBO program; it doesn't come from a traditional entertainment provider. With 500 scripted shows in 2017 alone, Gant is dipping a toe in with the sole goal of providing a show that just works.
"We definitely wanted to create something genuine and real," Eleonore Sall, Gant's global marketing director, told us. "We wanted to promote our 'never stop learning' brand [philosophy]. We hoped to create something that is of value and that people will actually seek out and enjoy watching. It's also a hint for competitors: if you have the space and the audience, why not make an effort to make content that is of use and can bring certain questions forward? Of course there were business goals behind all of this too. But the board has been very modern in its approach that this should be able to live on its own."
It's all a bit nebulous in this peak TV era. How do you define a show like Couple Thinkers? How do you judge if it's a winner or not? What's the ultimate goal?
"I think the goal has been achieved," Ferguson said. "The goal was to make something that we thought, 'this is what we wanted to make,' so that's it. One of the odd things, because this is such an odd way or new way of working, is that nobody knows what success looks like. It's not YouTube hits, is it the amount of clothing sold by Gant? For me, that's not a measure of success. I wish them well, their trousers are lovely, I'm wearing a pair now, but that's not why I did it either. If for us it was making something we wanted to do, then we've done it. I think we're done."