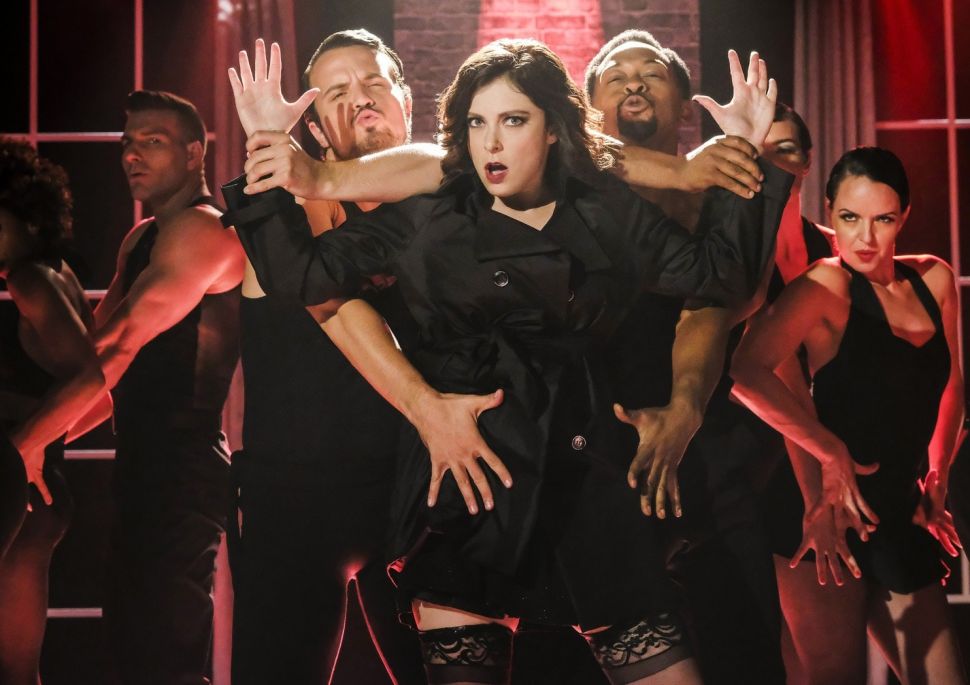 Crazy Ex-Girlfriend is a rarity on television these days—an hour long musical comedy series with actual large-scale performances featuring original songs. Now, the series is embarking on a storyline that the star and showrunner describe as a 'funny Fatal Attraction.'
For those not quite familiar with it, Fatal Attraction is a gory 1987 film in which a mentally unhinged woman stalks a man with whom she had a one-night stand. It's brutal, bloody and quite disturbing. One memorable scene features a boiling bunny.
So, for the musical comedy series Crazy Ex-Girlfriend to take a turn into this territory seems a bit out of character.
The series tells the story of Rebecca Bunch who is successful and driven, and seems to have it all—an upscale apartment in Manhattan and a partnership at a prestigious law firm. On a whim, after a chance meeting with a former romantic interest, Josh, she impulsively decides to relocate to the West Coast to find love and happiness—by giving up everything to pursue Josh.
Last season left off with Rebecca on the verge of fulfilling her dream of marrying Josh, but she ended up heart-broken when he ultimately left her at the altar.
Rachel Bloom, executive producer and star of the series, explained the thought process behind going Fatal Attraction with her character. "Going into this season, Rebecca thinks that she's a woman scorned. And she associates sex with power, so whenever she is trying to regain her power back, she uses her sexuality."
That famous bunny-boiling scene, and how exactly it would fit into the Crazy Ex-Girlfriend narrative, sparked a healthy amount of conversation, said showrunner Aline Brosh-McKenna. "We didn't talk about how this was some sort of a governing metaphor. It just made us laugh. We thought, If Rebecca tried to boil a bunny, she would take the bunny and be, like, 'Oh, it's so cute,' and bring it home, and then, a month later, she would have 50 bunnies. So, she's not as good at trying to be the femme fatale that she would like to be."
Whatever the theme, the series remains foremost a musical. As such, there will be plenty of songs this season, in all genres, said Bloom. "I actually have a fairly big bruise on my arm from a very acrobatic, sexy musical number. Probably the sexiest musical number we have ever done on the show, which we just filmed."
Brosh-McKenna emphasized the sheer number of musical numbers required to keep the series on-point. "We do two to three songs a week, so there will be about 120 original songs by the end of the season," she said.
Explaining the creative process behind the music, Brosh-McKenna revealed that, "We organized it a little differently this year. We did a songwriting boot camp before the writers' room, so we got a bunch of songs, maybe 20, before we even started [writing]."
As for covering all types of songs, she added, "We don't really have that much problem repeating genres. You can do 10 different kinds of tap dancing songs. You can do hundreds of kinds of rock songs, pop songs, soul, R&B. There are tons of genres we haven't done.
Doing those big production numbers causes mixed emotions for the cast of the series, said Vella Lovell, who plays Rebecca's roommate, Heather Davis. "It's scary, but it's also so much fun. You record it, have dance rehearsal the next day, and then you are shooting it the day after. So, it's just this kind of, like, whirlwind."
Because of Broadway-esque nature of the series, it might seem like a great place for willing guest stars to shine, but the actual pace at which the core cast works makes it difficult for actors to just pop by, said Brosh-McKenna. "We do what we do on such a fast schedule, so we don't have a lot of latitude in terms of scheduling. So, if we want somebody to be on our show, it's got to be like Tuesday at 11 a.m. That's all we've got. It's very difficult when people are famous. But we try."
She added with a laugh, "But, please make sure anyone who is famous and wants to be on the show gets in touch with us. We wrote a part for Patti LuPone, because we heard she liked the show."
The series has already been renewed for a fourth season, but no word has been given if it will continue beyond that point.
Discussing how this affects the storytelling, Brosh-McKenna said, "We do the seasons in a 'live like you were dying' way. We just never worry about whether we have another season. This is a story told in four chapters and we know the last sentence of every chapter. I think one of the things that everybody likes is that we do know where the story is going."
As a final note, Brosh-McKenna added, "This season is our most intense season, and for that reason I think it's going to be our most funny as well. This is going to be a funny look at someone who's just going too far. We've finally arrived here after everything our lead character Rebecca has gone through. It's the aftermath of when someone has treated you poorly, and I think that everyone, no matter who you are, can relate to that."
'Crazy Ex-Girlfriend' airs Fridays at 8e/7c on The CW.
Anne Easton is a West Coast-based writer for Observer. She's an Emmy-award winning writer and producer who has worked in news, sports and children's television for FOX, ABC/Disney and the ReelzChannel. Follow her on Twitter at @anne_k_easton.
More from Anne Easton: 
Brooke Shields 'Law & Order: SVU' Character Revealed
In Oprah's New Show, Mass Incarceration Hits Home
Trevor Noah Says Comedy Helps the Country Cope With Polarized Politics
Trump May Now Be Brunt of Jokes, But Thankfully Will & Grace Hasn't Changed 
Mariska Hargitay and Brooke Shields Will Duke It Out On New Law & Order: SVU