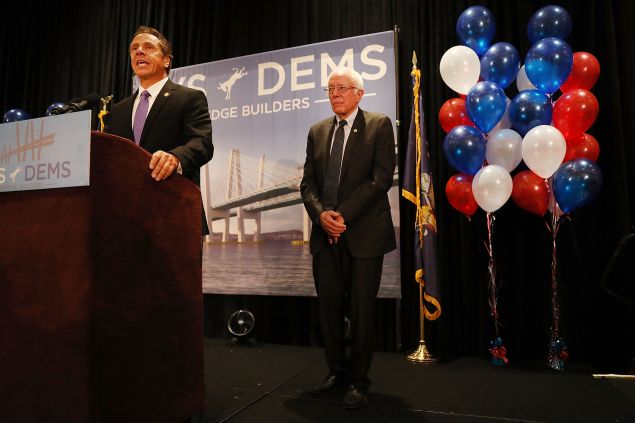 Gov. Andrew Cuomo said that roughly 22,000 full-time CUNY and SUNY in-state students will go to school tuition-free this school year through his Bernie Sanders-inspired free public college tuition proposal.
In January, flanked by Sanders, the 2016 Democratic presidential candidate who proposed free college education, Cuomo unveiled a plan to make New York State public colleges tuition-free. It was viewed as an effort to prove his progressive bona fides ahead of a potential 2020 presidential bid. The scholarship applies to SUNY and CUNY students from households earning up to $125,000 per year.
Roughly 45,000 students have been deemed eligible for the first round of the Excelsior Scholarship and will attend SUNY or CUNY tuition-free. Of those 45,000 students, nearly 22,000 students' tuition costs will be covered by the scholarship, and another 23,000 students' tuition will be covered by the New York State Tuition Assistance Program, the Pell Grant and other financial aid.
"Our first-in-the-nation Excelsior Scholarship is designed so more New Yorkers go to college tuition-free and receive the education they deserve to reach their full potential," Cuomo said in a statement. "New York leads the nation in creating equal opportunity for all, and we will continue to work to ensure that access to a college degree is not determined by family finances but rather is available to all who work hard and dream big."
About 53 percent of full-time CUNY and SUNY in-state students — more than 210,000 students — will go to school tuition-free because of the addition of students receiving the Excelsior Scholarship, according to the governor. The number also takes into account TAP, Pell and other scholarships.
Cuomo has said that roughly 80 percent of New York households make $125,000 or less and that some 940,000 have college-age children. Sanders, whose bid for the Democratic nomination Cuomo opposed, called Cuomo's plan a "revolutionary idea for higher education" that other states would follow.
The governor said that the number of scholarship recipients — about 22,000 students — corresponds to the state's initial projections for the first year of  the program. He anticipates that the number of recipients will go up given that there are still more than 6,000 applications pending final approval. There are nearly 400,000 full-time in-state SUNY and CUNY students.
The scholarship is being phased in over three years. For the 2017-2018 school year, New Yorkers with household incomes of up to $100,000 are eligible, increasing to $110,000 during the 2018-2019 school year and eventually reaching $125,000 in the 2019-2020 school year. Students have to be enrolled in college full-time and complete 30 credits per year — including the summer and January semesters — to receive the funding. But if recipients experience hardships, they can pause and restart the program. They can also take fewer credits one semester than another in completing 30 credits per year.
Students have to have a grade point average necessary for satisfactory completion of their coursework and are required to live and work in-state after graduation for the same amount of time as the number of years for which they received the scholarship.
But Cuomo's free public college plan has critics, who say the program benefits middle class families more than poor families, leaves out many community college students because of the full-time requirement and that poor and working class families should be assisted with other costs given that their tuition is already free.