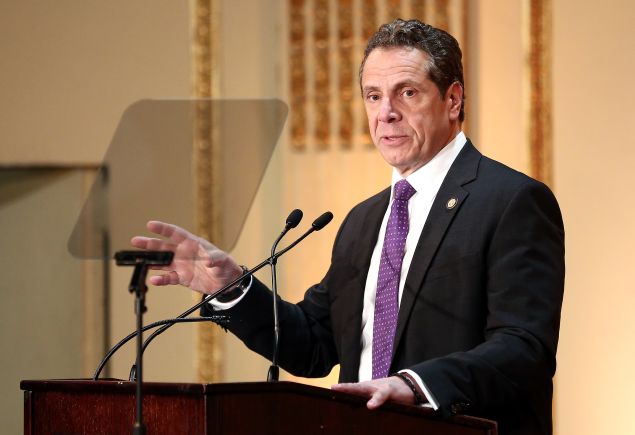 Gov. Andrew Cuomo announced Thursday night that he is returning all the campaign cash he got from disgraced Hollywood executive Harvey Weinstein, reversing himself hours after he had sought to justify his decision to return only a portion.
Cuomo got more than $110,000 from Weinstein over the course of several statewide campaigns, according to the New York Times.
The governor at first said he was donating the $50,000 he got from Weinstein for his 2018 re-election campaign to an unidentified women's rights organization. But he said at the time that he would not return the more than $60,000 that Weinstein donated to his previous campaigns, including his 2006 bid for New York State attorney general.
In a statement on behalf of the Cuomo campaign, Basil Smikle, executive director of the New York State Democratic Party, said that the allegations against Weinstein were "disturbing" and "horrid" and that the debate should center on how to "best root out this reprehensible behavior and protect women from harassment."
"It's shameful that some have sought to use this matter to score political points, but the real issues are far too serious to allow any distraction to overtake them," Smikle said. "For that reason, the extraordinary step will be taken of giving all contributions from prior campaigns whose committees have been closed for years so that we can dispense with the Republican ploys and focus on the real issues."
Smikle also referenced an 11-year-old tape that emerged in October 2016 of then-GOP nominee Donald Trump describing how he used his fame to sexually assault women. He also referred to Education Secretary Betsy DeVos rolling back anti-discrimination rules established for schools under former President Barack Obama.
"Will Republicans accept the support of a president who himself disrespected, demeaned and harassed women?" Smikle continued. "Will they support pay equity? Where do they stand on Betsy DeVos rolling back Title 9 protection for sexual assault on college campuses?"
Earlier Thursday, Cuomo told reporters that he returned the money that Weinstein donated to his current gubernatorial campaign and that the money he donated to past campaigns "has been spent and has gone." He said that the issue is "bigger than Harvey Weinstein."
"I think it's the right symbol, but I think we also have to keep focus on the issue as opposed to the symbol," Cuomo said. "The issue is the protection of women and the respect for women and taking action to stop discrimination and assault of women."
The state GOP ripped Cuomo for his initial decision, calling on the governor to give back all of the money. And Democrats weighed in as well. At a press conference on Thursday afternoon, Mayor Bill de Blasio said that he received $500 from Weinstein in 2001. He said that it is an account "obviously has long since closed."
"My message to everyone who has current accounts with money from Harvey Weinstein is give that money back," de Blasio said. "Give it to charity. Get the hell away from it and no one in their right mind should be keeping the contributions from Harvey Weinstein."