Dressed
The other night brought us City Ballet's annual Fashion Gala, though stripped of many of its more irritating aspects. Outside there were far fewer paparazzi and gapers—no one seems to have cared. For the second year in a row it began more or less on time! There were no speeches! The self-congratulatory filmlet showing us snippets of the choreographers, designers, workers, and even a dancer or two was brief! And that was it.
Oh yes—there were four new pieces, bang, bang, bang, bang. No intermissions. In about an hour and a half the swanky gala-supporters were on their way to dinner, and the rest of us were free to vamoose, alone with our memories. The real miracle is that some of those memories are happy ones—nothing like the horrendous Valentino fiasco of a few years ago. Naturally, some of the four premieres were stronger than others, but none was a disaster. Is this a record?
First up was Troy Schumacher's The Wind Still Brings—what a title!—with costumes by Jonathan Saunders and music by William Walton. Schumacher ballets are usually uneven, and this one was too. He can spring exciting, almost galvanizing, moments on you, and then dole out generic dance by the yard. For instance, a long central section of the ballet had everybody recumbent on the semi-dark stage. Some women bourréed in and around. Then the dancers lying down got up. (It reminded me of a recent Carl Hiaasen column in the Miami Herald at the height of the media hysteria about the big eclipse. Here's what's going to happen, Hiaasen said: It's going to get dark and then it's going to get light.) This sleepy-time trope was hardly original, and it stopped the ballet dead in its tracks. And the costumes didn't help. They were mostly blue, with some of the guys in skirts—alas, a few of them to the knee: not flattering. There were bell-bottoms and culottes. The 14 dancers were all young and strong and cheerful-seeming. My guess is they would have been more cheerful if they hadn't had long strings of who-knows-what swinging and swirling out from their necks. Most important: The whole thing would have been far more welcome if it had been shorter.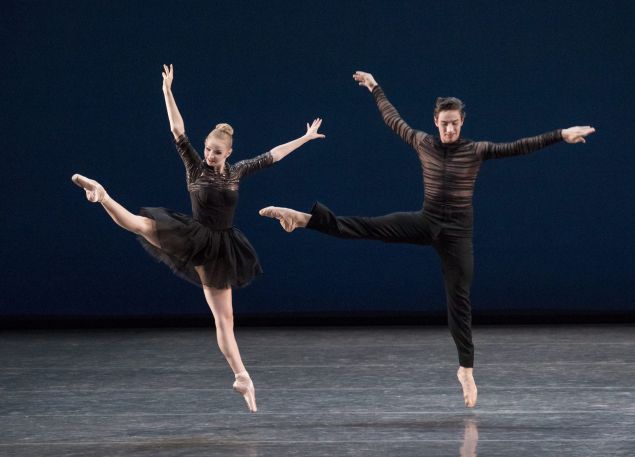 Next came the surprise of the evening: Composer's Holiday by a young woman named Gianna Reisen of whom no one had heard before the curtain went up but whom everyone was cheering to the skies when it came down. She's 18, went to S.A.B., didn't get into the main company, and is now an apprentice with the Dresden ballet. But she had been seen to advantage at the company's Choreographic Institute, and Peter Martins commissioned this work—a daring move that's paid off handsomely. The charming music—for violin and piano, by Lukas Foss—was not only a sophisticated choice, it was highly dancey, and Reisen made the most of it. You could tell from the opening moments that there was a real choreographer here: inventive, sparky, confident. The costumes, by Virgil Abloh of Off-White, helped rather than hindered—the women in short tutus, the guys in black. The biggest shock was that Composer's Holiday was witty, not a quality you look for in the very young. The audience was wild with pleasure. If Reisen can do this at 18, what will she do at 19?
The new piece by NYCB principal Lauren Lovette, who has already shown us that she's talented, was a windswept affair to the tsunami-swept music of Michael Nyman, with his usual blend of bloated minimalism and old-time Hollywood schmaltz. Not Our Fate has the women in beautiful romantic white skirts that move wonderfully, though they don't seem to come from the same world as the men's stripped-down jeans-and-white-tee-shirt look. (Designers: Fernando Garcia and Laura Kim.) There is much passion, much angst. Which was more angsty, the hetero couple (the interesting Meaghan Dutton-O'Hara and the steadily improving Ask la Cour) or the now de rigueur two-guy couple (Preston Chamblee and Taylor Stanley), would be hard to say. Maybe coupledom itself is the problem? No new ground broken here—Lovette is still figuring out what to tell us—but no harm done.
The most complicated and provocative new work on the program was, not surprisingly, by Justin Peck. The music is Stravinsky's Pulcinella Suite, the title is Pulcinella Variations, and Tsumori Chisato's costumes are surreal commedia dell'arte. So one naively expects another futile exercise in this problematic vein. (Even the Balanchine-Robbins Pulcinella done for the 1972 Stravinsky Festival was a big disappointment.) But no. Peck has produced his first classical ballet, hiding it under commedia dell'arte trappings. The essential material of the piece is a series of solos and duets for a bunch of the company's leading dancers. There's a standard pas de deux for Sara Mearns and Jared Angle; a charming solo for Sterling Hyltin; a rich pas de deux for Tiler Peck and Gonzalo Garcia; a blast for Indiana Woodward; and plenty more. But why are you dressing up your perfectly presentable classical chops, Mr. Peck? He gives us a bit of an answer in the program notes, quoting Stravinsky: "Pulcinella was my discovery of the past…. It was a backward look, of course—the first of many love affairs in that direction—but it was a look in the mirror, too."
The company as a whole seemed energized and gratified to be doing all this new stuff, and who knows? Some of it may stick.
Undressed
The very next night, down at the Skirball, we had no gala, no fashion—no clothes. Twelve performers—most of them I believe Scandinavian—showed us their all for about an hour and a half (or was it a day and a half?) in Mette Ingvartsen's 7 Pleasures, though it didn't seem to me that a lot of pleasure was involved.
The high note came at the start; in fact, before the start, when five or six fellow members of the audience rose from their seats—one of the men half way down my row—and quietly removed their garments, then tactfully brushed past us and mounted the stage. (It was not the last thing they mounted.) Let the orgy begin!
Very, very slowly the whole naked cast—seven women, five men—heaped themselves into a big pile upstage right. They looked uncomfortable, but maybe if you were part of the pile it felt cozy. The real shenanigans began when individually and collectively they assaulted a nearby couch, clambering and slithering onto it, then (still slowly) abused each other—and it. Where was the SPCC—the Society for Prevention of Cruelty to Couches? Among the other objects of abuse was a short potted palm—actually, a faux-palm, which was fortunate. The set included a couple of tables and chairs and two bright orange noose-like clusters of something or other, which hung from above and very effectively turned into lights which went up and down and became important players.
Players in what? (I won't say dancing, because there wasn't much of that going on; let's say groping.) It was a protracted, escalating orgy, with everybody getting more and more excited, though of climax there was none, or none that I could detect. I have to hope and believe that real-life orgies are more erotic and fun than this, but I can't testify since I've never had the luck to attend one.
There was almost no music, and not very much sound effect, apart from the grunts and groans. Things really got going when the tempo speeded up and the guys and gals were galvanized, shuddering and juddering in simulated frenzy, their dear little body parts bouncing up and down. Body parts aside, I was surprised that, at least to my eyes, the seven women taking part were strikingly better looking than the five guys. I don't think this was personal bias….
On and on it went, until at last some of the gang started putting their clothes back on, so that we could assume the end was near. One of the most depressing moments in my seventy or so years of watching dance was when they starting taking them off again. Dorothy Parker said it all in her 1918 review of Al Jolson's Sinbad: "Of course, I take a certain civic pride in the fact that there is probably more nudity in our own Winter Garden than there is in any other place in the world, nevertheless, there are times during an evening's entertainment when I pine for 11:15, so that I can go out in the street and see a lot of women with clothes on."
A long and singularly pretentious program note informed us that "This powerful, visceral, and deeply poetic piece is a moving statement on the fleshed precarity and uncanny beauty of that which we still insist to call 'the human body.'" It also revealed to me that I had missed the opportunity last year to see Mette Ingvartsen's "masterpiece, the solo 69 positions at MoMA PS1." Next time, Mette. I promise.