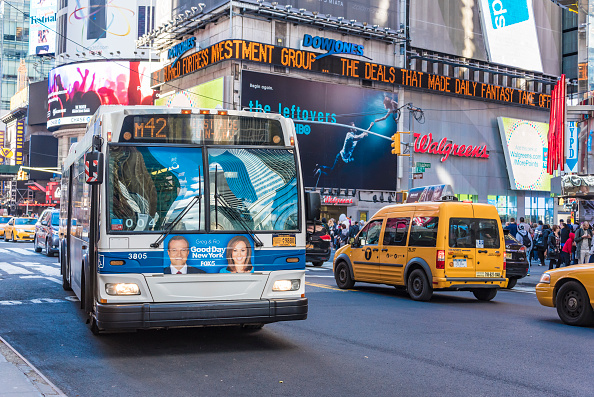 Mayor Bill de Blasio unveiled a new bus plan Friday that entails expanding Select Bus Service to 500,000 more bus riders throughout the city as the general election approaches and as he continues to fight with the state over who should fix the city's crumbling subway system.
The planned expansion of the city's bus rapid transit service, which the city has dubbed "Bus Forward," will expand to more than 21 new routes in the five boroughs over the next 10 years. SBS routes are currently active along 14 corridors. The city and the MTA also plan to bring about bus-priority improvements to make buses faster on key non-SBS corridors throughout the city.
"With even more Select Bus Service routes coming on-line in the years ahead and a commitment to bring SBS-style treatments to other routes, more communities in every borough will see their bus service improve," de Blasio said. "These improvements have been proven effective, by reducing travel time, increasing bus reliability and helping us meet the goals of major initiatives — both for a safer city under Vision Zero and a more equitable one under OneNYC."
The city and the state have been sparring lately over who should finance an $836 million short-term plan proposed by MTA Chairman Joe Lhota at the end of July. Lhota proposed that the city and the state split the cost, but the mayor maintains that the money is already in the state budget.
But the expansion of SBS routes on Friday marks an unusually positive development between the city and the MTA, which is controlled by Gov. Andrew Cuomo. SBS is a joint initiative of the city's Department of Transportation and MTA New York City Transit.
And it comes as de Blasio faces reelection next month in the Nov. 7 general election. His opponents include GOP candidate Nicole Malliotakis, the Staten Island assemblyman and former NYPD detective Bo Dietl, an independent mayoral candidate.
The Bronx corridors are Broadway to Central Bronx, Gun Hill Road, University Avenue, Tremont Avenue, Harlem to Southern Boulevard and Soundview to Washington Heights. The Brooklyn corridors include  Church Avenue, downtown Brooklyn to Ridgewood and Flatbush Avenue.
The Queens routes include Ridgewood to Flushing, Flushing to Springfield Boulevard, Hillside Avenue, Union Turnpike and Northern Boulevard. The Staten Island corridor is the North Shore, and the Manhattan corridor consists of multiple crosstown routes, including 14th Street.
The city said that 12 percent of bus rides are on an SBS route and that the mayor wants to increase it to 30 percent. De Blasio has provided $270 million for SBS and in 2014, his administration introduced the first-ever baselined funding to deliver SBS upgrades.
Veronica Vanterpool, an MTA board member, said that declining bus ridership citywide and traffic congestion are why bus riders "need an action plan of their own."
She called the partnership between the MTA and the DOT "successful" and that nine years of SBS projects have shown that that partnership "can turn around the bus riding experience."
"Mayor de Blasio's announcement of priority corridors echoes what advocates, riders and transit planners have been saying for years — dedicated bus lanes, new technology and better route planning will bring riders back to buses," Vanterpool said. "The mayor and his agencies deserve our support for increasing the focus on bus improvements over the next 10 years."
DOT Commissioner Polly Trottenberg echoed similar sentiments, but reiterated that more work needs to be done.
"Whether it's all-door boarding, dedicated bus lanes, or bus countdown clocks, hundreds of thousands of riders have come to rely on the innovations of SBS that we want to bring to even more routes," Trottenberg said.