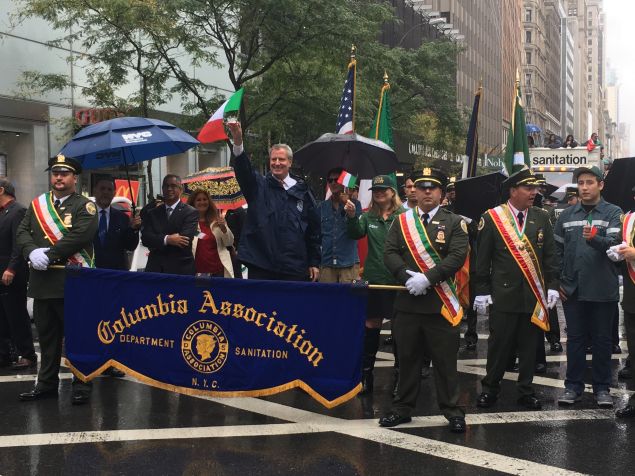 Amid debate over whether statues of Christopher Columbus should remain throughout the city, Mayor Bill de Blasio maintained that there are no plans to touch any statues in the short term and touted his Italian roots as he encountered boos and jeers from attendees during the Columbus Day Parade.
A commission de Blasio announced in September to review the city's statues and monuments is set to meet in person for the first time on Tuesday. The commission — co-chaired by Darren Walker, president of the Ford Foundation, and Tom Finkelpearl, commissioner of the Department of Cultural Affairs — will share its recommendations by the end of the year, along with a description of the mayor's final decision.
Speaking to reporters before marching, the mayor maintained that there will be a "real public discussion."
"No one's moving any statues," de Blasio said. "No one's changing anything in the short term."
"These issues have been coming up for years and years now and it's not about any one historical figure or any one background," he added.
De Blasio recounted his family's Italian roots, and insisted that he is "very, very proud" of that heritage.
"Despite the rain, this is a day to celebrate," he said. "It's a day where we honor Italian Americans, their contributions to the city and this nation … 25 million people who have helped to make America great. We know in the city what a huge, positive impact Italian Americans have made. For me, it's a very personal day."
Brushing off criticism about his stance on Columbus — the mayor's office said a statue of the explorer in Columbus Circle is among those under review — de Blasio said that his grandfather always told his aunt to "be proud of where you are" whenever she experienced discrimination and that critics cannot "take that away from any of us." He counts former Mayor Fiorello LaGuardia among his idols and said that everyone has their own cherished symbols.
"I think what we should be focused on today is this heritage and what it means," de Blasio added. "Look, you can debate the historic figure of Christopher Columbus but you can't debate the contribution of Italian Americans in this country. That is beyond question. It's overwhelming and it's incredibly positive. That's what we should be focused on."
Despite his attempts to shut out critics, they came out very early in the parade. As he began to march, independent mayoral candidate Bo Dietl and Guardian Angels founder and Reform Party chairman Curtis Sliwa, along with some Dietl supporters, yelled "Boo!" The mayor ignored them and continued marching, waving an Italian flag and flanked first by members of the Department of Sanitation and subsequently the FDNY.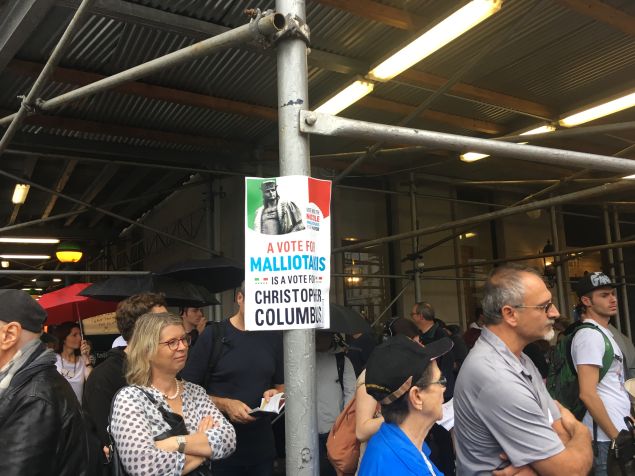 A group of supporters of his Republican opponent in the Nov. 7 election, Staten Island Assemblywoman Nicole Malliotakis — who also marched in the parade — yelled "Save the statue or else you're German!" as he marched, and a poster with the slogan, "A vote for Nicole Malliotakis is a vote for Christopher Columbus!" could be seen along the route. Others yelled, "Go home, Bill!"
Some attendees cheered him on — one attendee shouted, "Mayor for life!" De Blasio also greeted Cardinal Timothy Dolan outside of St. Patrick's Cathedral.
The mayor has yet to weigh in on whether or not he believes the statue should stay put despite his spokesman telling Observer in August that the statue would get "immediate attention" after City Council Speaker Melissa Mark-Viverito called for removing the statue because of Columbus's oppressive history against natives he encountered. Her request was met with a protest led by Staten Island Councilman Joseph Borelli of Italian-American leaders.
Gov. Andrew Cuomo, Public Advocate Letitia James, Comptroller Scott Stringer, who all marched, support keeping the statue. The governor said that both Columbus and Native Americans should be honored.
But the debate has shown no signs of abating. As de Blasio marched, Brooklyn Assemblyman Charles Barron introduced legislation calling for Columbus Day to be replaced with Indigenous People's Day in Columbus Circle. Protesters are also holding the second annual anti-Columbus Day tour at the American Museum of Natural History.
Barron told Observer that he believes there can be an Italian American Day Parade but not a Columbus Day Parade. He blasted the governor and the mayor for honoring Columbus, calling Columbus "a murderer, a racist, a colonist" and said that the mayor hasn't shared his stance because he "hasn't found the wiggle room yet." He also said that Cuomo and de Blasio have future ambitions and don't want to upset the Italian American voting bloc.
"This is a great opportunity for Americans to correct history and present it in its truthful essence so that he children can learn the truth about american history and not believe in lies and myths," he said.
The violence from a white nationalist rally in Charlottesville, Va., sparked a movement throughout the country requesting the removal of status, monuments and markers with the names of Confederate generals.
Minnesota, Alaska, South Dakota and Vermont celebrate Indigenous People's Day. Indigenous People's Day has replaced Columbus Day in 55 cities, including Seattle, Santa Fe, Minneapolis, Los Angeles, Portland Denver, Phoenix and Austin. The liberal bastion of Berkeley, Calif., was the first city to replace Columbus Day.